Men's basketball heating up in time for Blazers visit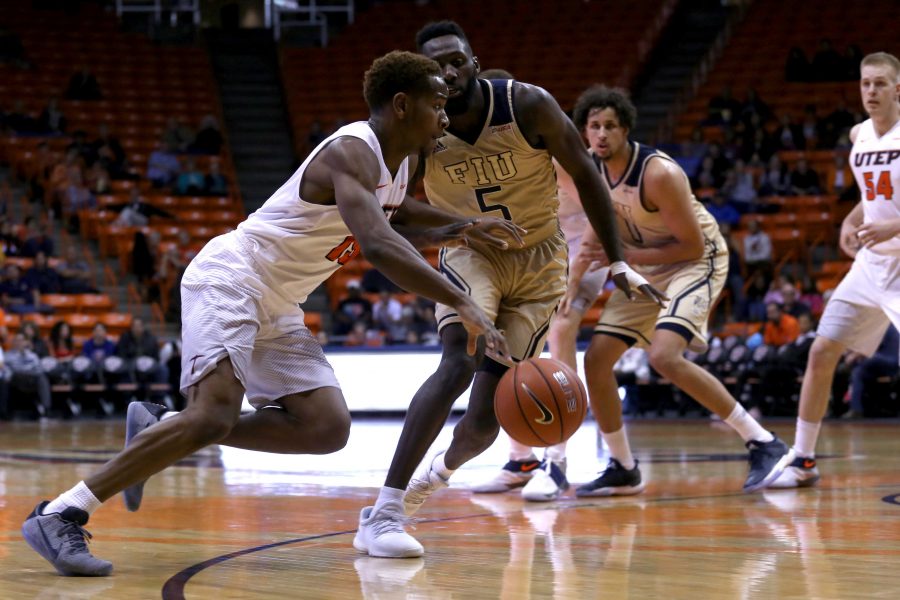 The UTEP men's basketball team is undefeated (3-0) at home in Conference-USA play and will play their next four games at home. The Miners (6-14, 4-4 C-USA) need to continue the home cooking in hopes of staying within the top half of the conference standings. Currently, UTEP sits in a tie with UTSA for the seventh spot.
Conference-USA will only be taking the top 12 of the total 14 C-USA teams into their tournament this season.
The Miners are coming off their first road win of the season this past Saturday night with a blowout against Marshall, 91-68, in Huntington, WV. There is no question this was UTEP's biggest win of the season as they entered the night as 14-point underdogs. UTEP shot an impressive 58 percent from the floor as four Miners scored in double-figures, with center Matt Willms and guard Dominic Artis combining for 49 of the Miners' 91-point total. The win for UTEP snapped a 12-game home court win streak for the Thundering Herd dating back to last season.
UTEP has now won four of their last five games since losing 12 straight. Head coach Tim Floyd called this five-game stretch, after the UTSA win on Jan. 21, "challenging," with high praise for league frontrunners Middle Tennessee, UAB and Louisiana Tech, all of which the Miners will be playing in their next three games.
Second place UAB (14-8, 7-2 C-USA) is first with a visit Thursday night, Feb. 2 at the Don Haskins Center. The Blazers are a hot team as well having won seven of their last eight games. They are coming off a blowout just like the Miners with an 87-43 win  against Southern Mississippi this past Saturday night. Last season, the Blazers topped the Miners in Birmingham, 87-80. It was a game that saw four Blazers score in double figures, including returning junior forward William Lee, who captured a double-double with 18 points and 12 rebounds.
Lee was named the Conference-USA Defensive Player of the Year last season as he finished second in Conference-USA and eighth in the NCAA with 2.9 blocked shots per game. He currently leads the Blazers this season in both points and rebounds per game. UTEP will clearly be focused on limiting Lee's presence inside both offensively and defensively.
UTEP has begun to see their own resurgence inside with center Willms, who is coming off the two best games of his career. Willms had a career-high 27 points in the loss at Western Kentucky this past Thursday and 25 in the win at Marshall, hitting 24-of-31 shot attempts. Willms will be key for the Miners' inside game against Lee and the physical Blazers, who live with their offensive scoring in the paint.
Forward Paul Thomas is looking to stay hot on the Don Haskins floor. Thomas was key during the Miners' last home stand, picking up two double-doubles and finishing with a total of 45 points and 32 rebounds. Thomas has been stellar from the floor as well, shooting an average of 70 percent during that stretch.
The Blazers will continue to be without starting guard Nick Norton, who is out for the season. Norton tore the anterior cruciate ligament in his right knee during a season-opening victory against Arkansas-Pine Bluff  on Nov. 11. Norton was a second-team all-conference pick as one of the league's top point guards, scoring 8.9 points per game with 5.1 assists per game as a sophomore, including a 13-point performance against UTEP last season.
The key for the Miners will be continuing to score effectively in the paint and stopping the Blazers from doing the same. UTEP's 60 points in the paint against Marshall is eye-popping and should make this game against the Blazers an entertaining inside battle.
Despite the absence of Norton, the Miners cannot let the Blazers have it easy from the outside either. UAB has been hot from behind the arc in their last three games, shooting an overall 55 percent. Young freshman guard Nate Darling was surprising in the Blazers' win against Southern Mississippi. Darling came off the bench to lead all UAB scorers with 20 of the total 43 bench points for the Blazers, nailing seven of 10 shot attempts and six of nine from behind the arc.
During halftime of the UAB game, UTEP will honor Jeep Jackson, one of the Miners' all-time greatest icons from the 1980s. Jackson passed away suddenly at the age of 23 after playing in a benefit basketball game for the Miners on May 15, 1987.
Following UAB, UTEP will welcome first-place Middle Tennessee Saturday, Feb. 4, to the Don Haskins Center.
Tip offs this week will be different than the normal 7 p.m. UAB will be set for a special 8 p.m. tip off, and Middle Tennessee at an earlier 6 p.m. tip off.