Young women's basketball team struggles without veteran leadership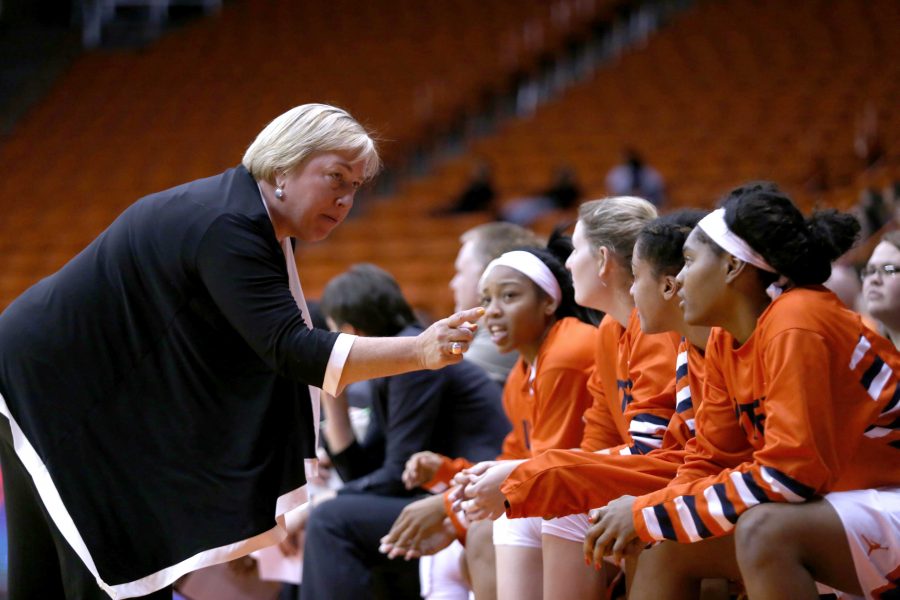 Mike Flores, Staff Reporter
January 24, 2017
Bob Stull, the athletic director for UTEP sports, recently sent out a letter to fans of the UTEP Miners about the rebuilding years that both the men's and women's basketball teams are going through. It is true that the team is having a down season so far in 2016-17, but that is based largely on the high standard that head coach Keitha Adams has established for the program during her time at UTEP.
"I'm not surprised that Stull put out this letter. I have great respect for him, he's been very supportive of me and I've been very supportive of him, too. I understand that our team was struggling at the time (when the letter was sent out)," said Adams. "Our team has gone through some tough times this season, but when you go through this, you stick together and we have to hang in there with one another."
Since Adams was hired as the women's seventh coach in the school's history in 2001, she has produced the most successful seasons of all time. In her 16 years with the program, Adams has guided UTEP to their only four postseason bids and the program's four conference titles. This, along with many other winning seasons, has earned her the title of UTEP's winningest women's coach—one of her greatest accomplishments in her soon-to-be hall of fame career.
However, throughout the midway point in the 2017 season, the script has been different than recent years. With seven freshmen and 11 new faces overall, the Miners have underperformed, going 5-13 in their first 18 contests and 2-4 in Conference-USA games.
"My pressure comes from myself. I hate to lose. I'm not very good at it; I'm actually allergic to losing," Adams said. "My goal for this team is to grow and get better. However, I like where we're at right now because we are a team. When we have practice, the girls listen to every word and they're working on doing whatever it is to improve."
Although the record is not as pretty as fans are used to, UTEP has gone through many obstacles, such as losing seven seniors and the leadership they brought to the table. To make matters even more difficult, the standout for this year's squad, senior guard Jenzel Nash, has been suspended indefinitely for undisclosed reasons. She has not suited up once for the Miners during the season. Nash's game should have taken the pressure off the younger girl's shoulders and could have given them the time they needed to grow at a better rate.
"You know, when you graduate seven players with a team that also won a conference championship last year. We have a lot of new faces, and it's a learning process. What I'm measuring is how each girl grows as a person and a player. I want us to continue and get n and a player.
I want us to continue and to get better, and we are getting there. Trust me," Adams said.
Other bumps in the road that the women have had to deal with are facing some of the toughest competition in all of Adams' years of coaching. This season, the Miners participated in the 2016 Paradise Jam tournament, which featured schools such as Louisiana State University (14-5), North Carolina State (14-5), currently ranked no. 21 in the nation, and a Kansas State squad (15-4), ranked no. 22.
The other early-season tournament that Adams tested her young team in was the Patrick Harrington invitational, which took place in Niceville, Florida. UTEP faced Pittsburgh and Alabama, who have a combined record of 26-12.
"Our girls have faced some adversity and gone through some rough times during the first semester. Even the last couple of weeks, we've gone through some heartbreaking games. The best thing is that we've stayed together as one. If we can stay together going through fire, that makes me very hopeful going down the road," Adams said. "You find out what you're made of when you go through tough games together. I'm not doubting any one of these girls and they're not doubting me; there's no finger pointing. And that's the truest test. It's a real positive."
It's safe to say that the young Miners have gone through their fair share of adversities, but will be built stronger and better for the rest of the season and the future of UTEP basketball. According to Adams' track-record, she knows how to polish her players for the betterment of the program.
Now that conference play is well underway, the battle-tested Miners could bounce back and show the promise that Adams knows her players have in them.
All of the freshmen girls have earned playing time this season, and two of them have performed in all 17 matchups. One being freshman guard Faith Cook, who is the team's second leading passer with 2.4 assists per game. In the 15 minutes per game she averages, Cook also adds over two points a game from the bench. In Cook's class, she was ranked no. 27 in the nation coming out of high school. 
The Poland-native freshman Zuzanna Puc has competed in every game this year, and has started in 12 contests. Before attending UTEP, Puc participated for her country in FIBA U18 and FIBA U20 games.
Puc is one of the five UTEP players to score over 100 points this season, as she has totaled 116 points on the year. Puc is also grabbing the second-most boards in conference games (7.2 rebounds per match). The freshman performs on both ends of the court as well. She has recorded 13 blocks—third most for the Miners. Clocking in over 20 minutes a night, Puc has added valuable minutes for Adams' unit.
"We're a very young team, we have a lot of freshmen, but we're getting better every single day. I know some of the fans have been disappointed about our losses, but we'll be fine," said Puc. "Our team will keep working hard in practice; practice reflects in the game. We're all trying our best to do well in the conference and it'll give us a lot of experience for next year, too. Coach Adams knows what's she's doing." 
Some of the other freshmen stars on the team include Katarina Zec, who helped the U20 Serbian team lock up a top-four spot in the European Championships. She is averaging 5.5 points per game in an orange and blue jersey.
Jakeira Ford, the Miners' freshman forward, was ranked 16th in her graduating class. Ford picked UTEP over power schools such as LSU, Texas A&M, California and Kansas State. Ford was one of 40 athletes to receive an invite to the Adidas 3 Stripe All-American Camp.
UTEP's 5-foot-8 guard Roeshonda Patterson led her unit to the NCHBC National Championship game, while she averaged over 34 points per game her senior season. In limited playing time in her first year with the Miners, Patterson has connected on the fourth-most 3-pointers on the season.
Adams seems to think that her team has the right players in place for the future and that the young team just needs to keep gaining experience and show the fans what they have in store. With the toughest portion of the schedule in the rearview mirror, there is no other way than up for the Miners.
Next, UTEP will host Western Kentucky at the Don Haskins Center on Jan. 26, with a chance at their fourth conference win.
"We have such a great fan base. And I think the fans are excited about the future. They see the talent we have, and that we're just babies right now with all our young players. I appreciate how vocal and how understanding the fans are," Adams said. "We're going into every game locked in and focused, and ready to win."