UTEP overcomes a poor shooting UTSA team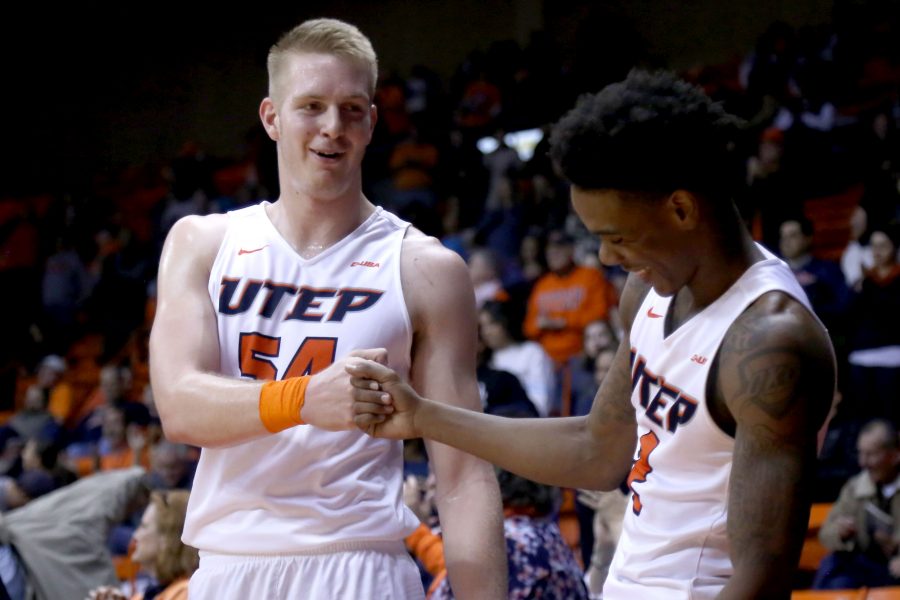 Mike Flores, Staff Reporter
January 21, 2017
With their 59-39 victory, on Jan. 21, against the University of Texas at San Antonio, UTEP men's basketball stays perfect at home in Conference USA games.
It was a night where everything went the Miners way. UTEP played their best defensive game of the season, as UTSA could not buy a bucket all contest and UTEP held the freezing cold Roadrunners to the second-lowest scoring outcome since the Miners joined Conference USA.
Also, UTEP's starting guard Dominic Artis reached the milestone of the prestigious 1,000-point club. The Miners could do no wrong in their rematch against the Roadrunners.
Coming into the matchup, UTSA (9-10) was riding in hot, being winners of their last six out of seven games and owning the record of 4-1 in conference play. However, it was UTEP (5-13, 3-4 C-USA) that kept their momentum going, and continued their first winning streak of the season alive, now at three games.
In what's been a difficult year for UTEP's head coach Tim Floyd, he has stayed true at home during conference outings, as he is now 46-12 in such games.
Recently, UTEP's play on the defensive end has risen from game to game, and their defensive effort against the Roadrunners was no different. The Miners defense did not give up any easy buckets and made it difficult for UTSA to put up points on the scoreboard all night, as the Roadrunners shot 24 percent from the field. UTEP was responsible for keeping every athlete on the UTSA roster to under ten points throughout the contest.
"UTSA can certainly shoot the ball better, but I want to give our team credit for tonight. Teams at this point in the season either get better or worse defensively, and we've obviously have improved a bit from the beginning of the year," Floyd said.
It was the first half of the game that dug the unreachable hole for UTSA. To close out the opening half, UTSA went ice cold. The Roadrunners went over 12 minutes without scoring a single point and shot 2-18 before both teams headed to the locker room for the halftime break.
The halftime score read 39-21 with UTEP leading the way. It was the first game this season that was decided by halftime in favor of UTEP and had Miner fans leaving early with no doubt of a victory.
Floyd's unit was eaten alive by the three-pointer earlier in the season, but teams that plan to overcome the Miners by the long range shot now have not been as successful. Tonight, UTSA went 2-for-22 (nine percent) from downtown and had little to no post game, only scoring ten points from the painted area, while UTEP feasted once again down low with 22 points scored.
UTEP's starting forward Paul Thomas raised some eyebrows once again tonight, after his double-double performance of 12 points and a team-high of 13 rebounds. Thomas' recent stretch of games has Floyd believing that he finally found the third scoring option the Miners have been desperately searching for all year.
"Thomas has kind of become that third scoring option we've needed. His effort recently is what we were lacking earlier in the season, Floyd said. "With another year of lifting and getting better, Thomas has a really nice chance of becoming a great player for us. Thomas is playing hard and growing every night, which we had hoped for in him."
Floyd also added.
"Earlier in the year, our team could not function without at least Artis or Harris being on the court, but tonight showed us differently. Paul has been impressive; he's learning that he can score for this team. His mid-range shot has been a good addition to his game."
Thomas, along with UTEP's other top three scorers on the night, Artis, starting guard Omega Harris and starting forward Jake Flaggert, combined for 48 points—enough to sky over the Roadrunners' whole unit.
In a game that had little flaws to say about UTEP, their only concern is the Miners' starting center Matt Willms, who was limited the whole game due to foul trouble. His night consisted of only five points and two rebounds in 15 minutes. Willms' absence on the court led to 11 offensive rebounds for UTSA's squad.
"Tonight was not one of Matt's best games. He got in foul trouble quickly, and has been bugged with the whistle, lately," Floyd said. "He (Willms) could also be that third scorer, too. I love what he is doing for us in practice, Matt could definitely translate that into games further down the road."
Willms' foul trouble led to UTEP's reserve freshman Kelvin Jones to carry the load down low. Jones totaled 10 rebounds and was an enforcer on defense, as he recorded two blocks in 19 minutes.
"Kelvin (Jones) is a developing big guy. He is going to be a fine player for us before he leaves this program. I liked what I saw from him out there."
After a three game home stand, UTEP will hit the road for their next two matches, starting with Western Kentucky on Jan. 26.
"It was a nice win for our Miners tonight, but the next five games will be a tough test for us. I'm really proud of our guys tonight," Floyd said. "However, we start on the road with a touch Western Kentucky team and travel to Marshall next."