"A Dogs Purpose" premiere pulled amidst animal abuse investigation
January 20, 2017
This weekend TMZ released a video showing alleged animal abuse when a scene was released from the production of "A Dogs Purpose." This immediately caused a trend on twitter where many people were saying they were going to boycott the film. PETA also asked for moviegoers to not support it.
Actor Josh Gad, who voices the main dog, went to twitter to express his sentiments on the situation.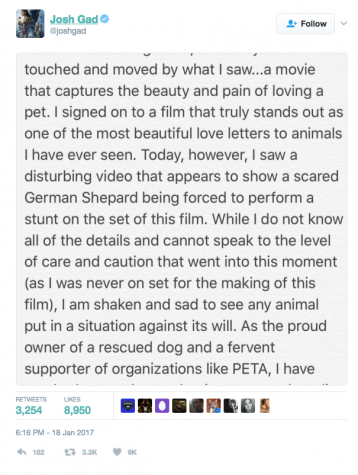 Other stars of the film have also come out with statements in regards to the video. Director Lasse Hallström said on twitter with this statement.
The premiere and press tour for the film have been cancelled as they investigate the animal abuse.
Universal Pictures confirmed the cancellations in a statement to E! News Thursday.
"Because Amblin's review into the edited video released yesterday is still ongoing, distributor Universal Pictures has decided it is in the best interest of A Dog's Purpose to cancel this weekend's premiere and press junket," Amblin and Universal do not want anything to overshadow this film that celebrates the relationship between animals and humans."