NFL calls for several Miner football stars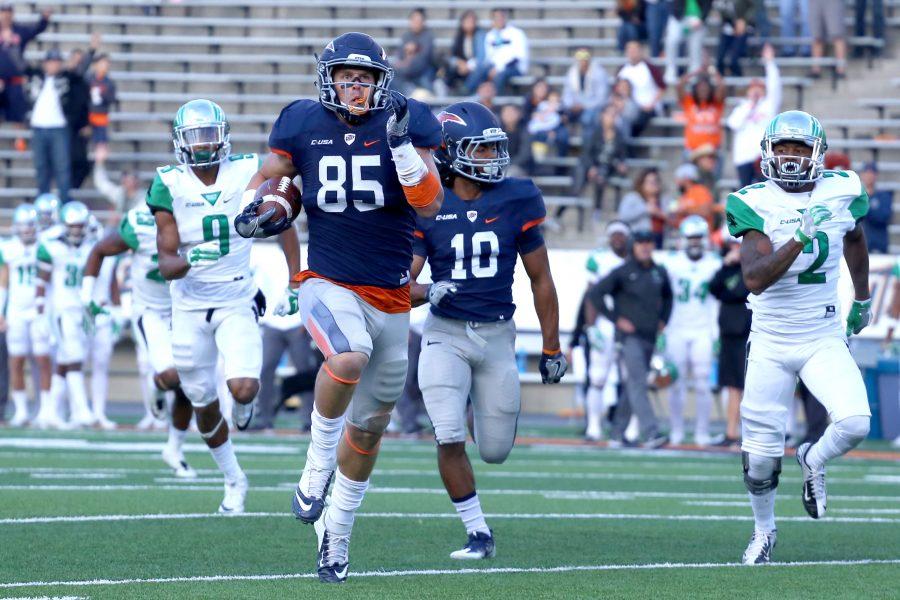 Mike Flores, Staff Reporter
January 17, 2017
UTEP football's first underclassmen of modern-day history, Aaron Jones, declared for the 2017 NFL draft. Jones skipped out on his last year of eligibility to chase his dreams of becoming a professional football player.
Jones leaves the Miners as their all-time leading rusher (4,114 yards) and second all-time rushing touchdown leader (33) in just three years with the program. However, UTEP's star was told that his best bet was to stay in school for his upcoming senior year. But with the connections Jones has established with his agents Leigh Steinberg and Chris Cabbot, along with head coach Sean Kugler, Jones is optimistic about his chances of getting drafted anywhere between the second and fourth round of the draft.
Jones is not the only Miner with hopes of getting their name called on draft night, which starts April 27.
Miner fullback Darrin Laufasa also declared for the 2017 NFL draft after four years under Kugler's care.
Laufasa is a 6-foot-1, 240-pound back with all the tools to contribute to an NFL backfield. In his time with the Miners, Laufasa paved and guided Jones' road to the record books with his timely blocks, ability to create rushing lanes and sure hands. He also rushed for 369 career yards, totaled 153 receiving yards and scored six times with the Miners.
Laufasa was named to the Polynesian College Football player of the year watch list in his senior season. The award recognizes the best Polynesian players around the nation.
Fullbacks were once a dying breed in the NFL, but have recently seen a resurgence in the blocking and receiving portions of the game. They are much-needed for football units due to their skills of shedding off lineman and linebackers for their halfbacks to gain positive yardage.
In a widely used position now, Laufasa could be called upon from as early as the fifth round to the seventh round of the NFL draft.
Another offensive weapon the Miners polished for the NFL is the 6-foot-4, 256-pound tight end Hayden Plinke. He should be the highest UTEP player taken off the drafting board this year. Plinke is 24 years old, which could translate to him being the most NFL-ready athlete from the Miners declaring. He has the body build of an ideal tight end in the league.
Tight ends are not only useful for their catching ability, but also for their skill on the blocking end. His big body could match up to the linebackers he will be facing week-in and week-out at the professional level.
Plinke found himself on numerous award lists as a Miner. During his 2015 season, he was rewarded with the John Mackey Midseason watch list and made the Conference USA Honorable Mention. The following season and his final year, Plinke racked up more awards such as the Athlon Sports Preseason All C-USA third team and Dave Campbell's Preseason All-Texas first team.
It was safe to say that Plinke was expected to have a big senior season and he produced as advertised. In 12 games in 2016, Plinke earned himself a spot on the All C-USA first team after his eight touchdown year—a Miner record. In his two years under Kugler, the standout tight end caught over 400 yards in both campaigns. In a pass-heavy NFL era, Plinke could be a great asset as he was in his time with the Miners.
Expect Plinke's name to be called anywhere from round three to five, after his record-setting year in El Paso.
On the other hand, one Miner who decided to stay for his final year in college is 6-foot-3, 330-pound starting left guard Will Hernandez. He was projected to be drafted first from all the orange and blue players.
Coach Kugler gave Hernandez some insight about how entering the 2018 NFL draft would be beneficial and would gain Hernandez a higher spot in next year's draft. Before Kugler was named the head coach of the Miners, he worked as the Pittsburgh Steelers' offensive line coach—if anyone knows what is best for the o-line, it is Kugler.
El Paso will be getting back their C-USA first teamer, and someone who has not missed a game in his entire career at UTEP, in Hernandez. During Hernandez's junior season, he was honored with ESPN's All C-USA First Team, and he helped Jones rush for a UTEP record in one season (1,773 yards).
Despite the absence of Jones for the 2017-2018 season, Hernandez will be a great building block for the younger and inexperienced halfbacks to grow and flourish. The offensive lineman will look to extend his talents and make his last mark before he hits the draft board next year.
"I want to help my team (UTEP) win a conference championship, I am extremely close with all my teammates and I want us to go out winners," Hernandez said. "Spending my last year learning from Kugler and coach Leftwich will only benefit me. When my college career comes to an end, I will be ready for the next level. But for now, all I am worried about is UTEP."
As the NFL season approaches its end, the offseason will shortly follow. UTEP football will be well represented when the NFL offseason kicks off with the draft. Miner fans could look forward to three names being called, as t he athletes will find out their new homes and new teams. The NFL draft will begin Thursday, April 27 and end on Saturday, April 29.