Opinions: should Jones stay or leave?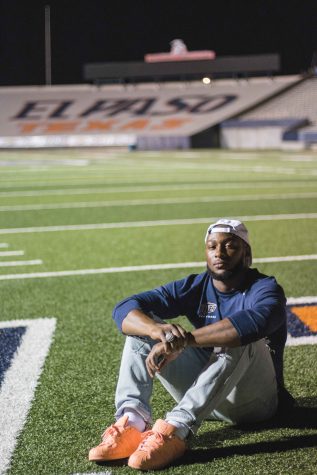 Miner redshirt junior running back Aaron Jones announced on Saturday afternoon that he would be heading to the NFL as part of the NFL draft at the end of April. Sports editor Jason Green and reporter Mike Flores weigh in on whether they think that Jones made the right decision in leaving UTEP.
Jones picked the right time for the draft
Jason Green
Sports Editor – The Prospector
On Friday afternoon when UTEP running back Aaron Jones announced that he would forego his senior season to head for the big bucks of the NFL, there was an almost audible sigh of relief in the room. After years of watching their baby take a beating for football, it was time for Vurgess and Alvin Jones Sr. to see their son reap the rewards of his hard work.
After all, UTEP has reaped plenty from having Aaron Jones as a Miner.
I recently walked into the University Bookstore and right in front was a rack of No. 29 jerseys for sale. Of course, they did not have the name Jones on the back, but how do you think the school picked that number to manufacture en masse?
Yes, Aaron received a top-notch education from one of Texas's finer institutions of higher learning, but let's be real… how much is that worth compared to what he did for the school? His 1,773 yards rushing this season put butts in the seats when nobody really had any reason to come to the Sun Bowl. The millions that those butts put into the coffers of UTEP fund every other sport, including Tim Floyd's basketball bonanza, for the entire season.
Should he have gone pro? Hell yeah he should have gone pro. He poured his heart and soul out for this school and its fans. He destroyed his ankles and knees for a coach who was willing to run him into the ground before trusting a very capable Ryan Metz to actually throw the ball down the field like he was recruited to do.
What would he have come back for? To sell more tickets? More jerseys? Maybe just to help Sean Kugler keep his (paying) job for another year while destroying his body for the sake of the university. Aaron Jones is a 22-year-old man with nothing left to prove in college, who owes nothing to anybody and has every right in the world to leave his hometown for the bright lights and big paychecks of the NFL.
As far as the fact that he was told he should return to college rather than enter the draft when he requested information from the NFL, I say those people clearly have not been out to west Texas to see our guy play. They have not seen the heart and intensity firsthand like we have every Saturday. They have not seen the caring individual who would do anything for anybody and clearly would be an asset to any organization lucky enough to step up to the plate for him.
This is a running back heavy draft. We are going to hear that a million times from now until the end of April. You think that matters to Aaron Jones? He has the heart for this, don't you worry.
He has been carrying Sean Kugler, this football team, the athletics department and UTEP on his shoulders for a while now – a running back heavy draft ain't nothing. This was the right time, at least for Aaron Jones.
Aaron Jones declares for the NFL Draft at the best moment
Mike Flores
Reporter – The Prospector
On Dec. 31, UTEP star running back Aaron Jones made his decision to declare for the 2017 National Football League Draft and forgo his last season of eligibility. It was an emotional and bittersweet day. El Paso lost one of their most gifted athletes that decided to stay home and play for his hometown Miners.
Jones finished his time with the Miners as the school's all-time leading rusher (4,114 career yards) and had the second most touchdowns in UTEP history (33).
Jones made the right decision for his future. He gave everything, from his body to his dedication to the city and the university. No. 29 deserves to test the waters of the professional level. If Jones was to suffer another injury in a UTEP jersey, his chances of competing in an NFL uniform could be diminished. He came back from a dangerous torn ligament in his left ankle his third game of his sophomore season, and came back stronger than ever during his final season. The El Paso native cannot afford another season-ending injury if he were to suit up for the Miners once again.
During Jones' junior year, his final season, he had the most rushing yards in Miners' single-season history with 1,773 in 12 games. This landed Jones fourth in the nation throughout the 2016-17 football season, and in front of tailbacks, such as FSU's Dalvin Cook, Stanford's Christian McCaffrey and LSU's Leonard Fournette.
The work ethic of Jones will be loved by whichever NFL team gives him the only thing he needs: an opportunity. That's all he needs, is a chance to prove himself. If Jones could put up the numbers he did at his time with UTEP with a small and subpar offensive line, he could expand his talents behind a much more talented and larger offensive line that the NFL has to offer.
His decision will open up a lot of doors for his former team, the Miners, as they can add another player that made it out and went to compete professionally. Jones' hard-work can be looked up upon from incoming recruits and the new players could have a standard for the team, along with their individual efforts. Jones has the opportunity to become a role-model to El Paso kids all around, showing them that anything is possible, from sports to any field of expertise.
Head coach of UTEP Sean Kugler has connections with the NFL and Jones picked the right time to go pro as his best season earned him rights to be a Maxwell Award finalist, the Doak Walker Watch List and the Earl Campbell-Tyler Rose Watch List.
UTEP's standout tailback deserves better than another non-bowl season or the 4-8 record the Miners had in Jones' award year, since the Miners show no sign of improving any time soon. It would be the same story if Jones decided to stay his senior season, just another year lost for a shot at the rare NFL chance. In a loaded running back class, Jones could be a diamond in the rough for an NFL team—someone who will do anything to succeed.