Don Haskins Sun Bowl Invitational preview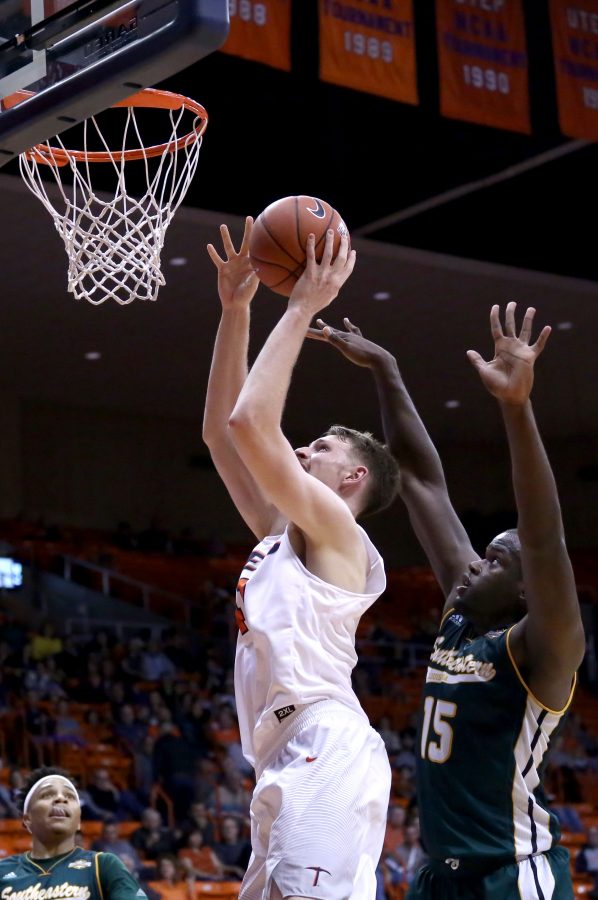 Mike Flores, Reporter
December 20, 2016
In the 55th year of the WestStar Bank Don Haskins Sun Bowl Invitational basketball tournament, UTEP will welcome in Maryland Eastern Shore, Akron University, and UC Irvine to the Don Haskins for 2016. The tournament will take place Dec. 21 and 22.
UTEP (2-7) is coming into the tournament on a six game losing streak, but will look to turn their luck around when they face UMES on Dec. 21. One area of concern for the orange and blue is their defense throughout the year, as a team they are allowing 75.2 points per game.
The Miners have the luxury of being in front of their home fans and also have some returning players looking for a chance to redeem UTEP basketball once the invitational kicks off.
One bright spot the Miners can hold their heads up high about is starting point guard Dominic Artis, he earned rights to the All-Tournament Team and the Don Haskins Award last year. Artis has experience under his belt and will need to lead by example. The head coach of the Miners Tim Floyd is 10-2 in the Don Haskins Invitational.
"Forever this was the Sun Bowl Tournament, now it is the Don Haskins Sun Bowl Tournament. I don't lose sight of that. Every day I walk into this building and look at Haskins picture on the wall, and think about the responsibility I have to this tournament. I bring that up because he would be disappointed in our record and definitely about our defense. Our defensive field goal percentage and three-point defensive field goal percentage are both last in our conference," Floyd said. "Our team has not been very good in our building, or away from it in matter of fact. These coaches should not be intimidated by our Miners because we have lost four games in a row at home. But we will take it possession-by-possession going forward, and continue to improve. We are a real work in progress right now. This tournament will help our guys out."
Akron will be riding into the invitational with the best record out of the four units, at 8-3. The Zips' three losses have been to worthy opponents, such as No. 7 Gonzaga, No. 9 Creighton and to a tough Youngstown State team. Akron will go head-to-head with UC Irvine on Dec. 21, as the Zips will compete in the Don Haskins Sun Bowl for the first time in school history. Akron is under head coach Keith Dambrot, who is in his 19th year coaching and 13th year with the Zips. His squad is averaging the most points out of the four schools with 78.2 points per game. They are led by Isaiah Johnson who nearly puts up 15 points a night. Dambrot's unit will be the favorite throughout the two-day gig.
"I'm glad to be a part of this tournament. We are excited about the competition and have great respect for the other teams. Our team hopes to start our Christmas week off strong," Dambrot said. "We are kind of a hybrid team. If you look at our statistics, it shows us as being a perimeter-oriented team, but in reality we are an inside team. We play through our big guys, like Isaiah Johnson, who goes by 'Big Dog', you'll see why in the tournament. We have experience at the front court. I would say we are a strong mid-major team."
UC Irvine will face Akron, but the Anteaters are no stranger to this tournament. Last year, UC Irvine stole the crown from the Miners, and will hope for back-to-back years of being champions of the Invitational. However, this season's unit will feature seven freshmen who are all new to El Paso and the Invitational. Head coach of the Anteaters Russell Turner has started the 2016-17 year off to a rough start, going 5-8. UCI has struggled on the road this season, as they are 1-5 away from home. Regardless, Turner is accustomed to coaching some successful basketball teams.
Last season UC Irvine were a participant in the NCAA tournament after finishing with a 28-10 record overall. Turner will look to turn the Anteaters' season around once the tournament takes place. UCI's biggest threats are Jaron Martin, who averages 13.9 points a game and has a team-high of 44 assists on the year, along with Loannis Dimakopoulos (9.9 ppg). Arguably UCI's best player in Luke Nelson has not played a single game this season, as he is dealing with a hamstring injury, and will not compete in the Invitational. Nelson was named to the All-Big West Honorable Mention Team in 2015, his presence will be missed going forward.
"It's a pleasure to be back. We didn't think it would be possible to be back, but we made it. The hospitality and everything here makes it such a great experience," Turner said. "Our team is different this year. We lost our tallest player in the program's history, and probably in the tournament's history. I like my squad, we've played a tough schedule so far, and I feel we are better than our record. I am thrilled to be able to compete here again. This experience in this tournament will be crucial for our readiness in March."
UMES is riding into the tournament with the worst record of the tournament field at 1-11. Their schedule difficulty has a lot to do with their year thus far. They have faced teams, such as Wichita State, Michigan and Virginia Tech along with many other successful basketball programs.
Head coach of the Hawks Bobby Collins is 0-10 on the road this year. The Miners' first opponent  have given up over 70 points to their opponents in all but one game so far. Their offense is averaging 65.3 points a matchup, making it difficult to keep up their defensive efforts on the other side of the ball. Collins' group is coming off a nail-biting loss against American University on Dec. 19, 61-58. The Hawks are led by their two top scorers, Ryan Andino (13.7 points per game) and Bakari Copeland (13.4 points per match and 5.7 assists). UMES is small and their rebounding numbers speak for themselves—not a single player on their roster averages more than four boards a night.
"I have a very young team, and we have had a very, very tough schedule starting our season out. We are competing, working hard, and doing the right things to improve. We still have some work to do. Having a young team, we just haven't learned to win yet," Collins said. "This tournament helps us because we only get one-bid in March. We have to win our tournament in order to have an opportunity to play in the 64. We are competing for that. It's about our team getting better and giving us an idea on how to win before that time comes. My team is an equal-opportunity fast break team. In half-court sets, we try and get the ball inside and work outside. It's very simple."
The tournament will begin when Akron takes on UC Irvine at 5pm on Dec. 21, and then will move on to the UTEP-UMES game at 7pm the same night. UTEP has 30 championship tournament wins throughout the invitational, and will look to regain the title once again.