Miners prepare for Aggies in the Battle of I-10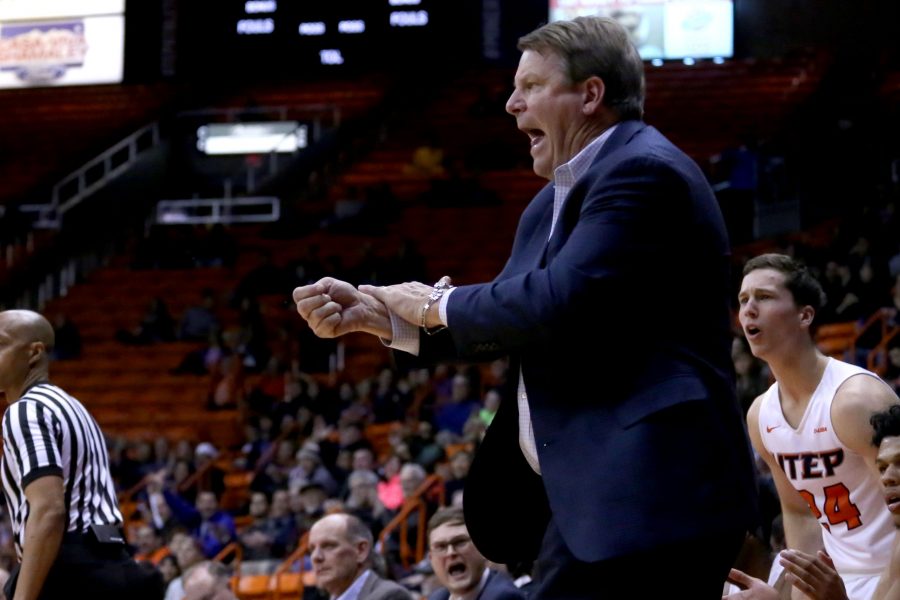 Mike Flores, Reporter
December 12, 2016
UTEP men's basketball will welcome in New Mexico State University for the Battle of I-10 on Tuesday, Dec. 13. The Miners are coming off a nail-biting 78-77 loss to the New Mexico Lobos, and fell to 2-5 on the season, which is their worst start in the first seven games under head coach Tim Floyd since 2011-12.
On the other hand, NMSU is flying in hot with their 8-2 record with some impressive wins against UNM and Air Force. The Aggies are under new head coach Paul Weir.
Last season, NMSU swept their matchups against the Miners. The Aggies were victorious on both occasions, 73-59 and 73-53, respectively. UTEP has fallen short in their last five out of six games through the rivalry.
Despite UTEP's loss to the Lobos, there were many bright spots to build momentum off and take into their rivalry matchup with NMSU. Omega Harris, Deon Barrett, and Dominic Artis had a combined 60 points against UNM. Floyd knows that if his team is to upset the Aggies on Tuesday night, they will need a repeat performance from his backcourt.
"We're going to need another big game from our guards to beat the Aggies," Floyd said.
Barrett earned the Conference USA Freshman of the Week for his outing against the Lobos on Monday, Dec. 12. In just 19 minutes he totaled 25 points, three assists, and zero turnovers. Adding another scorer to relieve Artis and Harris is going to be crucial for UTEP basketball to turn their season around.
"Young player in Deon Barrett got his head up. It's great because we desperately need a third scorer that can come in and help us make some baskets," Floyd said. "We are hoping he shows the confidence to keep it going. It was an extremely difficult situation he played in. It was his first road game as collegiate player, and to step in and make those kind of shots… I don't know if I ever had a player make 25 points in a half, much less a freshman. But he (Barrett) knows that there are other ways to help this team, and if the ball is not going in, there is other things he can contribute."
Barrett is new to the UTEP-NMSU rivalry, but he is no stranger to big games on the hardwood. He shows no signs of slowing down, as he plans on improving from his break-out performance.
"Rivalry games are fun to play in because they just bring out the best in both teams, and the crowd. If we get our crowd involved, it should turn out to be a good game for us," Barrett said. "Being freshman of the week is an awesome feeling. I've practiced so hard to get to this point, and I think it's well deserved. I'm going to keep shooting, working hard, and keep giving this team some valuable minutes."
Regardless, UTEP will need to do something that they couldn't do all of last year—stop NMSU's Ian Baker. Baker did what he wanted against the Miners' defense last season. In two games against the Miners, he totaled 48 points, 8 assists, and 11 3-pointers. It's safe to say that Baker is on the minds of Floyd and his troops.
"They (NMSU) have got a couple of good guards. Baker came in here and just kicked us around last year, and he's off to a great start this season again," Floyd said.
Lone senior on the UTEP roster Dominic Artis got his first taste of the rivalry last year and he hopes to come out on top against the Aggies in his third try. Artis is the team's leading rebounder with 6.7 per match, leading passer with his 7.9 dimes a night, and second highest scorer, averaging 15.3 points per game.
"We definitely have to stop the ball. Baker brings up the ball very hard in transition—everybody is going to have suspicious on the defensive end, and we have to finish off possessions with rebounds, that's definitely going to be key," Artis said. "Defense is where we need to get it done and making an impact. There's a lot of energy and commotion around the game, so we have to focus on what's going on in between the lines rather than what's happening outside."
NMSU has stumbled on the road twice this season. They are 1-2 when forced to travel. The Aggies are averaging 76.4 points per night, so UTEP will need to brush up defensively.
UTEP is riding in with a four game losing streak, but with the distractions finally behind them and some players stepping up for the orange and blue recently, the Miners will look to get back to their winning ways, according to Barrett.
"We're building; we're getting better every day, practicing hard, and buying into what coach Floyd wants. We'll play UTEP basketball and hopefully come out with the victory," Barrett said.
Starting on Tuesday, the Miners have five home games before hitting the road. A good performance against a hot Aggies team could be the game that sparks Floyd's unit for the rest of their homestead.
"I think our guys that have been here know what they're going up against, but I don't think our freshman have any clue about this game. But they'll learn, and they will learn quickly. NMSU is going to come over here with a very talented team, and play exceptionally-well in our building," Floyd said. "This is a team that looks like an NCAA tournament team."
Follow Mike Flores on Twitter @MikeyTheReal