Men's basketball drops third loss in a row to Northwestern State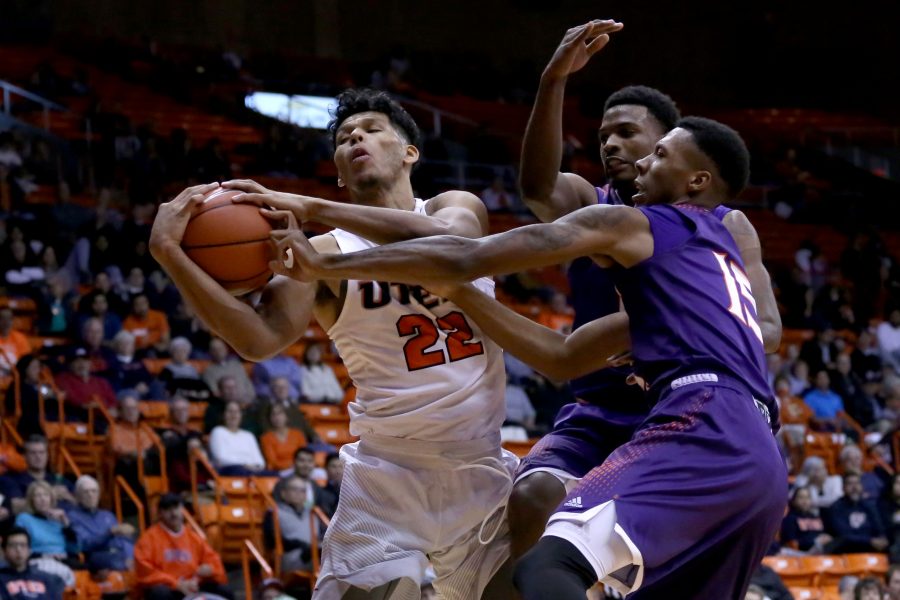 Mike Flores, Reporter
December 4, 2016
UTEP men's basketball came into their matchup against Northwestern State on Dec. 3 with some key components of their team missing—former starting forward Terry Winn leaving the program and starting guard Omega Harris not being in uniform due to his suspension from missing class.
Being at home was one plus the Miners could claim to, but with all the players missing and after struggling to hit a jumper throughout the whole game, UTEP could not overcome Northwestern State, losing 79-67. The program fell to 2-4 on the season while the Demons improved to 4-4.
In the first half of the contest, NWST came out looking to force turnovers from the Miners, who have been handing over the rock at an alarming rate of over 16 times per game. Their full-court pressure at times and 2-3 defensive zone had the Miners fighting for every point and struggled to find easy shots. The orange and blue played into the Demon's game plan by coughing up the ball 10 times, and giving up 12 points off of their turnovers.
"We had our fair share of turnovers in the first half. I think Dominic (Artis) would like to have his seven back from the first half. His confidence is not where it has been in the first five games of the season, but he's a good player, and will recover," head coach Tim Floyd said.
The first half ended in a tight notch of 39-34 in Northwestern State's favor. UTEP was on the wrong side of the scoreboard for 16 minutes of the half.
The bench play was a huge advantage for NWST as they totaled 21 points from their bench-mob, compared to UTEP's four bench points. The Demons' backups came out of the first half with more points than their starters, and had a well-oriented distribution from every athlete coming off the Demon bench.
Floyd and his members had no answer for the 3-point shot in the first twenty minutes of play. Both UTEP and NWST made a total of 13 shots, but the long-range shots were the difference in the first half. The Demons connected on nine from the arc. The Miners 3-ball was not going up as much once Jake Flaggert picked up his third personal foul 11 minutes into the game.
Flaggert's foul trouble in the first period made Floyd focus more on the inside game. UTEP outscored their opponents 12-4 in the painted area and controlled the glass with the team's 18 rebounds.
When the second half made its way, NWST strolled out to a 7-2 run within the first five minutes and led to a lot of frustration amounting in the Don. UTEP's big man Matt Willms was helped to the locker room at the beginning of the second period of play with a broken nose and never made his way back on the hardwood. His eight points and defensive presence in 19 minutes was taken away, which added another obstacle Floyd had to deal with.
"Matt broke his nose, and I don't know what that's going to mean in terms of his recovery, or when he will play again. That further limits us on the interior. He was 4-for-7 and you look at what we had on the interior outside of him; he is our most effective interior scorer. And that's where we've always tried to play through," Floyd said.
Kelvin Jones, the relief for Willms, had a lot more on his plate than usual, but his hard play was only good for 17 minutes, after he fouled out of the game. Flaggert continued to get the whistle blown his way as well; he also reached the foul limit and made the options for the Miners even smaller.
NWST bent, but never broke. Their lead was never handed over to the depleted Miners—UTEP got as close as five at some points throughout the second half. Every time the fans had their hopes up in making the comeback, their dreams were flattened with costly turnovers from their Miners (15 in the game), and some seat-burying 3-point makes from the opposing Demons. NWST nailed 12 from beyond the arc and shut down the Miners.
UTEP relied on the downtown shots to climb back, but it backfired on them as they shot a rough 32 percent from long range, finishing 8-for-25.
Their struggles with hitting buckets translated to the free-throw line. As a team the Miners hit only 52 percent of their charity strike attempts (11-21). Floyd could not bear to think about the missed opportunities his team let go, and what good free-throw shooting could have done to change the outcome of the score.
"We were 11-for-21 tonight, and it was a struggle there. Had we made our free throws at a higher clip maybe we could have played it a little differently down the stretch. Missed free throws are big momentum changers," Floyd said.
It's safe to say Harris' 15.6 points per contest had more of an effect than Floyd had hoped, as all Harris could do was watch from the sideline. The Miners are used to dominant play from their backcourt, but that luxury was not there all night. Artis had to carry the load and then some from his partner's suspension. UTEP only put up 67 points on the scoreboard, when NWST's defense came in allowing nearly 80 points per night.
"We lost some points out of our play. We also lost our experience out there tonight—our most experience guy in minutes played. Of course it hurt us, and the issue is you have to learn from it. I hope that Omega will," Floyd said. "This was the same guy that was academically ineligible last year, so sometimes guys back you into a corner, and you have to make tough choices. I hope he grows form it."
The bench play was still a major concern in the following half. The Demons' backups provided 31 points for their unit and let their starters earn some valuable time on the bench. UTEP picked up their bench scoring a bit and added 14 points from their relief players. Floyd knows if this team is to improve, and turn things around, his players that aren't producing much are going to need to provide more than they have been all season.
"We need big games from guys like Paul Thomas who didn't play much last year," Floyd said. "We not only have some youth that we're throwing out there at times, but a couple of our experienced guys that we were counting on are not here. We've got to have seven or eight guys perform well, and right now we are not there—we don't have that. And we are not a deep team."
NWST earned their first road win and the team's first victory over a Division I school this season. And, they did it without their best player Jalan West who suffered a knee injury during their first game of the season. West led the nation in assists per match two years ago averaging 7.7 in the 2014-2015 year and is the senior leader for the Demons.
"This was a good NWST team, and they have played at difficult places—at Oklahoma, Missouri, Texas A&M, and most recently Mississippi State, where they were down one with a minute to go. It was a week of distractions, and that certainly did not help us." Floyd said. "They looked quicker, faster, and more athletic. They also shot the three extraordinarily well, we were very slow to recover. I think they will do well in their league."
In UTEP's next five games, they will play four at home, but that is no quick fix to the beginning of their problems. The Miners are now on a three game slide, and will travel down to New Mexico with the Lobos waiting for them.
"We're short-manned right now. This is not one of our most talented groups. We have to practice, try to compete, and try to get better," Floyd said. "We're not a really good basketball team right now, and I recognize that. I would say I'm at fault."