The Prospector's exclusive interview with Terry Winn on his departure from UTEP
Sophomore forward Terry Winn is joining the growing list of players to transfer away from the UTEP basketball program during head coach Tim Floyd's tenure after he was abruptly sent back to El Paso during the Gildan Charleston Classic on Nov. 19.
Winn played in the opening round loss against Wake Forest and scored only four points before fouling out. The game was tightly called by the officials, with a total of 23 fouls called on the Miners. Starters Matt Willms and Jake Flaggert ended the game with four fouls and forward Kelvin Jones fouled out.
The next day, Winn come off the bench for the first time all season in an 85-75 win against Western Michigan. Winn scored 10 points and had five rebounds in the middle game of the three-game set.
But, Winn was nowhere to be found for the Miners' third game two days later, which ended up being a 61-54 loss to Mississippi State. Word came from the team following the game that Winn had been sent back to campus.
No official word was heard from the basketball program until last Wednesday, Nov. 23, following an embarrassing 72-56 loss to Southeastern Louisiana–a matchup that Winn was absent from yet again. After the game, Floyd addressed the media and said that he had not heard from Winn at all.
"I haven't seen him. He may have quit for all I know. He was benched for poor play and didn't handle it properly. We sent him home and haven't heard from him since," said Floyd. "Maybe he's through."
According to Winn, Floyd was right about one thing.
He is through.
"Yes, I had a 'bad game,' if that's what you want to call it against Wake Forest. I got in early foul trouble—big deal—but for him to claim he benched me for poor play is crazy," Winn said.
Winn also said he had no problem coming off the bench against Western Michigan and that he has often come off the bench during his career.
"For some apparent reason, (Floyd) felt as if I had an attitude about the (Western Michigan) game when I didn't. We won the game and afterward I told numerous teammates that it may have been a great idea that I come off the bench," Winn said.
Floyd has only talked to the media following UTEP's most recent loss—and his comments about Winn were limited to what is written here. The Prospector reached out to Floyd who declined to comment.
As far as what happened on the day that Winn was sent home from practice, there are two stories; Floyd's "he didn't handle it properly," and Winn's.
"In shoot-around, (Floyd) comes in still assuming that I had an attitude about being benched the previous game and goes off on me from the jump, saying 'I'm selfish' and 'a distraction' and it's about 'me, me, me.' I just laughed him off and simply said, 'Coach, I'm trying to win the game. Man, let's prepare for this game in a couple hours, not argue,'" Winn said. "He kept cursing me, saying this and that. I brushed it off with a smile and kept saying, 'Coach, I'd rather not argue.'"
According to Winn, after asking Floyd to just let him prepare for the game several more times, Floyd got louder and louder—eventually telling him to leave "his court" and go back to the team hotel. Approximately 15 minutes later, Winn received a call from the Director of Basketball Operations Evan Eustachy telling him to pack his bags for a flight back to El Paso.
This is not the only place where Winn and Floyd's stories diverge. Floyd also said in his only statement that the team had not heard from Winn. That statement came on Nov. 23. Winn says that he contacted the coaches, including Floyd, upon their arrival in El Paso on Monday, Nov. 21.
"I reached out Monday to three coaches, including Floyd. Nobody responded but (Bobby) Braswell, who only responded with a brief message to contact coach (Floyd), which I already did," Winn said. "None of them reached out at all, and I think if I had not reached out, none of them would have. They would have just kept rolling and told you guys I fell off the face of the earth."
Winn provided The Prospector with text messages between him and Eustachy from Monday, Nov. 21 at 7:13 p.m. requesting cell phone numbers for several coaches including Braswell and Floyd. Although Winn has proof that he asked Eustachy for the coaches' numbers on Monday, he could not provide proof that he actually contacted the coaches.
Winn did have a copy of a text sent to Eustachy asking about meal money and "release papers" from an unknown date. He says that the same "meal money, release paper" text was sent to all three coaches on Monday evening. It appears that Winn received no response from Eustachy on this unknown date.
The only verifiable communication between Winn and Floyd – according to Winn – came on Friday, Nov. 25 when the two shared a brief text exchange.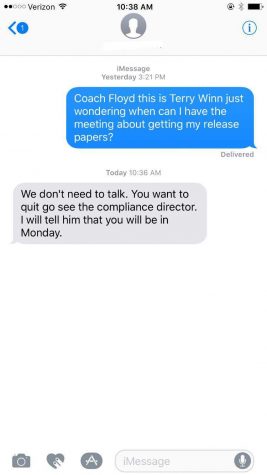 Winn was never contacted from the time that he arrived back in El Paso until he reached out to the coaches on Monday. His first contact with Floyd was with the above text, according to Winn. Winn says that by the time he heard there was a plane ticket for him back to El Paso, his decision to leave the team was being made. He said that even if a coach had contacted him, he probably would have still planned on transferring.
"There's a lot of fake stuff going on in that program. No one really cares about your best interests as a player," Winn said. "Just not the best of player-coach relationships—with you one day, against you the next—as if they never knew you. But, I understand. It's a business. Nothing personal."
Winn later added, "definitely not a family oriented program."
When asked if there were anything that the staff could do or say to keep him, the answer was simple for Winn, "nothing."
So, Terry Winn will be added to the list of players who transferred before their eligibility was up at UTEP.
Over the past six years, Arnett Moultrie, Michael Perez, D'Von Campbell, Darius Nelson, Marqywell Jackson, Malcolm Moore, Twymond Howard, Chris Washburn, Vince Hunter, Brodricks Jones, Josh McSwiggan, Lee Moore and now Terry Winn.
Winn preferred to leave speculation about Floyd and his coaching style to the fans and media when asked for comment. He did acknowledge that he knows that players have left due to Floyd's being out of touch with today's players; giving the vague answer, "new era, man," and unwilling to give details for other players who have left the team early.
Winn said his main purpose in speaking with the media in this situation is to counteract what he perceives as a gross misrepresentation of what happened between him and Floyd. He said he really does not want to be known as a "quitter," and to that extent, he was asked what his teammates have said to him about the situation.
"They all told me they will be rooting wherever I go and best of luck – same old, same old," Winn said. "I just told them I'm transferring for the betterment of my basketball development – nothing personal."
Winn will finish out the semester at UTEP—which ends on Dec. 5—and then complete the process of transferring to a new university. Winn met with the compliance department on Monday and will receive his transfer paperwork shortly. He has already been contacted by several potential coaches.
As far as his, now former, team goes, Winn said he will miss them and has nothing but kind words for his former teammates.
"I am with them. I wish them the best of luck this season. They have the best back court in Dominic Artis and Omega Harris. Matt (Willms) is a great big, who is battling with injuries, but God will see him through—and Paul Thomas is for sure going to be a great kid on and off the court–developing rapidly everyday," Winn said.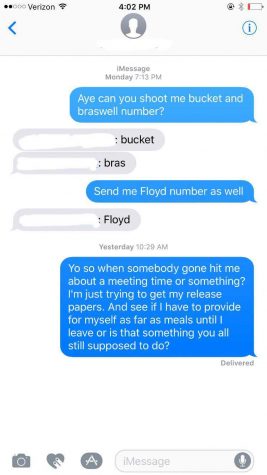 As far as the UTEP fans' memories of Winn, there is one thing that he would like to be remembered for—and it is definitely not what happened on the practice court at the end of his UTEP career.
"I love the game of basketball. My on-the-court passion speaks for itself," Winn said.
Follow this developing story at theprospectordaily.com.