Men's basketball searching for redemption against NSU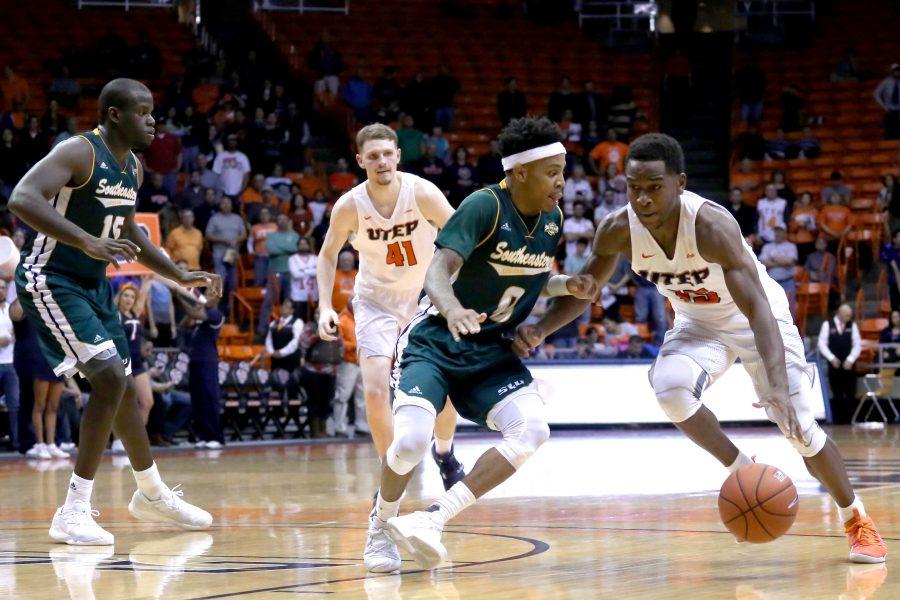 Mike Flores, Staff Reporter
November 29, 2016
UTEP men's basketball is coming off their first home loss of the new season against Southeastern Louisiana, 72-56, as they fell to 2-3 in their first five games of the year. They are looking to bounce back as they welcome Northwestern State on Dec. 3, at the Don Haskins Center. Many improvements will need to be applied throughout the game if the outcome is going to be any different this time around.
The Miners will have the luxury of a nine-day rest before their matchup against NSU before hitting the hardwood again. This is a time for them to get healthier and right some early-season wrongs.
Head coach of UTEP's basketball program, Tim Floyd, hopes to use the week and a half off to his team's benefit.
"We desperately need these nine days, it's very important to our team," Floyd said after their loss to Southeastern Louisiana.
On the other hand, the Demons, who find themselves at 2-3 as well, have three scheduled opponents before their showdown with UTEP, which will be tough contests, including Missouri and Mississippi State.
NSU started off sloppy on the road this year, posting up a 0-3 record when they are away from their crowd, and losing by more than 20 points in each of those away games. The Miners hope to continue the Demon's bleeding when they are forced to travel.
UTEP has been notoriously good at defending the Don under Floyd, as he has marked a winning record at home in his first six years at UTEP. This season, UTEP basketball is 3-1 in the Sun City, including exhibition matchups.
However, starting forward for UTEP, Terry Winn, was not suited up in the Miners' last loss against SELU due to a team suspension, and his presence was missed dearly. His production in the first five games of 9.7 points per game and 5.7 boards per match was hard to make-up for.
Winn Tweeted about his departure from the program on Saturday, Nov. 26.
"He was benched for poor play and didn't handle it properly, so we sent him home. Maybe he's through with this team. His behavior dictated the way we handled things with him. Winn has been a big distraction, and continued to be, so that's his choice," Floyd said. "We have a lot of guys that want to play at this level, and want to get better and have this opportunity, so I want to focus on the guys that we have currently."
With Winn out, the Miners will need to find a way to play around his absence. Other players will be looked at to step up and take control of the starting forward spot.
Another issue that UTEP faces before NSU is the health of the team's 7-foot-1 big man starter Matt Willms, who has been solid this season. He is the third-highest scorer on the team with 13.6 points a night, and he added 22 points in UTEP's victory over Western Michigan. Willms is the Miners' best rim protector as he has a team-high of eight blocks on the season.
After Willms' promising start, he has slowed down only because of his reoccurring foot problem. He will benefit the most from the time off as his projected minutes against NSU is still a question mark.
"I don't know what's going on with Matt and his foot. He has not played with the same burst and speed that he did with in Charleston. I'm worried and concerned about him trying to play through with whatever he is dealing with," Floyd said. "His injury has been going on for four years now. It's a very, very difficult injury to deal with, it has ended a lot of careers. You have to give him credit for getting out there—he knows we need him."
This Miners' team is young and still trying to figure things out before conference play comes around. UTEP is tied with Rice for the most underclassmen in Conference USA with 11 players each.
NSU will be a good measuring stick for UTEP; the Demons are battle-tested and have produced winning seasons in the last three out of four years.
"We've had probably the most losses in Conference USA in terms of quality players, or starters, with Josh McSwiggans, Lee Moore, Vince Hunter and Matt Willms a year ago. So we are going to start integrating new people on the fly in these next games," Floyd said. "A lot of who we have out there right now, some of our bench, are fill-in's late. We have paid a great price from our departures, so we are not who we are yet."
Sophomore Paul Thomas has played in all five games and has earned the second-most rebounds on the team (6.4 per game). He and freshman center Kelvin Jones have provided sparks for the Miners, as Jones has raised Floyd's eyebrows on a couple of instances.
"Kelvin Jones has been one of our bright spots. I feel that he is going to be a player for us. His instincts are where he needs to grow, but you can see his athleticism, his strength and will. He has not played a lot of basketball, but he's learning," Floyd said. "Jones has been trying to become a great player for UTEP since Willms is still ailing with his pain."
UTEP has no problem putting the ball through the hoop and the Demons have given up over 80 points per game this season. NSU is also suffering on the defensive end when it comes to shooting percentages. As a team, their defense has allowed their opponents over 50 percent from the field. Expect redemption games for the Miners' backcourt in Dominic Artis and Omega Harris, who are both adding in 15.6 points per matchup each.
NSU has two scoring options with Zeek Woodley and Ishmael Lane. Woodley is nearing 18 points per night, with 17.4, and Lane is throwing in 12.2 per game. No other player on the roster is averaging more than seven points on the two-man show for NSU. The two student-athletes have each attempted the highest amount of shots on the team, so UTEP will need to limit them if the home team wants come out on top.
Floyd's group has put more emphasis on the defensive end in the last couple of games, and NSU is not as lethal on the offensive part of basketball as some of UTEP's past matchups. The Demons are not putting up more than 70 points per contest, and will have problems keeping up with the Miners' usual efficient scoring offense, as UTEP has tallied more than 80 points in five games.
The Miners have the schedule makers on their side as they have five home games in their next six games.
"We'd like to start off with a win against Northwestern State. That's the essence of what we're trying to do," Floyd said. "Offensive efficiencies would be a great place to start (when the Miners play again). We have a lot of time to work things out and we'll continue to keep on working."