Las Artistas juried art show exhibits handmade crafts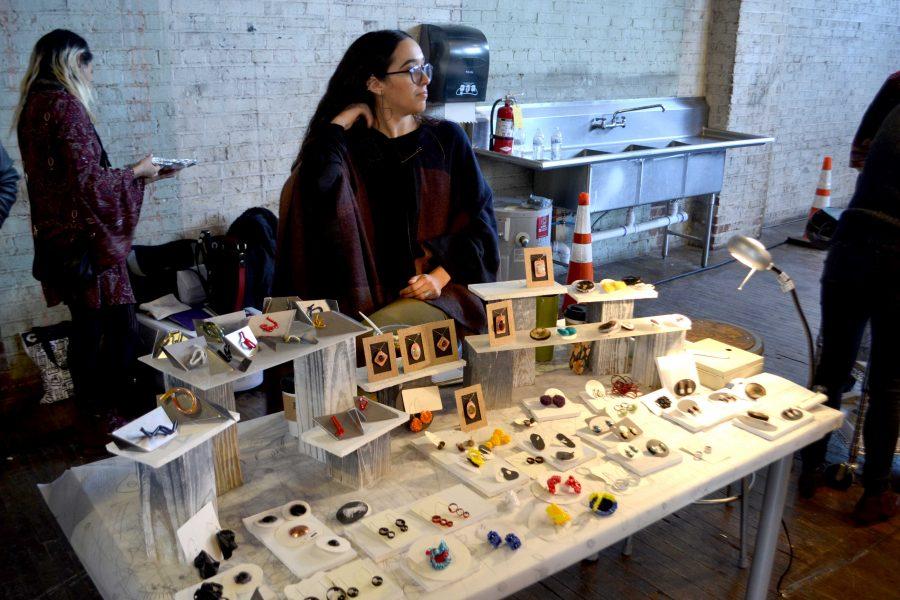 Mike Flores, Staff Reporter
November 29, 2016
The 46th-annual Las Artistas Arts and Fine Craft show took place on Nov. 19 and 20 at the EPIC Railyard Event Center, where over 90 artists and craft makers from all over the nation come to show off their work to the community. 
The event has been going on since the '70s and featured many works of art to purchase such as jewelry, ceramics, fiber art, paintings, frames, cards, decorations and clothing. All the art is handmade and an opportunity to turn the artists' hard work into money.
When you first walk in, there was a table promising an opportunity to win a raffle for $50, all they needed is your name, number and email address. After passing the sign-in process, multiple food trucks at your service greeted you. It included snacks such as popcorn and cokes for the stay, alongside grub to appease any hunger. To top all the goodies off, there was a wine-tasting section for the older crowd. This granted many the freedom to drink something tasty and be in awe of the work in front of them at the same time.
Emerging artists have the chance to learn and catch some techniques from crafters who make artwork for a living. There is a place for the aspiring designers that included UTEP students, where more than 40 metalsmithing students participated in the event.
Las Artistas made the effort to emphasize the school's talent and offered scholarships for art education and to share their gifted teachers with the students. The professors showed these students  how to reach their potential by teaching them in workshops and with their very own demonstrations.
Every UTEP artist, who had their art for display, exhibited different forms of their work. The students created something from a specific place of their picking, which was their assignment from their professor. For example, junior studio art major Jessica Rodriguez picked dark sightings to design and explained what others put out for the crowd.
"I used wood and charring, and I made earrings to match the darkness. Some others picked a road they were driving on, so she used asphalt for her artwork. This other student used his house as his place, he found comfort from his cat, so he used some of his cat's hair to design his work," Rodriguez said. "We have 25 to 30 pieces on display, and the others here that do it for a living have around thousands of pieces to show. Twenty for us is stressful, I can only imagine the others."
Kids still in elementary school were also able to participate. Their drawings were pasted on a wall and awarded  first, second or third place.
Surrounding the up-and-comers were professional and independent artisans. They had the luxury to mark their own pricings; and prices varied from $15 to the thousands.
Some of the unique designs for presentation were a mixture of humans and animals, such as the Mona Lisa crafted into a fox, and magicians with their rabbits as a part of them. It had a different twist to it, but the artists made their work worth the pretty pennies being spent. A lot of designer plates and household decorations were being sold, and some of the creators added pets in the background, they would feature animals, such as cat-themed lamps and forest animal plates.
There were also photographic images that would be turned into art. The photographers would take pictures of distinctive landmarks and mimic them realistically in their drawings. For every style of art, there was a piece for the taking.
Painters were allowed to show their skills with a paintbrush in front of the crowd and showed their progress as Las Artistas went on. The artists that wanted to share their insights could sign up for "Meet the Makers," which was held off to the side of the art displays and was an hour-long session to meet the person behind the fantastic crafts. The audience sat on comfy couches and were informed by the professionals themselves. It went on all day, and new designers would come out every 60 minutes. This was the first year that Las Artistas brought this feature to its fans.
Every year, Las Artistas brings a platform for artists to display their work while earning some extra money and build a reputation for themselves. This event is also an opportunity for UTEP students to become emerging artists. The show hosts some of the most well-known artists, along with El Paso's local talent.