Men's basketball sophomore Winn plans to transfer from UTEP
Pending a meeting on Monday with the basketball team's compliance director, sophomore forward Terry Winn plans to transfer away from UTEP as soon as possible. This news is following Winn being sent home by the team from the Gildan Charleston Classic on Nov. 19.
In the first game of the tournament, a 103-81 loss to Wake Forest, Winn scored only four points before fouling out of the game. The next day, against Western Michigan, Winn, who is typically a starter, came off the bench for 10 points and five rebounds. The Miners won the game 85-75. Winn was sent home during practice the next day prior to the Miners final game on Sunday, Nov. 19, which ended up being a 61-54 loss to Mississippi State.
Earlier today, the sophomore tweeted this announcing his departure for the team: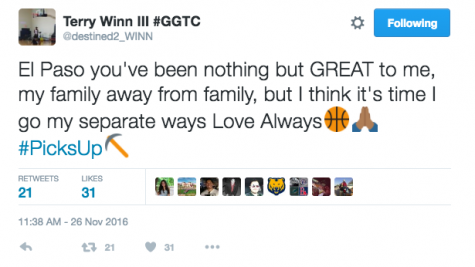 According to Floyd, Winn was benched for "poor play and didn't handle it properly." Winn has told The Prospector a drastically different story in which Floyd was the aggressor and Winn did not "quit" on his team at all, as was implied by Floyd. Read Winn's story on Tuesday in The Prospector and online Tuesday at theprospectordaily.com.
Follow Jason Green on Twitter @greenevansj