Miners prepare for trip to Rice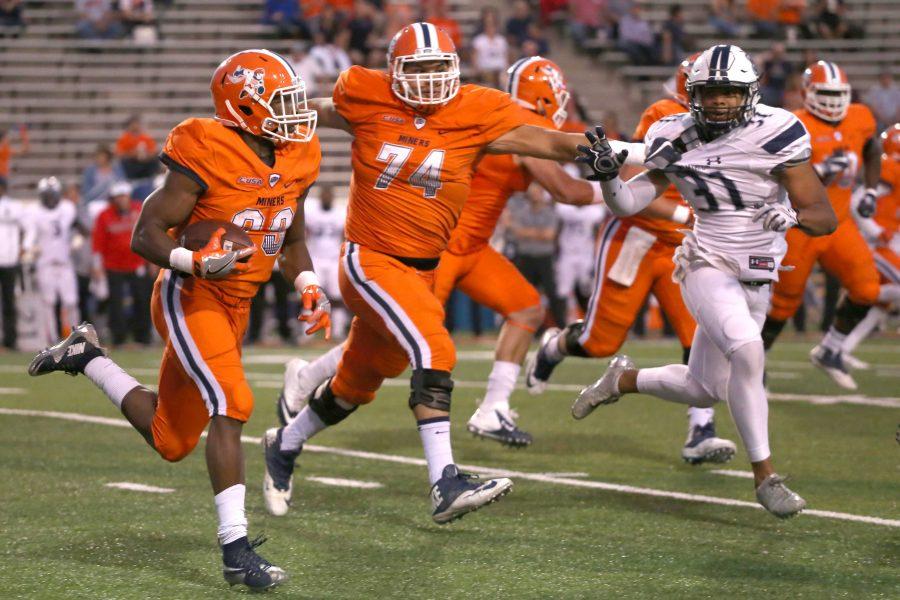 After their bowl hopes were dashed in a heartbreaking fashion against Florida Atlantic, the Miners (3-7, 1-5 C-USA) are left to regroup against Conference USA's worst team in the league, the Rice Owls (2-8, 1-6 C-USA) in Houston, Texas, on Saturday, Nov. 19.
"Right now my main concern is focusing on this team and the improvements that we can make," Kugler said. "I know it's every else's job to point out the negatives; as a head coach my job is to find the positives and try to build on that."
As the game clock struck zero, the Miners were in disbelief because of what had just happened—earlier, with less than seven minutes left against Florida Atlantic, the Miners were leading 31-20.
The Owls orchestrated an eight-play, 75-yard drive for a touchdown, capped off with a two-point conversion, which cut the Miners' lead 31-28. UTEP then sparked a promising drive, but was halted at the midway point, forcing the Miners to punt with just over two minutes remaining.
They pinned FAU at their own four-yard line, but quarterback Jason Driskel energized a 10-play, 96-yard drive resulting in a touchdown pass that sealed the 35-31 lead. 
The loss against Florida Atlantic shut down any remaining hopes the squad had for a bowl game bid. The Miners were not able to erase their 20-game losing streak in the Eastern time zone, and now have a 0-21-1 overall record when playing in that respective time zone.
"That was a devastating loss for our team," Kugler said. "For the coaches, it was tough to address the team after a loss like that and the fashion that we lost."
Rice, who has struggled this season, is coming off a big 22-21 victory over Charlotte. Prior to the game, they had lost eight of their last nine contests. But, the Owls rallied from a 21-0 deficit, scored 22 unanswered points from the second quarter to the end, and won their first game in C-USA.
The Owls are led by quarterback Tyler Stehling, who has completed 192 of 314 pass attempts this season. Stehling ranks seventh in C-USA in passing yards, totaling 2,023 yards this season under the pass-heavy team.
Leading the charge defensively, the Owls rely on linebacker Emmanuel Ellerbee. He currently leads Conference USA in total tackles with 58 tackles this season. Also, Ellerbee has four sacks under his belt and one interception.
Rolling on Jones
After his 229-yard performance against Florida Atlantic, standout running back Aaron Jones became the school's leading rusher. He has 3,738 career rushing yards and 1,397 this season alone, which ranks him fourth nationally for rushing yards. He is also ranked fourth for 139.7 rushing yards per game, eighth for 7.31 rushing yards per carry and tied for ninth in the nation for his 13 rushing touchdowns.
"I just want to congratulate him [Aaron]," Kugler said. "He's a young man who became UTEP's all-time leading rusher. He did it in a big fashion. He was ultra competitive in that game. He's surpassed some damn good running backs on that list to accomplish that. I'm very happy for the young man. Not only is he a great player, more importantly, he's a great person."
Red-hot Metz
Ever since becoming a starter, quarterback Ryan Metz has ignited a spark in the Miners' passing game. Through two games, Metz has had a high completion rate, completing 29-of-40 passes. He adds an extra spark to the game, which is needed for the Miners.
Through the nine games he has played in, Metz has thrown for 1,035 yards and 10 touchdowns. He also is swift on the ground and has contributed 94 rushing yards when scrambling for the Miners.
Kickoff against the Owls is slated for 10 a.m. Mountain Time in Houston.
About the Contributors
Adrian Broaddus, Sports Editor
Adrian Broaddus is the sports editor for The Prospector. He is a junior multimedia journalism major with a minor in political science.



Adrian...