Men's basketball to test depth against Wake Forest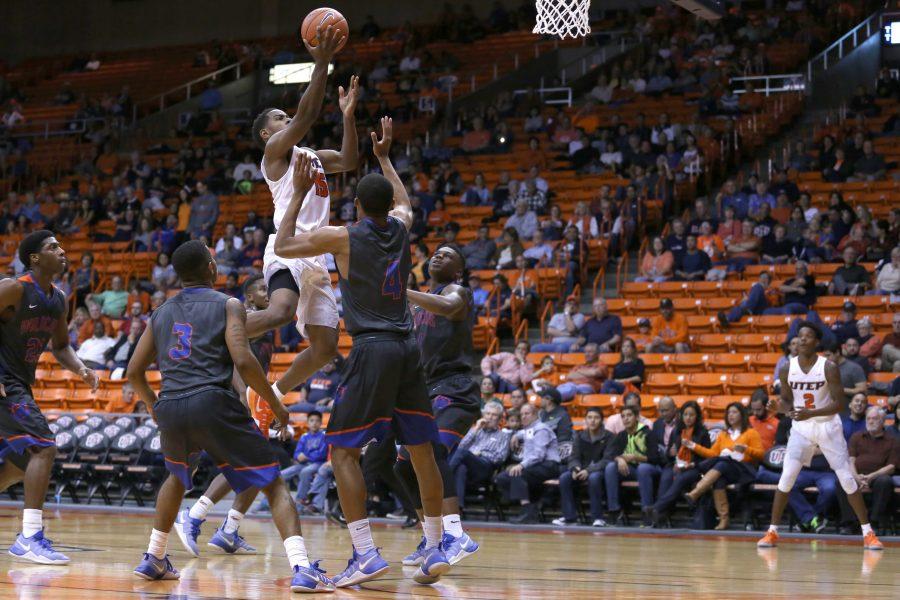 Mike Flores, Staff Reporter
November 15, 2016
Following the opening week of college basketball, which the UTEP men's team put on a show in front of their home crowd with the 88-54 blowout win against Louisiana College, the Miners are now set to travel to Charleston, South Carolina, for the Gildan Charleston Classic.
Wake Forest will be awaiting the Miners on Nov. 17 at 11:30 a.m. Mountain Time, and the winner will likely go head-to-head with the defending champions, the Villanova Wildcats. If they lose, the Miners will likely play Western Michigan on Friday, Nov. 18.
UTEP head coach Tim Floyd will have his hands full with the Demon Deacons as they are in the loaded ACC Conference with five schools ranked in the top-25 national polls. Wake Forest gears up every season to compete in one of the top conferences that college basketball has to offer, and they are used to sustained success in their history. The Miners' depth and success will be tested throughout the game.
However, last year was a clear disappointment for the Demon Deacons as they went 11-20 (2-16 ACC). Now, their roster is battle-tested from their strength of schedule from the year before.
Head coach of Wake Forest, Danny Manning, has made some key additions to the program and is coming into his third season as head coach. Some of their downfalls from the year before will not be present when the Miners tip-off against Manning's new-look team.
"I think they (WFU) have made great, great strides with their personnel. I had the opportunity to watch them last week. Their experience factor is growing, they are big, strong, physical. They have two 7-footers and size on their front line," Floyd said. "It's going to be a wonderful opportunity for our guys."
With their woeful season in the rearview mirror, Wake Forest has welcomed the new season with two wins in two tries. Their program has taken care of business in their early meetings—sweeping the floor with Radford, 80-59, and coming out on top by 20 against Bucknell, 94-74.
They have two returning starters—the most important returner being their guard Bryant Crawford, who was named to the All-ACC freshman team for his 2015-2016 outing. His first year in collegiate basketball he averaged 13.8 points per game, 4.4 assists and 1.7 steals a night, while he started in 30 of WFU's games.
Floyd has been watching film, trying to figure out a way to slow down the Demon Deacons, and he knows what his team is going up against.
"Wake Forest is really good. The film that I've been watching, they don't make any silly mistakes," Floyd said. "It's going to be a great test for our men."
On the bright side for the Miners, WFU is just getting used to a lot of new athletes on the roster. Manning lost a total of seven players from last year's squad, and even suffered the loss of forward Devin Thomas, who graduated at the end of the 2015-16 season.
WFU's greatest strengths coming in is with the 3-point shot, which is something that UTEP has been struggling to contain. The Deacons will not think twice about jacking it up from long-range, as three of their go-to players attempted more than 130 3-point shots last season, and brought in two transfer students that add valuable scoring from the outside as well—Austin Arians from Milwaukee, and Keyshawn Woods, who used to represent Conference USA's Charlotte. In only their first game of the new year, WFU has hosted up 18 shots from down-town.
For UTEP to steal their first outing in the Gildan Classic, Floyd's offense will need to ride their posts and challenge the inexperienced post-players from WFU and receive great guard play to counter the Deacons fire power at the guard positions along with taking care of the ball. Getting out to an early start is crucial for UTEP teams coached by Floyd. He is 97-21 when his Miners are ahead at half, and 20-51 when trailing.
Turnovers are the Miners' biggest pitfalls—including during the exhibition matchups. UTEP has given up the ball at least 20 times in all three of their games, and have totaled 65 mishaps in the young season.
"We can't turn it over so much, and have any sort of shot against Wake Forest. They are a team, in my opinion, that will finish middle of the pack and up. We can't afford those mistakes," Floyd said. "We need to learn how to value the ball. Turnovers have been the hardest thing to clean up. Generally, the turnovers came from players trying to do too much, the players need to learn how to make the easy basketball play."
Harris said he's been overlooked his whole life and nothing will change in his junior season. According to the 6-foot-3 guard, he and his teammates are ready to shock their naysayers, who have deemed the Miners as poor contenders for the season. The Miners were picked to finish sixth overall in the C-USA preseason poll.
"We always come in with a chip on our shoulders. Having someone tell you what you can and can't be, that's not good. Now we have to show them that we can do, and come out better than they say," Harris said. "All my life I've been playing against people who have been put up there in the top ranks, like Andrew Wiggins and Jabari Parker. To be honest, Wake Forest is just another team to me, and their players are just another person that steps on the court, just like I do. We step on the court at the same time.