Members of the Union Plaza neighborhood refuse to leave home
November 15, 2016
Editor's note: This is the third part of a three-part series on efforts being made to save the Union Plaza neighborhood.
The city held its first community meeting on Monday, Nov. 14, after a month of unanswered questions from residents of the Union Plaza neighborhood, at the vacant Trost Fire Station at the intersection of Santa Fe Street and Paisano Drive.
The El Paso city council approved the arena's location in the Union Plaza Neighborhood, also known as Durangito, in a 7-0 vote on Oct. 18. City planners are now referring to the arena as the Multi-Purpose Cultural and Performing Arts Center.
The meeting's intention was to allow city representatives to answer questions from property owners, tenants and business owners that will be affected by the center's location.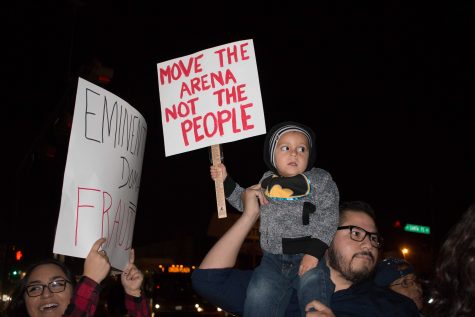 "The goal of tonight is to help you all understand what the process is and how the relocation will take place, inform you with information that will be very useful to each and every one of you," said Jose Villalba, the city's Land and Contract Administrator.
As Villalba spoke, his voice was drowned out by the sounds of drums and horns from picketers outside. The protest was one that groups such as Paso Del Sur and Radical Soup helped residents of the neighborhood organize after they found out that staff from the city would be present at the meeting.
"We're calling for a picket. We want the city representative Cortney Niland to come herself and explain to the residents why she voted how she voted," said Paso Del Sur co-founder Yolanda Leyva prior to the meeting. "That's what we're asking for through this picket, don't send the staff. You come and you talk to the people face to face."
District 8 representative Niland did not speak directly at the podium but she was approached by a group of activists in favor of saving the neighborhood after the meeting.
During the meeting, Villalba went over relocation assistance the city can provide.
"Each and every individual will have several options presented to them," said Villalba. "We will have individual meetings to understand what your individual needs are."
Villalba went on to provide options for moving assistance, which includes reimbursements from receipts or the option of receiving the money first.
"We can customize it in any shape or form and it can be a blend of both," Villalba said. "The goal is to make sure that you understand that we will move you to a place that's comparable to your current living conditions."
When questions were opened to the crowd, a resident asked: "When can we move and when must we move?"
Residents will be given a minimum of 90-day notice.
"We will make sure that where we relocate you is safe, sanitary, decent and within your means," Villalba said.
Jose Luis King, who lives on Chihuahua Street, asked if he would have to pay for legal counseling.
"We want to make sure the money goes more to you than lawyers," city attorney Siliva Borunda Firth said.
"It's going to be hard for me to find a place to move to," said King. "What if I find a place to stay right now? Will the city help me with my situation?"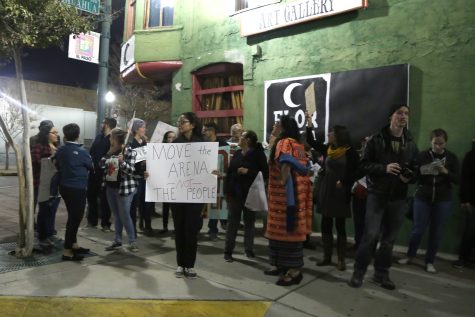 "Yes," Nailand interjected. "The offer stands right now."
"If you're ready to move today then yes you can move," said Villalba.
"We need to engage first with the property owners but if you're ready to go now go ahead and contact Jose Carlos," said Firth.
Resident Gilbert Guillen says the city has done nothing but lie through informing the neighborhood.
"Our residents are very afraid of what you guys are doing. When you guys approved us it was an arena, all of a sudden today it's a cultural performing arts center, which we will hold you to it," said Guillen. "We don't want a soccer arena, we don't want any of that crap you're doing with your friends."
Guillen said he was never informed of any previous community briefings Villalba stated took place in 2014 concerning the site location.
"99.9% of everyone I've talked to is not against the performing arts and cultural center, they're against the site. It just doesn't fit here," Guillen said. "You guys really need to listen to the people that it doesn't fit here. Tommy (city manager) and Silvia, I want to ask you guys to please look for another site."
Guillen, like Rock House Café and Gallery owner Mike Patino, expressed they won't go down without a fight. 
"We'll extend it over the years, as long as it takes. We're ready to rock and roll but it doesn't have to go down like that because there are so many other sites," said Guillen.
The meeting ended with a few more remarks from Villalba and boos from the crowd.
Picketers outside the fire station continued to chant and conducted a short march through San Jacinto Plaza and the Union Plaza neighborhood. Some picketers chanted at Representative Niland as she left the meeting.
City council will hold their next meeting where the arena is on the agenda on Tuesday, Nov. 15.
Michaela Román may be reached at [email protected].