Men's basketball drowns Louisiana College in season opener
Mike Flores, Staff Reporter
November 13, 2016
UTEP men's basketball started their season off in the right direction with an 88-54 victory over the Division III school Louisiana College Wildcats. Head coach of the Miners Tim Floyd improved his record under the program to 123-77, winning in his 200th appearance. His .615 coaching record ranks him in the top three winning percentages in school history. The Miners are now 5-2 in their openers under Floyd.
During the first 20 minutes of play, UTEP led on the scoreboard by almost 20 points, posting up a margin of, 45-29. The Wildcats trailed by 35 at one point in the opening period. And all of the 6,295 cheering fans only had to deal with 2:31 seconds of their basketball team on the wrong side of the score.
The home team Miners shot 57.7 percent as a team, compared to 32 percent from the Wildcats. UTEP's defense brushed up on their long range defense, only giving up three baskets from that distance, and forcing LCU to go cold all half, shooting only 25 percent.
However, UTEP got outscored in bench play, 16-12, in the first half. And coughed up the rock a total of 11 times against the Wildcats before the break—LCU converted those mistakes into 11 points for their lackluster offense.
On the flip-side, Omega Harris UTEP's starting guard, led all scorers with 24 points, shooting nearly 65 percent (9-14). He also nailed half of his team's three-point buckets, with four on the evening.
Harris fed off his home crowd all night, as he welcomed in his junior year with a splash.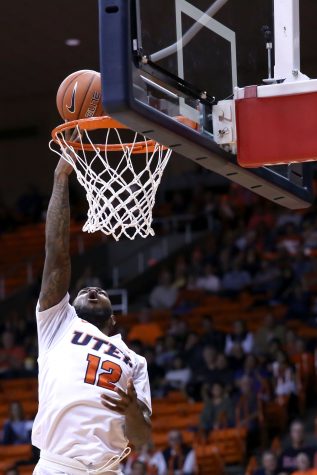 "It was our opener; a lot of energy was flowing tonight. We've been practicing hard since the beginning of the year, and we just wanted to show everyone what we've been working on," Harris said. "The team and I know that everybody is going to have a night like I had tonight. It's whoever has the hot hand that game, we're just going to keep feeding them. I wanted to step up to draw the defense to me, and be able to get others open."
Dominic Artis the floor general for the 2016-2017 show, tallied up eight assists in the first period and 13 throughout the matchup, along with nine rebounds, which all came in the first twenty minutes of action—he was one board shy of an opening night double-double. Artis contributed 8 points as well.
Flashbacks were being brought to Floyd's mind when he witnessed his point guard dish out assist after assist, and performed like a true leader would.
"Twenty-nine assists on thirty-four made shots was a good thing. I thought Dominic Artis was really unselfish tonight, and his 13 assists were reminiscent of his first game here a year ago, where he had 13 assists in his first game as a Miner. He got all of these guys some really easy shots," Floyd said. "The point guard play of Dominic Artis was most impressive tonight. Some guys need help scoring, and he (Artis) made a lot of nice plays for others. He created space and angles for his teammates."
El Paso was awakened with a surge from their team in the opening minutes of the second half. UTEP went streaking, with a 13-5 run in the first four minutes, and grew what turned out to be the unsurmountable lead, 57-34. From then on, the Miners did not look back, they kept their foot on the pedal and earned their first victory on the season.
UTEP's big men were in complete control on the glass, outmanning the tiny Wildcats 52-29. LCU's tallest player on their roster is 6-foot-6, and they could not contain the Miners' height advantage as Willms and Winn had their way with them all night.
Floyd knows the small sample size was not as tasty as it appears.
"I don't think anyone should pay any attention to the rebounding numbers given the size discrepancy, and the talent discrepancy on the floor tonight." Floyd said.
The Miners in the painted area were close to flawless, they totaled well over half of their points scored in there. UTEP came out with 52 points, and held the Wildcats to under twenty down low, with 18 on the night.
Center Matt Willms came off the bench, and did not miss any of his shot attempts, going 4-4 in field goals and adding nine points for his unit in the first period, along with four boards too. Due to his injuries all of last season and Floyd easing him back into game speed, Willms did not participate in the second set of game, but he totaled 12 valuable minutes throughout the game.
UTEP's biggest flaw, which is known, is being careless with their possessions. In the second half of action, Floyd's unit turned it over eleven more times and ended up with a total of 22 turnovers throughout their first regular season win.
"The media knows this, our issue for us tonight would be turnovers," Floyd said. "We can't turn it over that much. We should have scored many, many more points tonight, but we didn't."
Regardless, the Miners dominated in every other aspect of the game and allowed their young faces to get much needed playing time, something that could aid the Miners down the long road of the season.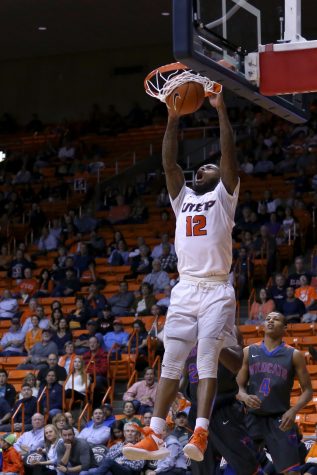 Six out of the seven freshman received time on the floor. Kelvin Jones had six points, and three rebounds in eleven minutes. Due to foul trouble in the early stages of the game, Jones did not play as much as expected. Backup point guard Deon Barrett clocked in 15 minutes, while throwing in six points and six assists. Tim Cameron, Adrian Moore, and Chris Barnes combined for 19 minutes in front of the crowd.
Floyd will rely on consistent improvement from the new comers, and tonight was some experience they needed.
"This team needed to learn how to win a little bit. These new guys needed critical minutes, and they received them. Two years ago we opened with Washington State, and then New Mexico State came up, and all of our new guys did not get the opportunity to get out there because they were close games and these kids need the minutes in front of crowds. Hopefully we'll benefit from this win tonight."
Next week, UTEP will travel to Charleston, South Carolina, to face the Wake Forest Demon Deacons in the Gildan Charleston Classic. The Miners will look to ride their momentum from game one, and pull off the early season upset on Nov. 17.