Floyd announces new recruits for the 2017-18 season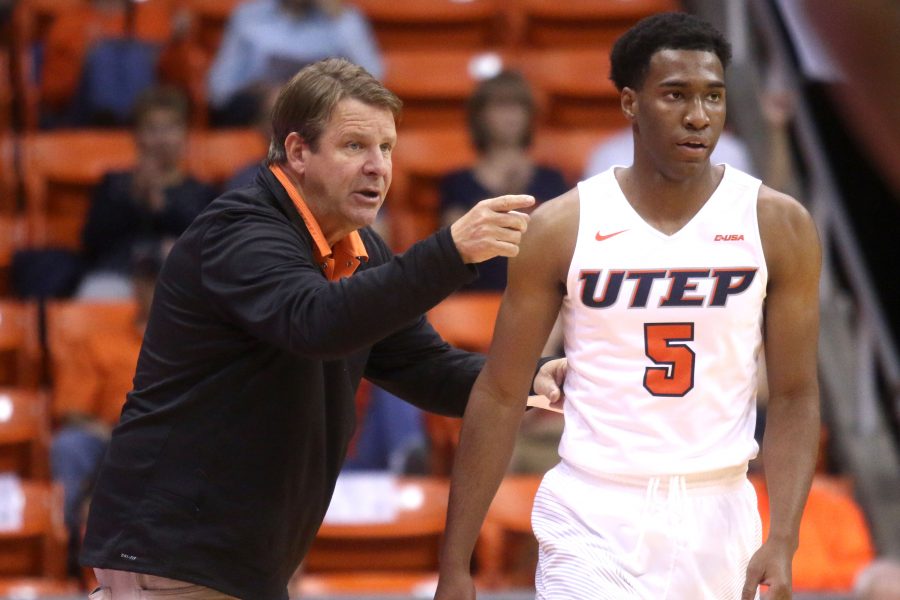 Mike Flores, Reporter
November 11, 2016
The month of November is not only the start of a new men's basketball season, but it also means National Signing Day for new recruits. On the Nov. 9, universities can finally pencil in their new-looked athletes that will be participating for their basketball programs the following year.
Head coach of UTEP's men's basketball team Tim Floyd has announced his new wave of recruits for the 2017-2018 year. The new players are rich in talent and could be Floyd's most gifted class since he acquired the head coaching position in 2010. El Paso can be looking between five to seven new faces on the roster for their Miners next year.
One of the new signees is Isiah Osborne. Before agreeing to play for UTEP, he was a student-athlete at the University of Windsor in Ontario, Canada.
The 6-foot-5 guard Osborne was named Canadian Rookie of the year and named Ontario University Athletics rookie of the year reward during the 2015-2016 season. He helped the Lancers advance to their fourth straight Final Four appearance last season, while averaging the team's second highest scoring average at 15 a game. He scored fifteen or more points in 16 games last year for  more than half of the season. Scoring is not his only weapon; he averaged close to five rebounds a game, 2.3 assists, and over a steal per contest.
Due to transferring, Osborne is forced to sit out this upcoming 2016-2017 season, but is still getting a feel for the El Paso lifestyle, as he is currently an enrolled student.
At the beginning of the new year, Floyd tried to assemble a waiver form for Osborne to see if he could avoid sitting out a year and play right from the get go. But things did not go as planned. However, the young Canadian transfer is still allowed to participate in practice with the team, and gain knowledge of the way the team runs basketball.
"Isiah has been able to practice with us this year and we've loved what we've seen," Floyd said. "The year he played at the University of Windsor and the year practicing with us will give him a head start for next year."
Trey Wade is the other player Floyd added for the Miners' program. He stands at 6-foot-5 and weighs 180 lbs. Wade graduated high school in the 2015-2016 year, and he comes from Austell, Georgia.
In the whole state of Georgia, Wade is ranked 53rd after coming off a stellar senior year—he averaged 19.1 points per game, 7.5 rebounds, and showed off his defensive capabilities with 2.2 blocks per night, and adding 1.7 steals as well.
Wade will be enhancing his skills and looking to improve his game this season as he will be attending a prep school.
"Trey has a chance to be as good as any player we've brought here the last six years," Floyd said. "He played in the most competitive district in the South where 11 senior guards signed with high-major programs, including North Carolina. The coaches in his leagues all felt he was one of the great talents in that conference."
From inside of Texas, Floyd snatched a top-ten player in the state with Kobe Magee. He is from Brandeis High School in San Antonio, where he will compete in his last year of high school ball.
The 6-foot guard has averaged over 18 points per game since the start of his sophomore year with 147 made 3-point buckets in his career. The San Antonio product finds himself with over three rebounds per match, and over two assists in his time at Brandeis.
His sophomore year he averaged 18.5 points a night, while shooting 47 percent from the field, and hit over the twenty-point mark 11 times throughout his breakout campaign.
Magee is used to top-10 rankings as he willed his Broncos to a 31-2 season and allowed his school bragging rights for their top-10 ranking in all of Texas basketball his junior season. He put up 17.9 points a contest, along with 2.4 helpers to his teammates, 3.6 rebounds and 1.1 steals for his team.
With one more year to show off his skills, Magee already has El Paso as his destination to continue his career on the hardwood.
"We think teammates are going to love playing with him. He allows us to get closer to our dreams, which is playing two point guards at the same time. That's something our great teams have been able to do in the past with Tim Hardaway and Jeep Jackson and with Willie Worsley and Bobby Joe Hill." Floyd said.
The other guard that will paint Floyd's perfect picture is the 5-foot-9 guard Evan Gilyard. He performed for Simeon Academy in Chicago, which is one of the most prestigious basketball programs in the nation. From all the prospects to come out of Illinois, Gilyard is ranked No. 13.
Gilyard averaged 13.5 points per game, 3.2 assists, all while nailing nearly 50 percent from beyond the arc last year. And throughout his illustrious high school career, he and his team have not come out on the wrong side of the scoreboard more than ten times—when he has played, his unit has won 93 percent of their games, going 96-7.
UTEP was not the only school tracking down the Chicago-standout. Offers from Dayton, Loyola, Rhode Island, UAB, and many more were in on the hunt. Floyd got the player he has been admiring for some time now.
"Evan Gilyard is the first point guard from Chicago to be brought in since Tim Hardaway. This young man was a second-team all-state player a year ago, and by all indications he could be a first-team player this year," Floyd said. "Magee is going to give us the ability to play together. He is a shooter, he is quick, strong, can get you into a defensive mind, and knows how to win."
The other new face that the Miners will get used to seeing is the 6-foot-8 forward Tirus Smith from Mississippi. Earlier in the year, Smith verbally committed to Ole Miss, but decided to change his mind and come work for Floyd's Miners.
At Petal High School, Smith averaged a double-double during his junior year, with 15.9 points per game and 10.6 rebounds a match, along with 2.4 swatted shots. Smith lead his team to a winning record in the 2015-2016 season, they recorded 18 wins and 12 losses.
"Dandy Dozen," is a Mississippi way to highlight their twelve best basketball players every year, and Tirus Smith made the cut for the 2016-2017 show. Floyd is well aware of his talented-forward.
"Tirus is closer to 6'9". He has great shoulders, great poster body, and he can put the ball on the floor for a big guy, and has a really great three-point shot for his size. Tirus is one of the more versatile bigs, he can play multiple positions. We like the fact that he's only going to get better. I don't think he has ever been surrounded by great point guard play, and because of that he's going to grow along our new players," Floyd said. "He is a Mississippi Dandy Dozen player, and that includes all four classes. He's a highly recruited player that we can't wait to get him over here. We think he'll play a lot for us next year as a freshman."
Adding a player like Smith could be a program-changer in Floyd's eyes. His prized possession is one season away from being unleashed to the Don Haskins Center.
"Tirus Smith was certainly a big, big, big addition for us. I just love who this young man can be one day. We haven't had anyone who has looked like him in the last six years. He looks like guys you see in the Big 12, SEC, and Pac 10—he's 6'9", 230, and with size for his position, Tirus can also score in a variety of ways."
There could be more talent added to the Miners' roster by the end of the year, as Floyd will look to power up his unit for years to come.
"We still have a couple of more guys we are anticipating will be with us. I'm really excited for these group of guys. Adding all of these new guys to mix not makes us only versatile, but talented and deep," Floyd said. "You always try to bring in guys that are better than what's leaving, and if you do that then your program continues to improve."