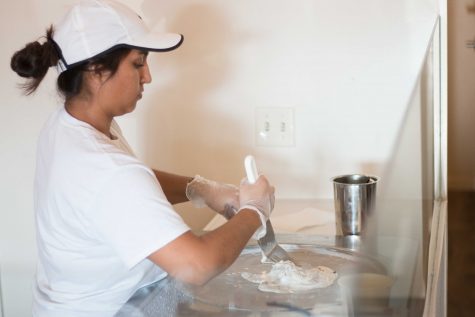 If there's one thing people in El Paso are very fond of, it's things that are rolled. Chico's Tacos can attest to that.
In the short time that the new ice cream purveyor, Fahrenheit 32, has been open at 2500 N. Mesa St., El Pasoans are once again proving their love for all things rolled.
The new shop has only been open since Oct. 28 but has been doing a brisk business in serving up a unique dessert that consists of a liquid ice cream mix poured onto a frozen…never mind. Let's let manager Daryen Antonetty explain this unique style of ice cream from Thailand:
"Basically, we have a pre-made mixture. The pan is set to around -15 to -18 degrees Celsius and we just pour it on the pan—kind of mix in the ingredients that the customer wants. Then we wait for it to freeze after it's spread out on the pan. When it gets to the right consistency, we roll it up and put it in the cup," said Antonetty.
She also forgot to mention that the toppings are unlimited and that the price per cup is a flat $5.99.
For those customers who may be a little overwhelmed with the plethora of options, like this writer, there are suggested combinations with names like "Gotcha Matcha," The Breakfast Club" and the current flavor of the month: "The Harambe."
"It's our take on the 'Chunky Monkey,' bananas and almonds and chocolate–you know, why not name it something that people know? It's funny," said Antonetty.
Other flavors of ice cream bases for customers to choose from including green tea, taro, cereal milk—even Thai tea which is coming soon.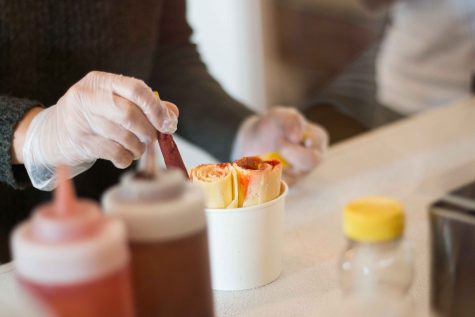 "We've had a lot of UTEP people. A lot of people from the dorms come over. A lot of returning customers," said Antonetty. "A lot of people come during the day when they have breaks."
The store offers a loyalty program with rewards such as "Buy 1, get 1 free" for frequent visits and birthday rewards, as well as the usual points for frequent purchases which add up to free cups of ice cream.
Decoration in the space is sparse but the employees are friendly; the music is good and the ice cream preparation is surprisingly entertaining. Fahrenheit 32 is highly recommended and the high number of patrons already visiting the new ice cream spot just in the first 13 days should be an indicator of the tastiness of the product.
"Roll up" to this spot without hesitation for some rolled up ice cream—you won't be disappointed!