Mac's Place: Quality seafood for El Paso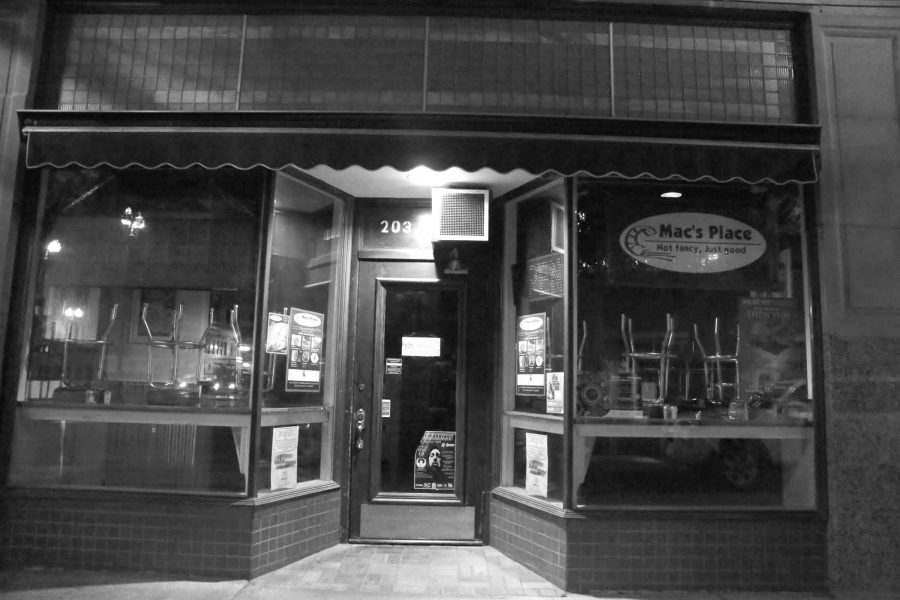 When a place says Fish-Shrimp-Chicken on their sign in El Paso, I've learned to automatically steer clear for the sake of my arteries. I grew up near the beach and developed a strong love for seafood and an even stronger dislike of the Long John Silver's type of deep-fried seafood.
I had not actually heard of Mac's Place until a friend suggested that I fill the seafood emptiness in my soul by visiting the tiny little café off East Mills Avenue, right next to San Jacinto Plaza. Of course, my heart dropped when I saw the sign out front, as I really did not want any fried seafood—ever. My spirits were lifted, however, when I walked in and saw that the first table near the door had a giant plate of raw oysters on the half shell.
I sat down at the bar next to the window with a great view of Mills Avenue for people watching and was quickly welcomed by an attentive waiter. I ordered a dozen oysters without hesitation.
The restaurant is small, but at lunchtime on a Thursday the place was jumping. The customer base seems loyal, as there was often no need for the one-page menu—though one of the owners, Gelaine Apuan, was quick to offer the daily specials to each visitor. On this day, there was an Ahi tuna steak with an Asian glaze served rare over a bed of rice with a side salad. Definitely not what one would expect from this tiny bistro in the desert. My aversion to fried fish does not mean that theirs is not necessarily tasty; I just did not try it.
The restaurant also serves blackened fish, shrimp cocktails and, on some days, a great-tasting shrimp and fish ceviche. On this day, I also tried the very reasonably priced $4.50 clam chowder, as fall has finally begun to bring a nip to the air in El Paso.
The chowder was hardy, with large chunks of potato and a very generous portion of clams. The flavor was sweet and milky, not overly fishy. When the oysters arrived I was in seafood heaven.
The other co-owner, Greg Wayne, spends most of his time in the open kitchen in the middle of the restaurant and is an expert at shucking oysters. I have eaten oysters in El Paso before, and I can honestly say that this is the first time that no shell made its way into the oyster for me to swallow. Additionally, not many oyster shuckers outside of New Orleans bother to detach the foot of the oyster from the shell prior to serving, but Wayne did, which was something I appreciated.
Upon inquiry, I found out that the oysters arrive fresh to the restaurant every Thursday from Louisiana so that they will be most fresh for weekend customers. For those who may not be as obsessed with bivalves as this reporter, I also might add that October to February is oyster season.
Oysters store up glycogen for the winter, which makes them much sweeter and taste less fishy. If you were ever going to try them for the first time, now is the time, and Greg Wayne is the shucker for you.
Lastly, the Ahi tuna was absolutely amazing. The Asian-inspired sauce was sweet, salty and citrusy at the same time and was sprinkled on top of a massive Ahi steak, which was perfectly grilled to a crisp on each side. The steak was rare —but not cold—in the middle. I honestly could have eaten two more of the tuna steaks and at least two dozen more oysters, really the price was not that much of an issue. The entire meal came out to less than $30.
For most plates on the menu—most of which come with fries—the price is $7.50. The seafood is bought locally and only frozen when it comes to fried food. The fish on special—in this case the Ahi tuna—is bought and served fresh.
El Paso can be a hard place to find good seafood, but if you are in the mood and have not found just the right place, give Mac's Place a shot.