Football hunts for second straight win against FAU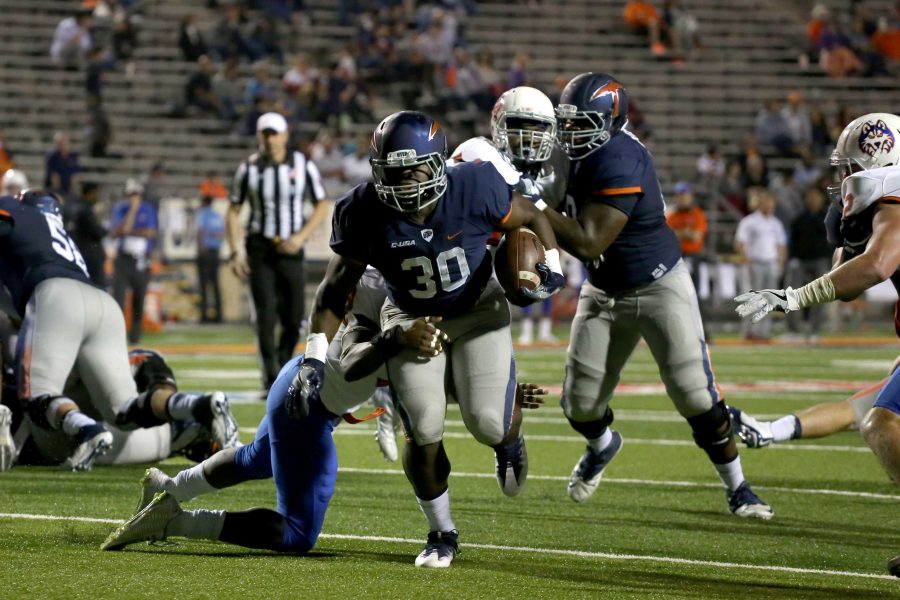 "Only three more. Only three more games to go"—this phrase echoed through the Miners' locker room after they rolled over the Houston Baptist Huskies 42-10.
Head coach Sean Kugler and his troops are on a mission: to win the remainder of their games this year to have any hope at a bowl game. The Miners capped off their easiest win against Houston Baptist on Saturday, Nov. 5.
Their three remaining games, away against Florida Atlantic (Nov. 12) and Rice (Nov. 19) and at home against North Texas (Nov. 26), are do-or-die for the group.
But what is the recipe that Kugler needs to cook up to lift up his team and win the remainder of the games? According to him, it is all about swift translation week after week.
"You always use the positives you take out in games and translate it next week," Kugler said after the victory against the Huskies. "We will try and correct the things we didn't do well. We're very aware where we are. We're 3-6, not 6-3. We have to win the rest to have the opportunity at a bowl game."
In a very patient tone, Kugler stressed the importance on focusing on simply the next game, against Florida Atlantic, rather than have a jumbled thought process on the rest of the season.
"(The opportunity at a bowl game) starts against Florida Atlantic," Kugler said. "We know our history and how UTEP has not been the best going to the Eastern time zone. That's something we need to change on our own. If history may be broken, we need to work hard and prepare for that."
Exactly like Kugler said, the program has struggled over time on the East Coast. They are 0-20-1 when traveling to the Eastern Time zone.
Florida Atlantic (2-7, 1-4 C-USA) has had a stressed-out season. They have lost seven of their last eight games and have lost bowl eligibility already.
Last week, the Owls came off their first win since opening day against Rice, 45-25. In the win, they notched two notable records in program history—they broke their school record for total yards, 657, and their freshman tailback broke the team's single-game rushing record with his 252 yards.
Although they are out of post-season contention, the Owls have not stopped themselves from pursuing victories and continuing on. Their next mission is to ruin the season that the Miners are trying to patch up.
"Honestly, I'm just proud of the resilience of our players," said FAU head coach Charlie Partridge after their victory against Rice. "We've been through a lot this year. We've had our challenges. To see them finally get a chance to sing our fight song after a win in the locker room is a special moment."
However, the Miners will bring that same resiliency that FAU promises on Saturday, Nov. 12, in the Sunshine state.
"These kids are going to continue to salvage and fight," Kugler said. "There's still a whole lot of season left."
Chasing the record books
With his monstrous 228-yard field day against Houston Baptist, standout running back Aaron Jones is on track to surpass John Harvey's 3,576 career yards as the school's leading rusher.
Currently, Jones has 3,509 yards to his name through his three seasons with the Miners; therefore, 67 is the magical number for Jones to notch his name as the program's all-time leading rusher.
Against Houston Baptist, Jones did not play past the first series of the third quarter, yet still racked up over 200 yards and two touchdowns. If Kugler had not decided to reserve him and shield him from possible injury, Jones might have broken numerous records during the evening.
"That's always in my head, but I still had fun," Jones said. "The line did a great job opening holes for me all night."
About the Contributors
Adrian Broaddus, Sports Editor
Adrian Broaddus is the sports editor for The Prospector. He is a junior multimedia journalism major with a minor in political science.



Adrian...