Miners emphasize defense for Saturday's exhibition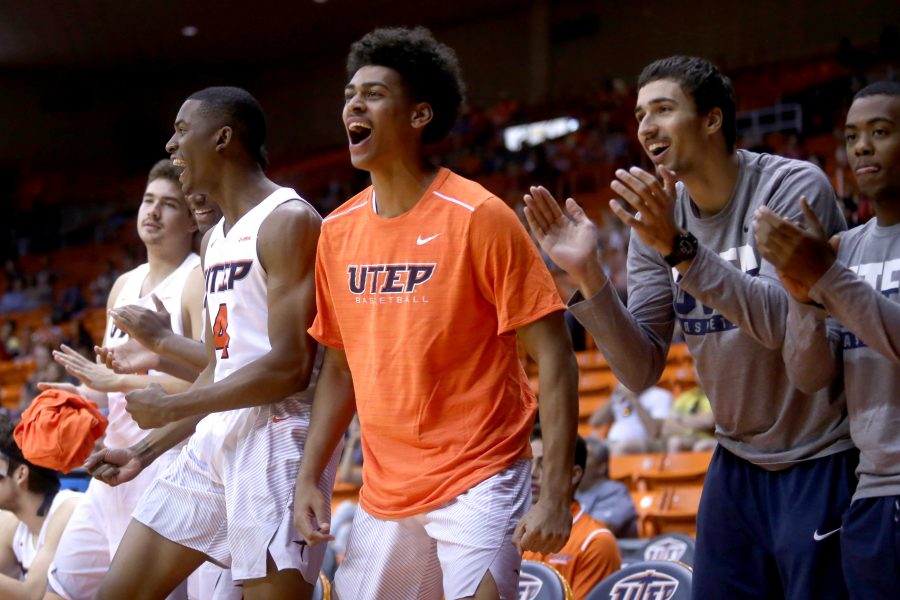 Mike Flores, Staff Reporter
November 4, 2016
Last season the Miners men's basketball team had no trouble putting the ball through the hoop as the offense average 77.4 points per game and the team scored eighty points in fifteen games last season—one game shy of tying a school record. The 2015-2016 Miners' squad also set a record in UTEP's storied history for most three-point field goals made in a season (223).
The problems that were troubling the Miners last season came from the defensive end of the ball. Head coach Tim Floyd's defense surrendered 74.9 points per game to their enemies, which ranked his Miners outside of the top 250 in scoring defense in all of college basketball. To top their struggles off, UTEP fared worse against Conference USA opponents as they allowed 77.6 points per game.
Needless to say, not much has changed since last year. And, it starts down low with center Matt Willms.
Willms' status is still up in the air; the team does not know when their Canadian will make the impact he is expected to due to early season injuries and low conditioning. 
He is one of the two centers on the team with the other being freshman Kelvin Jones. Jones is coming in with a lot on his plate, especially being the Miners' anchor down low. A lot of the defensive priorities will land on the young Mexico-big.
"My main emphasis on the defensive end this year. We always need to get better on defense," Jones said. "I know Matt is going to come back. I'm excited to learn from him, he can make me a better player. Coach said the center is one of the most important positions this year."
In their first exhibition game of the season against Southeastern Oklahoma State, the Miners allowed 73 points scored to the FCS school. The Miners squeaked their way to the 80-73 win.
Regardless, Savage Storm's offense shot nearly fifty percent from the field, including 58.33% in the first half of play. Floyd did not enjoy what he saw from his team's first outing.
"We'd like to get better defensively and not turn it over so much. We had too many turnovers," Floyd said. "If our team had to make a stride from a year ago, it would be on the defensive side—we were not a very good defensive club."
Freshman Tim Cameron hopes to give the El Paso fans a glimpse of how they plan on upgrading their liability. He came in against the Savage Storm and might force Floyd to give him more minutes, mostly due to his commitment on forbidding teams from scoring—he recorded a steal, one block, three total rebounds and a three-point bucket in seven minutes of action.
"The biggest step we hope to take is, of course, defensively. We've been working really hard in practices," Cameron said. "We're good offensively, but the thing all week has been on defense. We need to communicate better, come off of screens better, and help each other more."
On Nov. 5th, UTEP will welcome Alaska Fairbanks to the Don Haskins Center.  The Nanooks do not have a player over 6-foot-7 and the Miners will look to take advantage the smaller team.
Exhibition games are for teams to test out some of their adjustments from the previous season, and see how new players will come along. Pre-season games are a chance for Universities to right their wrongs before the games actually count on their win-loss record.
"I don't think we're very good yet (defensively). Sometimes we (coaches) question if we're going at it about the right way, if we have the right people in the right spots. We will continue to challenge guys and get better in that area every game," Floyd said.
Tip off against Alaska Fairbanks will commence at 1 p.m. at the Don Haskins Center.