UTEP soccer embarks on C-USA tournament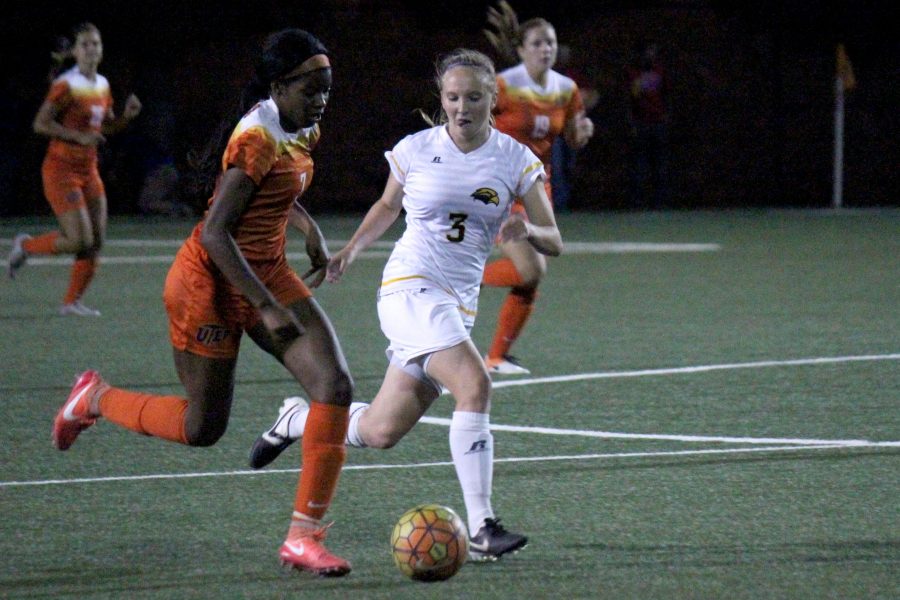 Mike Flores, Staff Reporter
November 1, 2016
UTEP women's soccer will fight to put their city back on the map and gain the respect they feel they deserve on Nov. 2 against the Rice Owls.
The Miners will come in as the seventh seed with their 12-6-2 (5-5 C-USA) record, and will attempt to overcome the odds and beat the second-ranked Rice Owls, who went 11-4-1 and 8-2 in conference play.
Senior midfielder Aleah Davis wants to make UTEP a tough outing and a team no one wants to be scheduled against.
"We are underdogs going in, people underestimated us, so it's about proving teams and the conference wrong," Davis said. "We were picked to finish ninth this season, so we've already done more than they expected."
Head coach Kevin Cross and his Miners are riding high into the tournament after their 5-0 regular season-ending shutout performance against the Southern Miss Golden Eagles.
"Right now we are hot, and we want to keep that momentum going," Cross said. "I think we can keep that going if we played like we did on the last game of the season."
However, Rice will not be the cakewalk that Southern Miss seemed to be. These Owls have not lost in their last seven matchups, including five shutout victories. Head coach of the Rice soccer program Nicky Adams went perfectly in the month of October—her team's last loss came in September against the very talented Western Kentucky squad, who is seeded third in the conference.
Back at University Field on Oct. 9, the Miners and Owls squared off in their only matchup of the season. The team from Houston did not seem to be fazed by the El Paso crowd or anything that the orange and blue threw their way. Rice came out victorious with a lopsided 3-0 win.
UTEP's goalkeeper Alyssa Palacios was under duress throughout that whole afternoon—she tied her career high in saves (10) against the aggressive Owls' attack. She will hope to be relied on less on Wednesday when the Miners play the Owls again.
Rice outshot the home team in the first half 13-6. The offense for the Miners was non-existent–something that desperately needs to change if UTEP hopes to advance in the tournament. Slow starts are one of the main reasons that the Miners are ranked at the bottom of the C-USA playoffs—if they can put together two halves on any given night, they can threaten to beat any team on any field.
Cross was in shambles after the Rice performance. He vowed to right his wrongs.
"That was the worst game of the season. We are better than that and we'll show it," Cross said after the loss to Rice.
Regardless, the playoffs are a time for everyone to start off fresh. The hottest teams can be the most dangerous and beat someone that outperformed them all season. It is simply a one-game elimination, therefore anything can happen, despite a noteworthy seeding.
Seven seniors are on the roster for the Miners, and if their last show on their home turf was any indication of how they will play the rest of their games, it is anyone's match to win in Charlotte, North Carolina.
Senior midfielder Bri Thomas is motivated to keep UTEP's success going.
"We're ready for anything. I know that we are going to give it our all—it's our last shot," Thomas said. "We are not going down without a fight."
Coach Cross is among the top 40 in coaches with the highest wins in Division 1 soccer. Under Cross, the Miners have earned 12 wins in the conference tournaments and have appeared in three conference title showdowns.
He also has coached in one NCAA playoff game in 2005. It was the program's first tournament berth in history. The Miners advanced to the second round after losing to a top-10 team–the California Golden Bears.
El Pasoans are hoping for a repeat of that season, the best year yet in the program. There is still a lot to be written with UTEP's future in soccer, and it starts now.
"There are no ceilings with this team, it's as high as it gets," Thomas said. "If we play UTEP soccer, we are unstoppable."
Kickoff time will be at 4:30 p.m. on Wednesday, Nov. 2, in Charlotte, North Carolina. The winner will face off against the victor of the Western Kentucky (3)-Charlotte (6) matchup.