Miners prepare for Alaska Fairbanks for exhibition game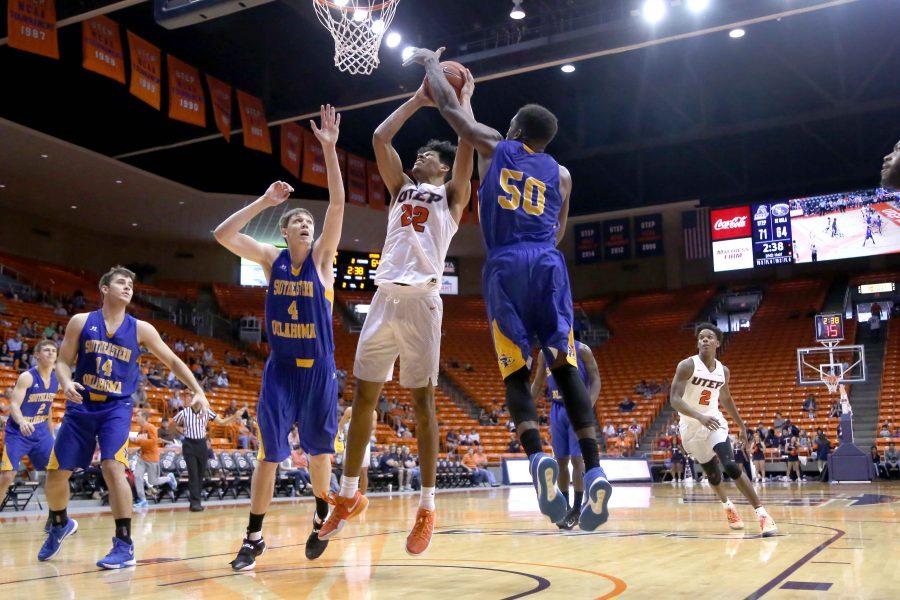 Exhibition games are created to allow a squad to test their depth chart, play newcomers to introduce them to the court for the first time and see what's right and what's wrong on the team. It's also to prepare the squad for their regular season, which will span from November to February. Regular season play begins Saturday, Nov. 12, against Louisiana College.
Unfortunately for the men's basketball team, head coach Tim Floyd believes that his team is not ready for the regular season based on their first exhibition game against Southeastern Oklahoma State, which the Miners slipped away with a win, 80-73.
"We're not (ready)," said Floyd. "There are a lot of things that didn't look beautiful."
It might not all be on the downside, however. Floyd said the exhibition games could help the team grow, learn their weaknesses and then improve from there.
"Those are things that I love about exhibition games, is that we can see players maybe try to do things that they don't do in practice, just because there are a few people in the stands and a few people sitting on press row," Floyd said. "We will go back and address all of those things."
Against Southeastern Oklahoma State, the Miners struggled at first. They were flat offensively, taking too many shots to start off. The Savage Storm even started the game with a 12-4 lead. In the first half alone, there were 13 lead changes and the score was tied nine times.
After the half, the Miners clawed back into the game after the 11-minute mark when they went on a key 8-2 run. From then on, the Miners extended a lead that they could hold onto for the rest of the game.
But the fact of the matter was they should have won easily. Instead, it seemed like the Miners had to scrap for the victory.
Senior guard Dominic Artis led the charge on Saturday with 17 points and two steals. He scored the outside jumper as well as made plays inside. Forward Terry Winn had a double-double for the day as he scored 14 points and accumulated 10 rebounds. Winn also debuted his outside jump shot that he perfected during the off-season and had some nice shots from beyond the paint.
"I felt we played hard," Artis said. "This was a chance to see where we are and who we are. Offensively, I think we got in our groove after a while, and we just have to continue doing that."
Starting center Matt Willms was inactive during the game, and will probably be out this week against Alaska Fairbanks. Willms, who was sidelined due to an ankle injury last season, was inactive due to a heel injury.
"Matt had a stress reaction on the same foot," Floyd said. "We sat him—it was doctor recommended. The other problem is at his arch, but this one is at his heel. We are hoping to sit him a week and then have him back."
The man who filled in for Willms down low, other than Winn, was 6-foot-11 freshman forward Kelvin Jones. Jones had six points and six rebounds coming off the bench, and he added an extra spark to the Miners.
"Coach was on Kelvin hard during this week at practice," Winn said. "I think he responded well and he looked good."
This week, the Miners will take on Alaska Fairbanks Saturday, Nov. 5, in their second exhibition game.  It will be a test to see how the Miners adjust after watching film from their first practice game.
"We have to work on some defensive adjustments, like working too close and forcing the outside shots," Artis said. "They made a lot of shots, so we have to be ready for that against some of the better teams."
Tip off against Alaska Fairbanks is slated for 1 p.m. MT at the Don Haskins Center.
About the Contributors
Adrian Broaddus, Sports Editor
Adrian Broaddus is the sports editor for The Prospector. He is a junior multimedia journalism major with a minor in political science.



Adrian...