Miners in must-win situation against Houston Baptist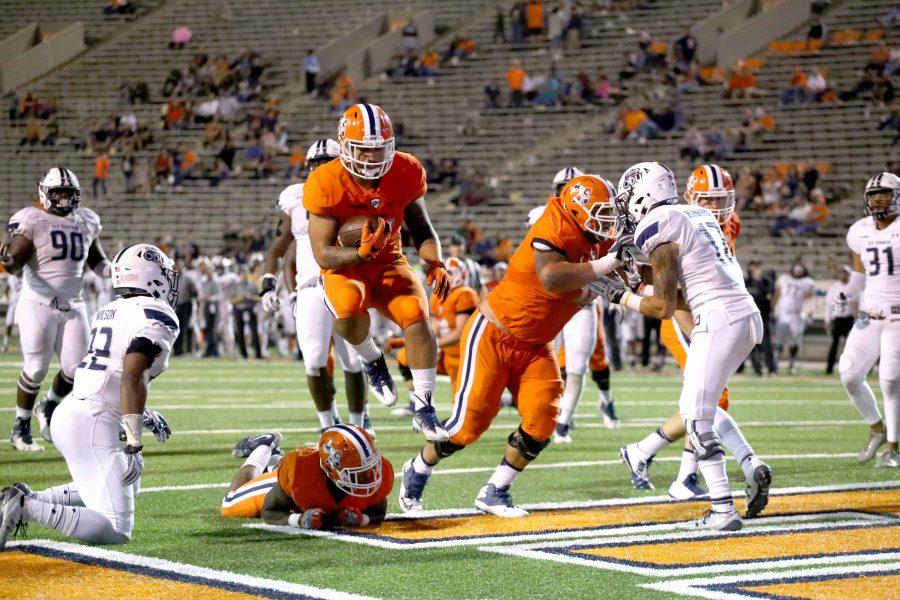 It's win or go home time for the Miners football team. After they were rolled over by Old Dominion, 31-21, the Miners have their backs against the wall at six losses, and are forced to win all of their remaining games to have any hopes at post-season play.
However, the remaining four games will not be a walk in the park. In fact, it seems like a long shot for the Miners to win them all due to their previous eight games, including their most recent frustrating loss to ODU. They will have to play Houston Baptist, Florida Atlantic, Rice and North Texas.
"I'd like to take a knife and stab myself ," said head coach Sean Kugler in a frustrated manner after their loss to Old Dominion. "Why would I be happy? We're 2-6. Other than light myself on fire, I don't know what to do."
To their advantage, they will take on FCS Southland conference affiliates Houston Baptist. The Huskies (3-5) have had a struggling year thus far, much like the Miners. They are currently eighth place in the Southland conference and have lost four of their last five games.
To head coach Sean Kugler, this is a chance to catch a breather for his squad and a confidence boost going into their final three conference games.
The Miners (2-6, 1-4 C-USA) fell to the Monarchs this past Saturday based on more defensive mistakes than offensive ones. Quarterback Ryan Metz took the charge for the night and made some pretty nice plays during his 202-yard day. Running back Aaron Jones carried the ball for 94 yards and totaled two touchdowns—one rushing and one, surprisingly, through the air.
But in the end, it was the defense that allowed 393 total yards of offense for the Monarchs. They scored 21 uncontested touchdowns in the second half, which really put the game out of the Miners' reach.
"We didn't step up to the task," said linebacker Alvin Jones, who totaled nine tackles throughout the game. "We let them run the ball. They pounded the ball down. We missed a couple of tackles. We struggled during the second half. There was no energy, no emotion."
The bad news is obvious—the Miners cannot lose another game, but the good news is that Old Dominion is probably the toughest team left on the Miners' schedule.
The next game on Saturday, Nov. 5, at 6 p.m. in the Sun Bowl is a must-win game that the Miners desperately need.
About the Contributors
Adrian Broaddus, Sports Editor
Adrian Broaddus is the sports editor for The Prospector. He is a junior multimedia journalism major with a minor in political science.



Adrian...