Cosmas Boit: racing into UTEP's record book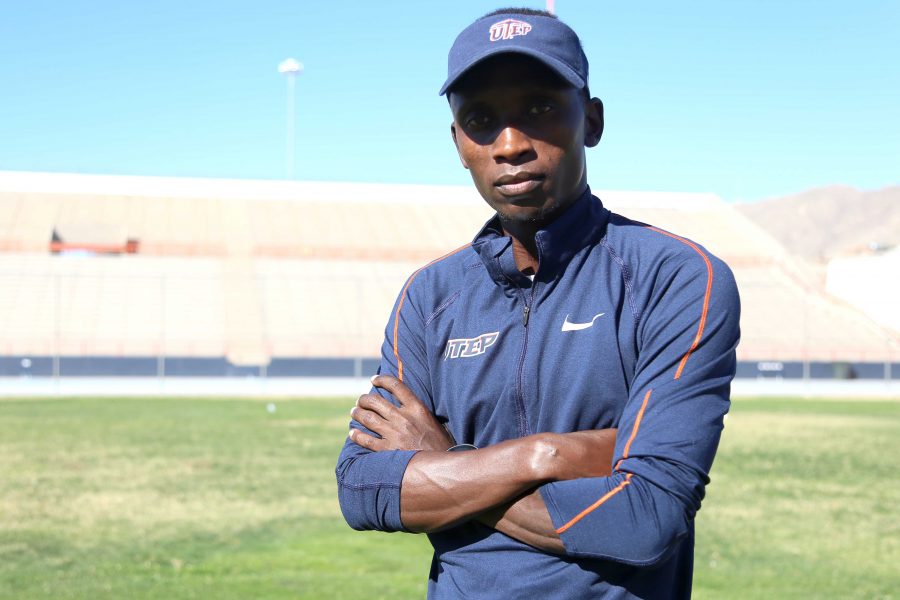 Mike Flores, Staff Reporter
November 1, 2016
In the USTFCCA and in all of Division 1 cross country programs around the nation, the UTEP Miners' cross country team is ranked 21st, and they have one of the hottest runners in the country—Cosmas Boit.
The 2016 season happens to be Boit's last year of competing for the Miners as it's his senior year. He is majoring in criminal justice and has been one of the must-watch athletes at UTEP.
And, over this weekend, Boit and the UTEP cross country team brought home the Conference USA championship trophy for the second year in a row.
Boit traveled over 9,000 miles from Eldoret, Kenya, to El Paso, where he has called the city home for four years. The star sprinter from Kenya never competed in a competitive cross country match until he stepped foot in the borderland.
"I never ran that in my life—I didn't run in elementary, high school or anything. When I was finishing school, my sister told me that her coach was interested in me," Boit said. "My coach now, used to be my sisters' too."
Head coach of the Miner's cross country team Paul Ereng saw the potential Boit could bring to the university. The kid out of East Africa was as talented as it gets, and worked hard to achieve his goals.
"When Cosmas came over he was more of a track and field guy, he brought a lot of speed from that," Ereng said. "He has become a very reliable long distance runner as well. He has improved nicely, and has always been a great team player."
Every time Boit laces his shoes up and observes the field, he looks to conquer, his mind goes back to what got him here. He pictures every invitational as if it were his last one, and reminds himself to never waste the privilege of running for an education.
"When I'm out there it's the time of my life. I always want to give back to the people who gave me this opportunity," Boit said. "I'm running for my hometown, my sister, for me and the entire UTEP community."
Coach Ereng was also born and raised in Kenya. This has given UTEP access to many sprinters from outside of the United States—including Boit. There are 12 student-athletes on the roster who have had to adapt to the American lifestyle, and they  have been together since migrating from the Republic of Kenya. 
This has made the sport and the El Paso air feel like home to these international competitors. However, it took time for the culture, language and way of living to catch up to Boit and company.
"It was difficult. I've never been away from home, especially this far. I never knew anything about the United States, but I was thinking it was my destiny (to be here)," Boit said. "When I came here with Kenyan friends, they kind of held my hand, they guided me—from school to practicing."
Knowing that Ereng was devoted to getting Cosmas in orange and blue, from the start Boit has lived up to the hype and has enjoyed sustained success since the beginning of his collegiate career.
During his first year of running for the Miners, Boit finished third in the C-USA championship in 2013, and has placed second place in the Lobo invitational. All of his accolades led up to C-USA Freshman of the Year honors.
In Boit's sophomore debut, he placed second in three invitational races—the Lobo Invitational, the Kachina Classic and in the Lori Fitzgerald Meet. With one of the biggest events of each year, the young sophomore, at the time, achieved his personal best at the conference tournament of 24.08 minutes. He was the first athlete from UTEP to cross the line, and his time landed him second overall.
The last time the UTEP cross country team had the championship trophy in El Paso was 2009. Throughout Boit's junior season, he and his teammates helped add another conference title in the history books. The title was the program's fifth in the school's archives in Conference USA.
Some of the best moments Ereng will remember is the title win and how much work that team put into achieving one of their main goals.
"It's very difficult to win the conference, and for us to do that with him leading the charge, I'm going to miss that, along with many other things he did," Ereng said.
Boit's last hurrah has not disappointed—the recognition of Conference USA Male Athlete of the Week has been in Boit's possession twice during his senior year and three times in his career overall.
But, it was also this week where Boit earned his fourth honor this year so far. He was named Senior of the Meet in the C-USA championships race after his third-place finish with a season-best time of 24:05:7.
"I want to make an impact before I step out of cross country," Boit said.
Ereng will lose his top gun this year, but what Boit has done for the program will not be forgotten.
"When someone is as hard-working as he is, and he's a good person—it's very hard to replace," Ereng said. "He is a very good role model for all the younger people, he tells the others what do to be able to succeed as a team—Cosmas has the experience, being a senior. He has above a 3.0 GPA and the team sees stuff like that."
It is easy to say that Boit set the bar higher for UTEP athletics and will go down as one of the top players to put on the cross country jersey for the Miners.
"The team that I have now, it's a super team, I always wish I had one extra year. I've never seen work ethic like the team this year" Boit said. "We want to be a top-five team in the nation, I'm 100 percent confident my team and I can make the NCAA Regionals this year."