UTEP alumna gives back to the Juárez community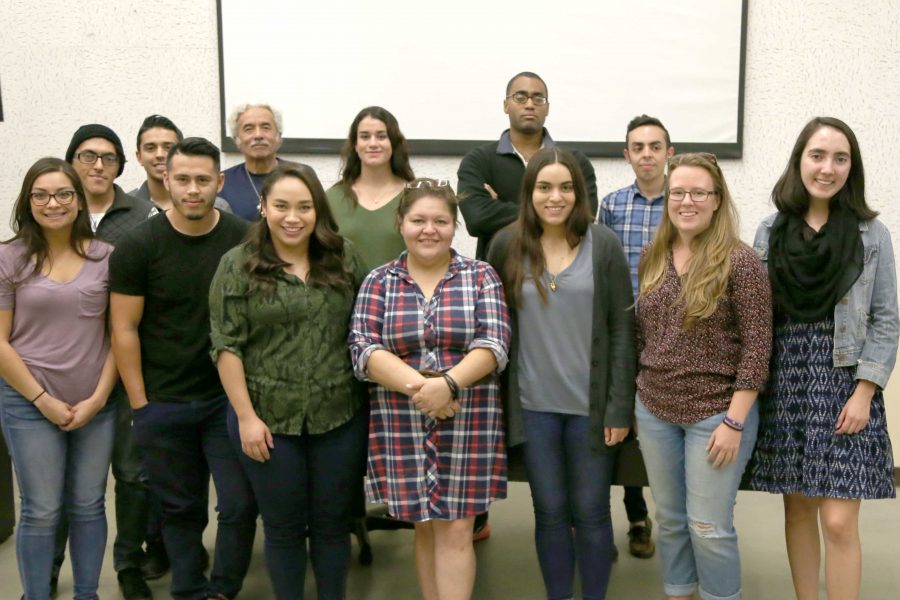 Sandra Salas, a UTEP alumna who double majored in graphic design and mass communication media, crossed the international bridge every day to attend school. At the end of the school day, she would cross back to Mexico to sleep and do homework. The next morning she would cross over again.
"I know that many of you guys live at Juárez and come to school here, and many of you don't have a car and still manage to come. Well, that was me," Salas said.
Salas grew up in Juárez and graduated in 2002. Today she is the owner of Creative Gong, a graphic design company in El Paso. Salas has received a Gold Addy in 2009 from the El Paso Advertising Federation in recognition for excellence in advertising.
Salas started her business after her boss at Geronimo Design, a graphic design company, closed his business. Those customers that belonged to her boss were now turning to her.
"Before I knew, I had a lot of work and I was like maybe I need to pay taxes," Salas said. "I went to get advice and spoke with attorneys and, without thinking, I had my own business."
Last Thursday, Oct. 20, she was back at UTEP sharing her story and experiences with the UTEP Student Advertising Federation, a group that helps students gain experience in the advertising field. She explained how her problems and career opportunities helped her open a business.
"She is a very dynamic, open minded and optimistic person," said Rigoberto de la Mora, owner of Art Force One, an El Paso photography company. "She is the person you want to be working for you."
Salas related a story to the attendees on Oct. 20 that illustrated one of the hardships she endured while going to school at UTEP.
When Salas watched her television on Sept. 11, 2001, she feared that if she stayed in Mexico, the borders would be closed, leaving her without the opportunity to go to school. She grabbed everything she could and threw it in her car and drove to the closest international bridge.
"I was homeless, I didn't have a home, all the hotels were booked and there were no apartments," Salas said.
Salas said that the bridges were closed, leaving people who worked or studied in El Paso, but lived in Mexico, with no other option but to stay in El Paso. She said that UTEP allowed students to shower at Memorial Gym, since many of them did not have a place to stay.
Salas said she slept in her car for three days, but with help of some her professors she was able to find a place to stay and continue on with her education and internship at Sanders Wingo, a marketing and advertising company.
Although Salas endured challenging obstacles while going to school, she said that she doesn't want to be seen as a victim. She wants students to understand that they are capable of coping with everything life can throw at them.
"Crap is going to happen and you can't play victim," Salas said. "I could've easily said 'oh poor me' and not graduated or postponed my graduation or stopped working, but you have to deal with everything that comes your way."
When the drug cartel violence was taking place in Juárez beginning in 2006, Salas said some of her friends and people she knew avoided showing concern for the thousands of deaths that were happening, especially in the case of Villas de Salvarcar where young teens were killed. 
"How sad that in a city where we actually get to see the people of the other side and we don't care about them, so as a graphic designer I had an idea," Salas said.
As a response, Salas did a sketch of a poster that read "Ciudad Juárez, a license to kill," and she then showed it to her customers and friends to begin a dialogue about violence.
After seeing the impact of just one poster, Salas decided to start a project, where she called graphic designers and schools and asked them to design a poster that would speak out against the violence in Mexico.
With the help of sponsorships and one of her customers, Salas was able to create "Peace of Art: Design for Change" in 2010, a free exhibit of the posters.
Salas said that the event was completely free, but that attendees would donate money at their arrival.
"We raised about $5,000, it was ridiculous," Salas said. "Was this legal? I had to call my attorney and he told us we could start a nonprofit."
Salas joined efforts with an organization in Ciudad Juárez, Pastoral Obrera and through the mission of Peace of Art, whose mission was to help victims of violence, especially children who had lost their parents. Salas said that many of the children, who were victims of the violence, lived in poor and underprivileged parts of the city, making it harder to meet their basic needs.
Salas' project received national attention. Universities around the country wanted her to take her exhibition and speak about the violence of Juárez.  Each college would pay Salas, and in return she donated that money back to the Juárez community.
"Designers all over the world and from Mexico would contact me," Salas said. "I was told by many Mexican designers that I was giving a voice to the voiceless."
Each year Salas goes to Juárez and looks for an underprivileged group, she then identifies their needs and makes an effort for whatever is needed.
Salas is now working on a new project called the Giving Hearts Library that aims to donate a library to an underprivileged school in Juárez. Salas has partnered with the Rotatory group collecting Spanish and bilingual books, the Catholic church of Juárez has provided the space for the library.
"We, as an organization, are doing a book drive, so we need books for children between the ages of 6 and 14," Salas said. "I have a business, but I still have a responsibility of helping. When we started working my mom would ask for one of my paychecks, she would use it to buy stuff for the colonias (neighborhoods) in Juarez, now I want to make that a tradition for my business."