Five takeaways from the Orange & White scrimmage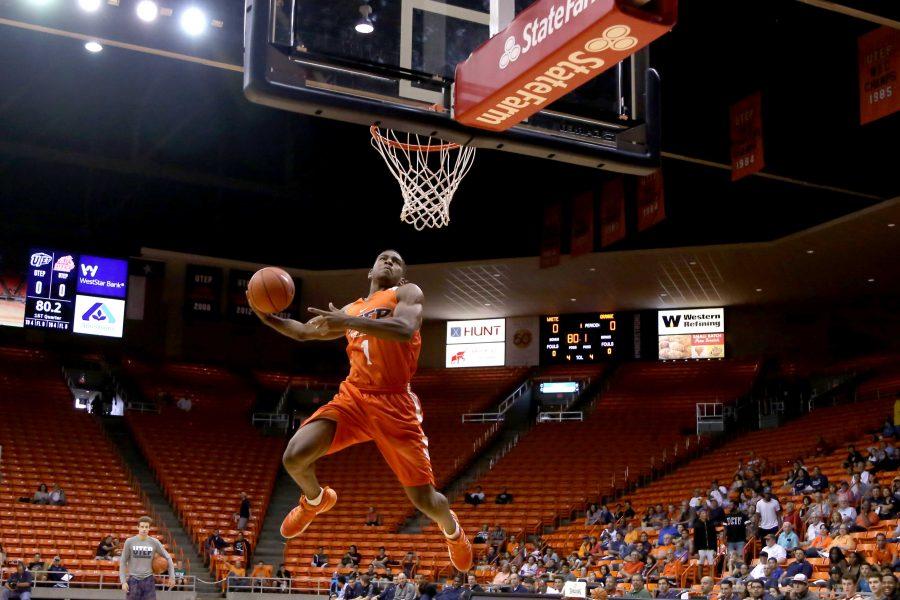 The Miners' basketball team debuted their squad for the first time in front of a crowd in their annual Orange & White scrimmage on Saturday, Oct. 21.
The scrimmage previewed their 2016-17 season and showcased different storylines.
"It's really important to have these guys come out and play with the lights on and play with the crowd in the stands," said head coach Tim Floyd. "It's always interesting to see how guys react with a crowd versus who they are at practice—just the effect of a couple people in the stands is where you find the difference between performers and players."
Below are the five takeaways from the scrimmage:
5. Newcomers need a boost
Last season, the Miners debuted impressive newcomers with forward Terry Winn, guard Trey Touchet, guard Dominic Artis, guard Adrian Moore and others, who made an immediate impact. However, in this scrimmage there were just a few new players out on Saturday.
The most promising newcomer was orange team member center Kelvin Jones, who posted a double-double with 10 points and 10 rebounds. He went toe-to-toe with center Matt Willms, who was on the white team.
Freshman guard Deon Barrett showed some skills at the ball handler position for the white team and contributed six points. Coming off the bench for the white team, guard Adrian Moore knocked in six points and totaled six boards for himself.
There were the promising moments and then there were the ugly ones. The newcomers combined to hit 15-of-46 shots. Needless to say, the Miners still have to work on developing these new guys.
"The young guys are still coming in and still learning on what coach wants them to do," junior guard Omega Harris said.
4. The post looks deep with Jones and Willms
The post was non-existent for the Miners last season after inconsistent play from recent alumnus Hooper Vint, and they were without Willms due to his season-ending injury.
This season the Miners debuted two dominant post men with Jones and Willms going against each other. Willms led the charge with 14 points, but Jones dominated the boards with 10 rebounds.
"We had a younger post with Kelvin," Harris said. "He stepped it up in the end against Matt. He saw what he was doing, and in practice they're going against each other and getting better."
Even Willms, who is a seasoned player for the Miners, is still developing with the help of Jones.
"I have to go up against Kelvin every day," Willms said. "He's a freshman and he understands. Everything I tell him—he listens. If he has any pointers, I'll still listen."
The big men down low gave some relief to Willms, who might be limited in minutes at the beginning of the season during his ongoing rehabilitation process.
"It'll be easier with the bench because we won't have to play a certain number of minutes," Willms said. "I'll play as much as I can and if I need a sub, the coaches will understand and I'll get back out whenever they need me.
3. Forwards Jake Flaggert, Terry Winn and Paul Thomas made strides over the summer
Last season, they were new faces on the court, but this season, Flaggert, Winn and Thomas look mature and ready to create havoc on the court.
Flaggert aided the orange team with nine points and solid defense. He shows a strong presence down low and on the wing, which makes him such a dynamic forward.
Winn, last season's C-USA Freshman of the Year, displayed growth in talent during the scrimmage by sticking to his consistent under the basket presence and ability to score. He barely missed a double-double, scoring nine and totaling 10 boards.
"I thought Jake Flaggert and I thought Paul Thomas—all played solidly," Floyd said. "This will help us formulate what we are going to do at the start of the season with our lineups."
But, it was Thomas, the main charge for the white team, who raised eyebrows. The same forward who would come off the bench last season and chip in a few points here and there looked like a developed player.
"It comes with experience," Thomas said. "Last year I was timid, I was a freshman getting used to stuff. But this year, getting used to everything helped out—working on my game, and coach (Chisan) Jones [strength and conditioning coach] does a great job in the locker room, so the strength played a big part."
Thomas totaled 16 points, 10 rebounds and caused three turnovers on defense. It was his ability to shoot from everywhere that was truly noteworthy.
"I focused a lot on my mid-range jump shot this summer and my consistency from certain spots on the floor," Thomas said.
2. Willms still has a ways to go
As he trotted down the court 10 minutes into the first half, it was evident that Willms was fatigued. It was his first game since the 2014-15 season and he is still in the recovery process for the foot injury he sustained in 2015.
"I think it was good for Matt Willms to get out there and play," Floyd said. "It's the first competition he's had in two years. He's only practiced for seven days in two years. I thought it was so important for him to get some reps."
Willms' 14 points did not do justice to how much of a leader he was to the white team, and it was clear how much he was missed.
"I feel great. I don't have any foot problems. It's just the fact that I get pretty winded easily because I haven't played in over a year," Willms said. "I don't want to do any move that I would regret that would affect me."
Willms was cleared to play for the season and assures that his foot is fine, but the idea of his injury still lingers.
"My foot is fine, I just get winded," Willms said. "That's going to happen, and that's how it is. Being in a cast for a year, I couldn't condition and it wasn't something I could control. Now that I'm back, I'm starting to run better. In time, my wind will come back."
1.  The Artis and Omega connection is as swift as ever
The spark that Dominic Artis and Omega Harris held at the scrimmage was extremely apparent. It looked well-rehearsed and better than ever.
"That's my roommate, we live together and talk every day," Harris said about Artis. "He's number one, I'm number two. He plays the one and I play the two. It just goes together. He's a year older; I'm a year younger. Everything is right there and we are just in sync."
Harris finished the game with the team-high 34 points and Artis led the team with eight assists. Both looked effortlessly dynamic.
"When there's dark, comes the light. I'm in the gym from the nighttime until two o'clock sometimes and then have class at 8," Harris said. "Right now, it's just paying off for me and I'm gonna keep doing what I'm doing."
The Miners will begin their preseason schedule against Southeastern Oklahoma State on Saturday, Oct. 30, at the Don Haskins Center.
About the Contributors
Adrian Broaddus, Sports Editor
Adrian Broaddus is the sports editor for The Prospector. He is a junior multimedia journalism major with a minor in political science.



Adrian...