Miners win crucial game against UTSA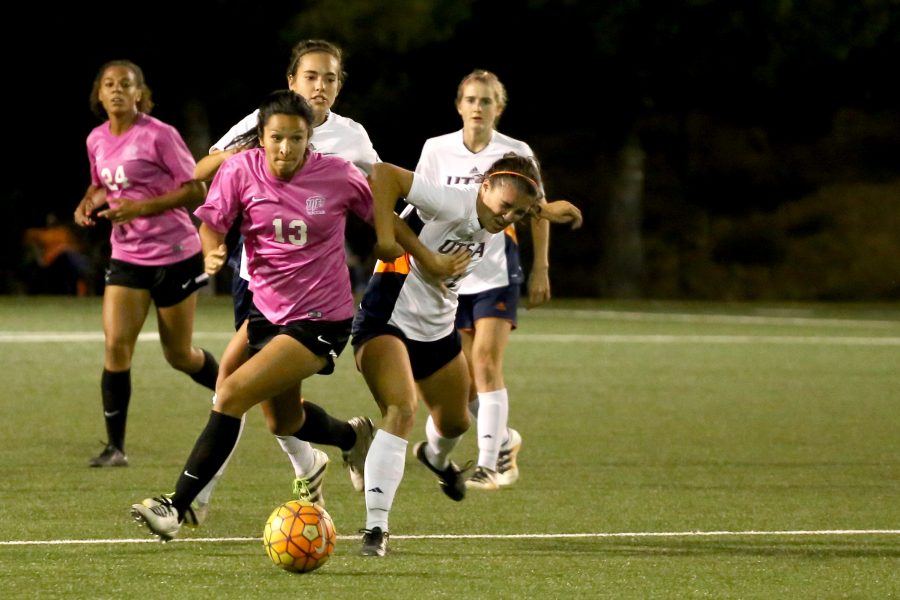 Shericka Lawrence, Reporter
October 15, 2016
In a sea of pink in support of breast cancer awareness month, the UTEP women's soccer team ended the two-game losing streak with a victory against UTSA 3-2 on Friday Oct. 14 at University Field. The Miners improved their conference record to 10-4 overall and 3-3 in C-USA. Kennadie Chaudhary was credited with a goal (5th minute), along with Bri Barreiro (60th minute) and Bri Thomas (73rd minute).
The Miners were out of character last week with two losses against North Texas(1-0) and Rice (3-0). They dropped to four losses in the season with three in conference play. The Miners were challenged in practice this week to get back to UTEP soccer and back to dominating the field.
The Miners changed a few tactics in practice this week to improve teamwork and efforts in conference play.
"We had to get back to working hard," said head coach Kevin Cross. "Usually if you practice well, you play well."
The Miners came out early in the game with quick movement of the ball and fast speed by pushing back the defense of UTSA.
Physical play also played a roll in the game tonight, with a yellow card being handed out on both sides of the ball. The Miners picked up 11 fouls in the first half alone. For UTEP a total of 18 fouls compared to UTSA with only 8.
"It get us frustrated," Thomas said. "But we learn to work with the ref's and work with what they give us."
The UTSA roadrunners came out in the second half blazing and struck first in the second half, leading UTEP 2-1. The Miners answered back with even stronger defense themselves, along with swift footwork to controlling the ball in favor of the Miners.
With great responses to the defense and agile movements to gain momentum back to their advantage, the Miners gained control. The main focus of the second half was to start strong and finish strong, unlike compared to the first half of play, the UTEP players didn't finish the first half on a strong note with a score of one all to end the half.
"We had awesome combinations," Davis said. "That's the best we have played in the mid field all season, just moving off of each other was solid for tonight."
Cross labeled the win as not just a physical one, but also a mental win from the squad's side.
"Huge character win tonight," Cross said. "They showed what they were a made of tonight."
The Miners continue conference play on Oct .16, facing Middle Tennessee at Murfreesboro, Tennessee.