UTEP transformation among the best in the world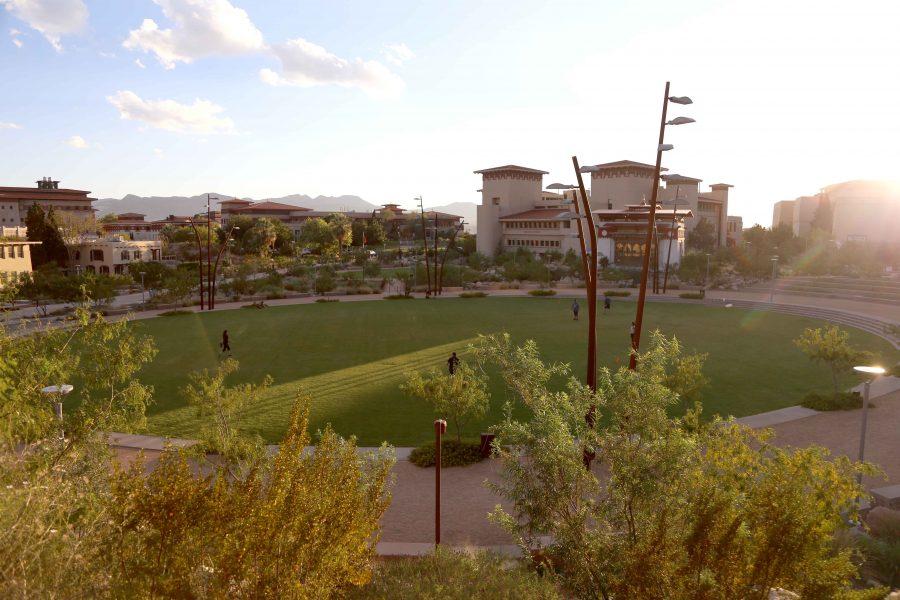 UTEP's Campus Transformation Project has earned worldwide recognition after being selected as the first project in the world to receive a Sustainable Sites Initiative Silver Certification Award for creating an ecologically sustainable landscape.
Green Business Certification  Inc, an organization that recognizes green business practices, worked on a rating system for this brand new award where UTEP was rated in site design, construction and operations and maintenance. The project received the maximum number of points in the innovation category.
UTEP's transformation includes native drought-tolerant trees, water features, rock stem arroyos, a 130-seat amphitheater and a storm water drainage system that will allow the university to reuse rainwater and lower the use of irrigation water.
"We did things like recycling the concrete paving, reusing every boulder that we excavated, using drought-tolerant plants, the contractors sorted their trash and recycled it, and we gave students a place to gather and rest," Christine Ten Eyck, the Centennial Plaza landscape architect said. "Saving water was one of our main concerns and we are doing it now."
Greg McNicol, associate vice president for business affairs and facilities management, said that since his arrival at UTEP, the campus has plans to continue to expand and transform.
He said that the Sun Bowl Drive expansion in which two more lanes were added was a fundamental part of the construction of the plaza.
"All that rock that we needed to remove from the roadway, we kept it. And it all went back to the campus transformation," McNicol said. "We recycled that rock because we wanted our construction to be as natural as possible."
McNicol explained that the Centennial Plaza is a place that celebrates our region, which makes this recognition a reason to be proud.
"It's unique, like we are, and I love that," McNicol said. "We are different in the way we teach and in the way our region looks like, we have no intention to look like other regions because we are proud of who we are."
Ten Eyck said that the inspiration came from the garden around the UTEP museum and from the nature of the El Paso region.
"We wanted to celebrate the Chihuahuan desert, the people of the southwest and also the Bhutanese influence," Eyck said. "We wanted to connect this campus back with nature and let the students, as they're going to class, have that experience with nature every day rather than smelling the exhaust fumes from cars."
Ten Eyck said that the old construction was dangerous and stressful for students because drivers passing through were looking for a fast route to the freeway.
"Parking spaces and cars dominated what should be a pedestrian space, the center and heart of a campus should be about people and students," Ten Eyck said. "Studies prove that the connection with nature is actually very healing, your heart rate goes down and you feel better once you have that connection with nature."
Despite the loss of parking spaces, McNicol said he was satisfied by what the university had decided to do.
"We have more parking spaces in campus per student than we ever had before," McNicol said. "The project was about students like you, and it would have been a disservice if we didn't do what we did."
Both and McNicol and Ten Eyck said that the construction took longer than expected because a large percentage of the project had nothing to do with what they did on top of the ground.
Many of the construction workers couldn't work at the same time due to the vibrations from the excavations. McNicol also said 60 and 70-year-old pipes had to be replaced by new ones which made it harder to advance the project.
"We wanted the project to be done faster but we also recognized that we had to wait and do it right," McNicol said.
Despite the obstacles during the construction, Ten Eyck said she was thankful for the patience of the UTEP community.
"Everyone wanted to see progress, progress, but all these things didn't allow us to show that progress," Ten Eyck said. "The landscape contractor went bankrupt in the middle of the project, if we would have had a landscape contractor that would have stayed with us the whole time that would have been ideal."
Since its opening in 2015, students have been able to relax and enjoy their college experience through sports, music activities, food fairs and many other activities that have been taking place in the plaza.
"The El Paso community at large has also benefited greatly by the construction of Centennial Plaza. The Plaza provides a point of engagement for those visiting our institution," Catie McCorry Andalis, associate vice president and dean of students, said. "Centennial Plaza serves as a 'window' into our campus community."
McNicol said that there are future plans to keep transforming the campus. Two projects towards University Street have been funded and are currently in the design phase.