Panthers hand Miners fifth straight loss in C-USA battle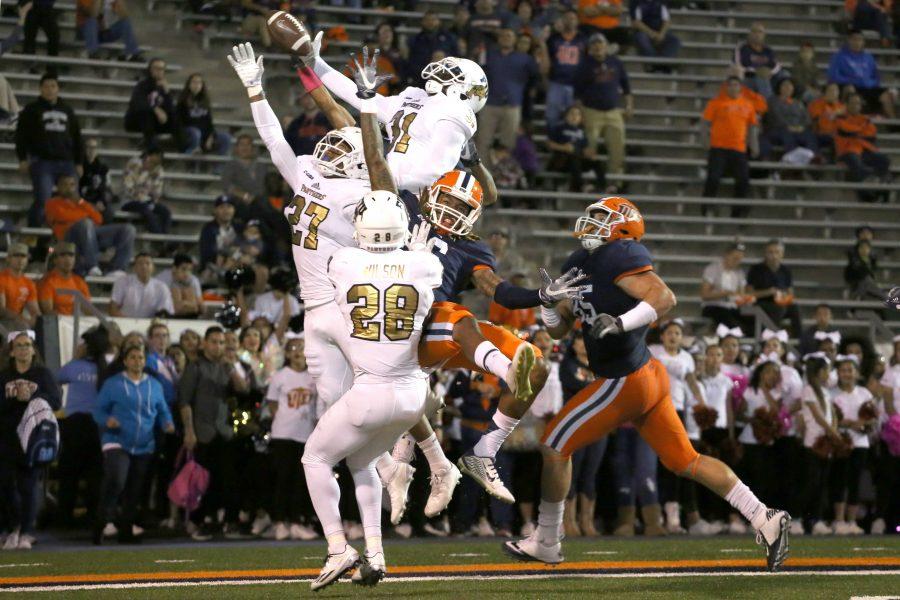 It was a frustrated, six-play, 17-yard drive that resulted in a punt. Quarterback Zack Greenlee hung his head in disappointment and warhorse tailback Aaron Jones hobbled off the field looking beat down. Jones plotted himself on the bench, partially hurt, and gazed in distress over the team's 35-21 beat-down against Florida International.
FIU—the same squad that started the season 0-4, became the first division I program to fire their head coach Ron Turner, and looked like they were truly on a downhill spiral. But now, under interim head coach Ron Cooper, the Panthers picked up their second straight win after stomping on the Miners.
Fueled by quarterback Alex McGough's 241-yards and three touchdowns, the Panthers rolled all over UTEP.
"We're not a very good football team," head coach Sean Kugler said. "We're 1-5 and our record reflects where we are right now. We have a half a season of football left. I've been in this business long enough and I understand the ramifications if I don't get it fixed, so that's on me."
It was a matter of execution that never fell through, which was administered by Jones' inability to play the majority of the game. Jones was very limited after the first quarter, taking only eight carries for 73 yards with a touchdown.
"We couldn't put point up on the board," Jones said. "We need to use our upcoming bye week to rest up and get healthy; regain fundamentals."
In the first drive of the game, the Miners offense came out explosive with a seven-play, 47-yard drive that brought up the field goal unit. However, Jay Mattox missed his first field goal of the season. FIU quickly responded with a near 40-yard drive themselves, and their kicker, Tony Gaiter IV, knocked in a 50-yard field goal.
Running back Aaron Jones put a dent into the Panther's momentum with a blasting, 49-yard rushing touchdown. But from then on, the Miners did not take the lead in the first half.
FIU dominated the remainder of the first half, scoring 10 unanswered points, featuring a 70-yard drive resulting in a passing touchdown by McGough. McGough ended the half completing 14-of-17 passes including an impressive 150 yards through the air.
Although the Miners and Panthers ended the half tying with 182 total yards on offense, UTEP struggled to get anything going as soon as they crossed the 50-yard mark.
Things started to look rocky for the Miners as McGough sparked a nice 12-play, 75-yard touchdown drive that resulted in his second touchdown pass with a high toss to wideout Thomas Owens.
Then, wide receiver Eddie Sinegal, who redeemed himself after a deep touchdown to him was called back in the second quarter, hauled a 42-yard run to set up a Jones touchdown. The Miners were well into the game, only trailing 20-14.
"Eddie's a playmaker," Jones said. "I'm proud of him."
It only took McGough three minutes of swift play calling to hit the end zone again from a lobbing 23-yard toss to Owens. And, from then on, the Miners could not regroup and come from behind. The Panthers went on to outscore the Miners 15-7 in the final quarter.
Greenlee, who filled in for Ryan Metz due to his concussion, had a very erratic game—although he totaled 128 yards, he completed only 12-for-29 with a pick.
"We're going to have to evaluate everything," Kugler said. "Greenlee did some good things, but we hope we can get Ryan ready to go."
The Miners enter their bye week next week where Sinegal hopes that everyone will regroup as a team.
"We need to stand together," Sinegal said. "Coach said if we stay together, we can still make the most out of this team."
Follow Adrian Broaddus on Twitter @adrian_broaddus
About the Contributors
Adrian Broaddus, Sports Editor
Adrian Broaddus is the sports editor for The Prospector. He is a junior multimedia journalism major with a minor in political science.



Adrian...