Muegge targets success for rifle team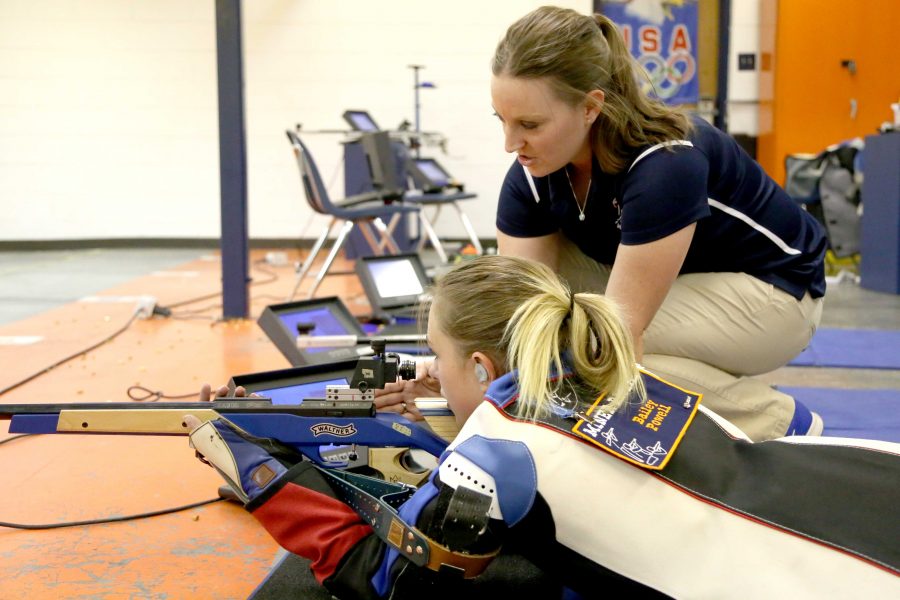 Mike Flores, Contributor
October 4, 2016
The sport of rifling takes the form of a gem—they are rare to find on most campuses, and it takes a definitive, keen eye to have what it takes to excel in the sport. In fact, there are only 32 NCAA programs that hold a women's rifle team, and the No. 18-ranked Miners happen to be one of the programs.
For the head coach of the Miners, Hannah Muegge, constant improvement from her team is her main motivation going into the season and the Patriot Rifle Conference play. This is UTEP's largest roster in three seasons, with eight girls shooting for coach Muegge in her first recruiting class of her coaching career.
Muegge and her troop racked up a score of 4,577 in their first match against Nevada on Oct. 1. They scored 2,273 in small-bore and 2,304 in air rifle.
This is just the start of what Muegge wants to do with her squad this year.
"I would like to see us in the top 10," Muegge said. "I'm a realistic person; I don't like to give numbers, but I know it's possible. I know we can make it happen."
Before coaching, Muegge competed in rifle herself. She was born in Boling, Texas, where she started at the age of 9, alongside a family full of hunters, and she fell in love with the sport. Her family would travel to matches together and enjoy what the sport had to offer. Her parents also became certified NRA coaches, which assisted in her rifling career and, from a very young age, she knew she had her family's support.
In high school, Muegge participated in the USA Shooting Championship for three years (2007-2010). She also found herself competing for the Texas State Rifle Association Small-bore Team from 2008-2012, where she was named to the U.S. Drew Cup Team after her first year of shooting.
Muegge began her collegiate career after she met George Brenzovich, former head coach for UTEP's rifle team. The two met while Hannah was shooting at the NRA Nationals at the Camp Perry Outdoors Championships in Ohio.
She was recruited by Brenzovich and Tennessee and became a first-generation college student.
"After it all, I knew UTEP was the best place for me," Muegge said. "El Paso welcomed me with open arms."
One of Muegge's greatest accomplishments shooting for UTEP was when she qualified for the 2012 NCAA championship—only eight teams get the privilege each year. The Miners finished fifth.
She still wears her 2012 championship ring to show off her illustrious accomplishment.
"We were underdogs, but we did it," Muegge said.
Muegge's leadership and shooting skills were rewarded the following season as she was named UTEP's MVP in 2013.
Deep down, Muegge knew that she could reach her full potential in rifling under coach Brenzovich, but it never crossed her mind to coach after her playing career.
Majoring in business administration, her thoughts on the future were to pursue a career in the business world until her coach decided to retire mid-season during her final semester of graduate school.
Then, she was abruptly offered the interim coaching position in June 2015. She has not looked back since.
"I didn't hesitate to accept it. UTEP is home—it has shaped me into who I am," Muegge said.
Knowing Muegge's past in the sport, she can relate to her players, whether it is balancing homework, schoolwork, time management or just giving suggestions on the daily life of a college athlete.
"I want my athletes to receive the full experience of being a student-athlete, but pushing for goals outside of rifling is even bigger," Muegge said.
As a coach, her goals are to help her girls not only succeed in the classroom and the sport, but also to help them pave their way for a better future. She recognizes the girls she coaches as students first—the athletes have to maintain a grade of C or better, there are mandatory study halls and required progress reports from every class.
Abby Monique, a freshman from Massachusetts, made her decision last fall to come play for coach Muegge. She emphasized that Muegge was a big influence in her decision.
"Coach was very welcoming, and she made my decision a lot easier to come compete for UTEP," Monique said. "It's definitely a family atmosphere here."
Coming into the year, coach Muegge can feel the energy from her players. They are extremely determined to feed off of last year's personal and team achievements, and they all know to live by their coach's motto.
"Live in the moment. One shot at a time," Muegee said. "Rifling is 90 percent mental, 10 percent physical."
On Feb. 18, the Miners will participate in their last match of the season–the qualifier. Even though every contest is something to look forward to, the Miners will set their sights on this date. It is a chance for them to challenge themselves against the best in the nation, and possibly make it to the NCAA Championship. The qualifier is a great measuring stick and will determine if the team is where it wants to be or give them a chance to correct and train even harder for the future.
Muegge's dreams and aspirations for UTEP's rifling team started as a student-athlete, but now her expectations are set in coaching for years to come. In a couple of seasons, coach Muegge expects her Miners to become one of the nation's elite programs; but as the program grows, she also wants to have better relationships with her players.
"I want to be someone they can look up to—a role model," she said.
Next up, Muegge and the Miners will host their first home opener against Nevada on Oct. 8 at the UTEP rifle range, which is located the military science building. Also, on Monday, Oct. 10, students, staff, and faculty will get an opportunity to take a shot of their own on the range.