UTEP student selected as an Archer Fellow in D.C.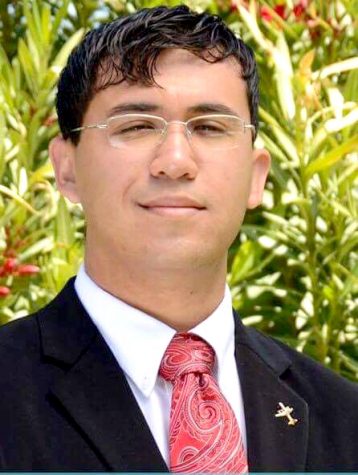 Kristian Villegas, a junior political science major, recently was selected for the Bill Archer Fellowship Program. The award offers juniors, seniors and graduate students the opportunity to receive first-hand networking and learning experiences in Washington D.C.
The fellowship was started by Congressman Bill Archer, along with the University of Texas System in 2001. The program involves students taking credit classes, assisting with major-related events and interning at places such as the White House, Capital Hill, the Smithsonian or NASA.
"My responsibilities at the fellowship are the same as if I was still physically at UTEP: I attend class, I go to my internship on a daily basis and I stay out of trouble," Villegas said. "A big responsibility that I have is to represent my university—UTEP—in Washington as professionally as I can."
Villegas said it was at a senate meeting in the Student Government Association that he first heard about the fellowship.
"A former student, known as an Archer Fellow, was presenting the program to the members of the SGA and I was in the audience learning about the program," said Villegas. "When I found out that I had to at least be a junior to apply, I felt discouraged, but was determined to apply to the program the second I got into my junior year and so I did."
Fellowship winners started their internship on Aug. 22 and will continue for the entire fall semester until Dec. 11.
In order to become the only UTEP student who was granted the fellowship in this year's cycle, Villegas had to have previous internship and community service experience, maintain an average of 3.0 GPA, complete basic government  classes as well as 24 credit hours at UTEP.
"The process of applying for the program is a lot of work, but manageable. You need to give your resume, two letters of recommendation, transcript, an essay on a policy and a personal statement," Villegas said.
Once Villegas completed all of these requirements he proceeded to a single interview. He had already begun training with UTEP Archer coordinator, Christian Corrales, who helps students who are selected to the program.
"Much of what is discussed in the interview is the student's knowledge on policy and politics," Villegas said. "So for those who apply, they should be caught up on current events and some policy news." said Villegas.
Besides getting ahead of the competition, Villegas had to find funds for the program.
"The program, along with UTEP, helped a lot with funding, but a student in my position would have to save a lot of money in order to live in Washington D.C. and pay for the housing and program fees," Villegas said. "Once you get here, you also have to begin to budget your money efficiently, so that you don't end up half way through the semester with no money in your pocket."
Villegas found out about this accomplishment while he was at the barber shop with his mother and his brother.
"I was checking my email on my phone and there it was. When I read I was accepted, I didn't know how I felt. It was a mixture of relief, excitement, and overall happiness," Villegas said. "It's difficult to describe, but at that moment I felt like I was in the middle of a dream and was hoping that it never ended."
Villegas later realized the dream was about to begin. He admits being in a state of "culture shock" because of the people he has met and the places he gets to visit at his internship.
"Right now, I'm still not believing the things that I see and experience as reality. Overall, I am very fortunate to have the opportunity I have to be here and I encourage everyone at UTEP to apply to this amazing program," Villegas said. "The process to get here may be difficult, but in the end I guarantee that you will not regret the experience."
Villegas's future plans are to attend law school somewhere in the Northeast, and one of his major career goals is to become a district attorney.
"Along the way, I want to someday hold public office, and by being an Archer Fellow, I have been able to learn so much about our political system and how best to operate within it," Villegas said. "It is amazing just how much one would learn from talking to a senator or a judge about all the good things you can do and the strategies used to achieve those ends."
Applications for Bill Archer Fellowship 2017 will open on Nov. 2 of this year. For more information about the program, contact Christian Corrales at Union East, room 302 E, or at [email protected]
Grecia Sanchez may be reached at [email protected]