Nation's top rushers to duel this Saturday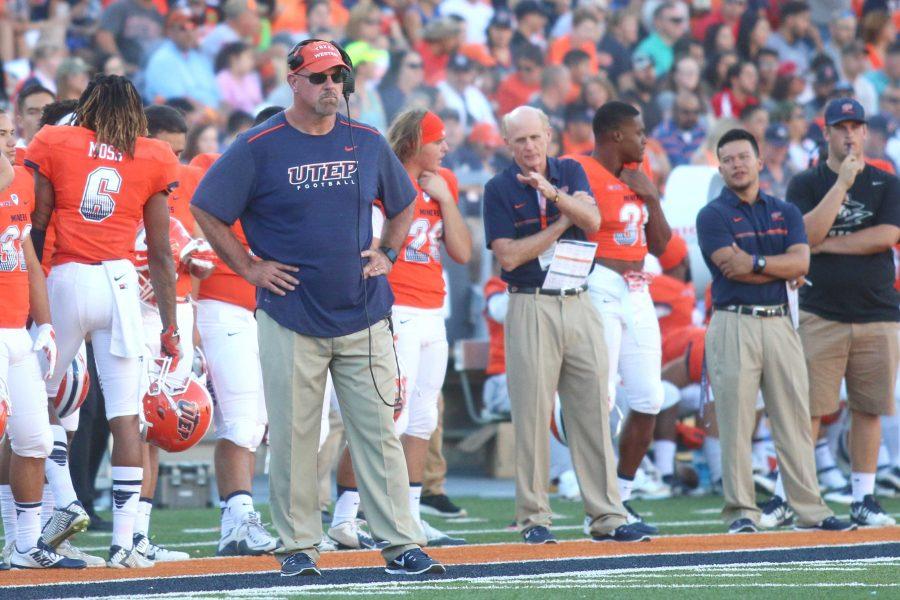 After finishing the first quarter of play this season, the Miners will start league play against Southern Mississippi at home on Saturday, Sept. 24.
The Miners defeated the visiting NMSU Aggies as expected, considering that they had done it seven consecutive years. The Miners' new quarterback Zack Greenlee came out on fire and threw for 229 yards and three touchdowns. Running back Aaron Jones returned from last season's injury and rushed for 249 yards and two touchdowns. The Miner's defense slackened toward the end, and eventually allowed 22 points, but UTEP looked every bit the bowl team that many had predicted.
Then came the trip to Texas. Greenlee was out, so there was no passing game to speak of. There was also hardly any defense. UTEP looked completely overwhelmed by the situation and the no. 11-ranked Longhorns. The team lost 41-7 and came back home with their tail between their legs, but with the good news that Greenlee would be back under center for the game against Army.
The UTEP defense was missing linebacker Alvin Jones and had a tall test on their hands against the no. 4 rushing offense in the nation. It was a test that the defense failed. In fact, the defense never made a single stop against the West Point offense–allowing a score  on every possession. The Miners were defeated 66-14, and Greenlee's passing yards mostly came in comeback mode, while Aaron Jones was held to under 100 yards, but he did manage a touchdown.
UTEP fans may have maintained some confidence from their eighth-consecutive defeat of the rival Aggies despite the loss to Texas. But, all may have been lost following the epic beat-down handed to the team at the hands of an undersized and typically undertalented team of future soldiers. If the fans have lost confidence, it remains to be seen whether the team has as they head into a matchup with the traditional C-USA power, the Southern Mississippi Golden Eagles (2-1).
Southern Miss head coach Jay Hopson is in his first year as the Golden Eagles' head coach after coaching at Alcorn State for the last four seasons, where he won the last two conference championships. Hopson started his new job with a win in Kentucky's home opener by nine points. Running back Ito Smith was almost unstoppable—much like Aaron Jones in UTEP's opener—against the Wildcats with 173 yards and a touchdown.
The next week, Southern Miss faced FCS school Savannah State and beat them 56-0. The Southern Miss defense held SSU to 41 total yards in the Golden Eagles' home opener, while quarterback Nick Mullens threw for 216 yards and three touchdowns. Smith once again ran well with 128 yards and a touchdown.
On Saturday, Sept. 17, Southern Miss lost their first game against the surprising Troy Trojans by a tough 37-31 score. The week before, Troy barely lost to the no. 2 Clemson Tigers by the same six points. Tailback Ito Smith once again had a great day against what had been a staunch Troy defense. Smith carried the ball 20 times for 131 yards and two touchdowns.
Mullins continues to throw the ball around 50 times per game, this time for 263 yards and a touchdown. However, Mullins threw two interceptions against Troy. In fact, on the season, Mullins has six touchdowns and six interceptions. Still, Mullins ranks no. 35 in the nation in passing yards with 737.
Aaron Jones will come into the game against the Golden Eagles with 439 yards rushing–ranking him second behind only Donell Pumphrey of San Diego State (599) in running back rushing yards. Seven yards behind him is Ito Smith of Southern Miss. This clearly will be the match-up to watch when the teams go head-to-head come Saturday. Unfortunately for Jones, his team may give away his lead to Smith.
Against Troy, the Golden Eagles allowed the most rushing yards that they have all season–186. Prior to that, the team had allowed 96 rushing yards to Kentucky and 11 against Savannah State.
Alternatively, UTEP is coming off an Army game where the team allowed 426 yards rushing–more in one game than Southern Miss has allowed this season.
The talk early in the season was that this fourth game of the season could go a long way toward deciding the C-USA title and that this early season matchup was a big one. Now it seems it will be a case of another very good team coming into the Sun Bowl to face UTEP, and the Miners merely showcasing Aaron Jones, yet again.
Jason Green may be reached at [email protected]