UTEP-Army hypes up Fort Bliss; new fans to Sun Bowl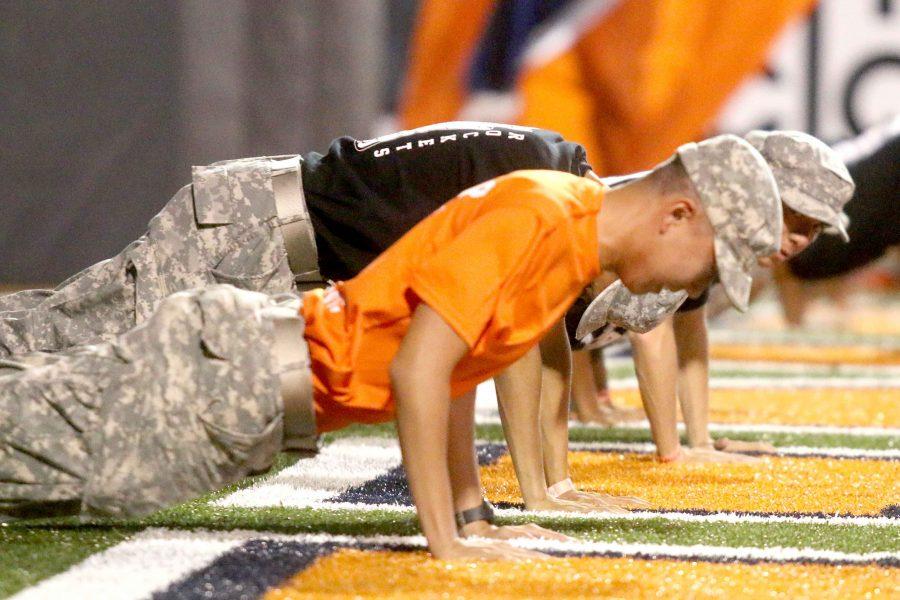 You have probably seen the billboards around town by now: "One city. One team." Half of the words are draped in UTEP's orange and blue colors and the other are in the gold and black of the Army Black Knights. The two teams have never met in football, and the game is especially meaningful to the city of El Paso with Fort Bliss located within the city's borders.
"It was essential to present a unified front with Fort Bliss serving as such a vital part of our community," said Bob Stull, UTEP's director of athletics. "This is so much more than a football game. It is a celebration of our nation's military and their presence in the Sun City."
Representatives from within the city and county of El Paso, UTEP and Fort Bliss are working together to put on an event that will be  memorable for the public who attend the game. They have also insured that soldiers who want to attend the game will be able to purchase tickets at discounted prices or, in some cases, receive them for free.
El Paso Mayor Oscar Leeser and his wife donated 7,000 tickets for the UTEP vs. Army game to Fort Bliss.
"That was really outstanding for them to do that. I know they understand that a lot of us have families and so many people come over from New Mexico and stuff like that and buy all the tickets, it could be sold out," said Spc. Elijah Favors of E Co., 2-501st GSAB, 1st CAB. "That's a good thing that they did."
Many soldiers at Fort Bliss had their tickets for the game in their breast pockets while they worked on vehicles on a hot September day.
Another soldier who already has his ticket for the game, is Capt. Jeremy Paquin, who could hardly contain his enthusiasm when it came to talking about the upcoming football game. As a West Point graduate, Paquin, the commander of B Troop 3-6 Cavalry, 1st CAB, said that he will be attending with about 30 other people.
"We're going to start tailgating at about 10 a.m. I'm going to have all of my buddies out there, other captains that are former grads of West Point," said Paquin with a smile. "We're going to all go to the game, this big section, and I'm pretty stoked about it."
The UTEP media blitz has everyone involved hoping for a large crowd at the Sun Bowl, and perhaps even larger than the season-opening crowd of 30,119 people. Soldiers from Fort Bliss are expecting a large crowd­—perhaps split down the middle and possibly cheering 50-50.
"You have the base here, so that's why it should be more half and half than just students from UTEP. I believe it's the first time that Army's come down here, so with the base here, I believe there will be a big turn out," said Spc. Brittany Williams of E Company, 2-501st GSAB, 1st CAB. "Playing this close to a base, I think there will be a big turn out as far as people coming out and supporting the community of El Paso and UTEP, and also just supporting the Army in general."
There will be plenty of support to go around. Especially in a community known for showing great support for the Army and Fort Bliss  when the nation remembers the attacks of Sept. 11 and the wars that followed. The question remains, with two teams battling it out on the field, where will the fans' loyalties lie as the game is played out on the field?
"I'm going to try to support both of them to an extent. I'm going to try to support Army because I am Army," said Pfc. Tremaine Harris, also of E Company, 2-501st GSAB, 1st CAB.
Harris has not been in the Army very long and pointed to the fact that watching Army play for the first time as a soldier would be a point of pride.
When asked who he was going to root for, Pv2. Hector Ramirez, also from E Company, 2-501st GSAB, 1st CAB, responded: "Army, obviously."
Several enlisted soldiers on Fort Bliss, who preferred not to have their names included in the story, did state that they may pull against the team from West Point based on the fact that the team is made up of future Army officers—meaning that they are most likely future commanders of the soldiers who would be making the off-the-record statements. Although, these statements were made with a smile and a laugh, meaning that the soldiers will most likely be overwhelmed themselves with Army pride come Sept. 17.
Perhaps Lt. Col.  Rodney Crenshaw of Brigade Modernization Command stated it best when he said that, "when it comes down to it, we all have that common bond—we're all one big family."
Jason Green may be reached at [email protected]