Spotted: UTEP fans in Austin, Texas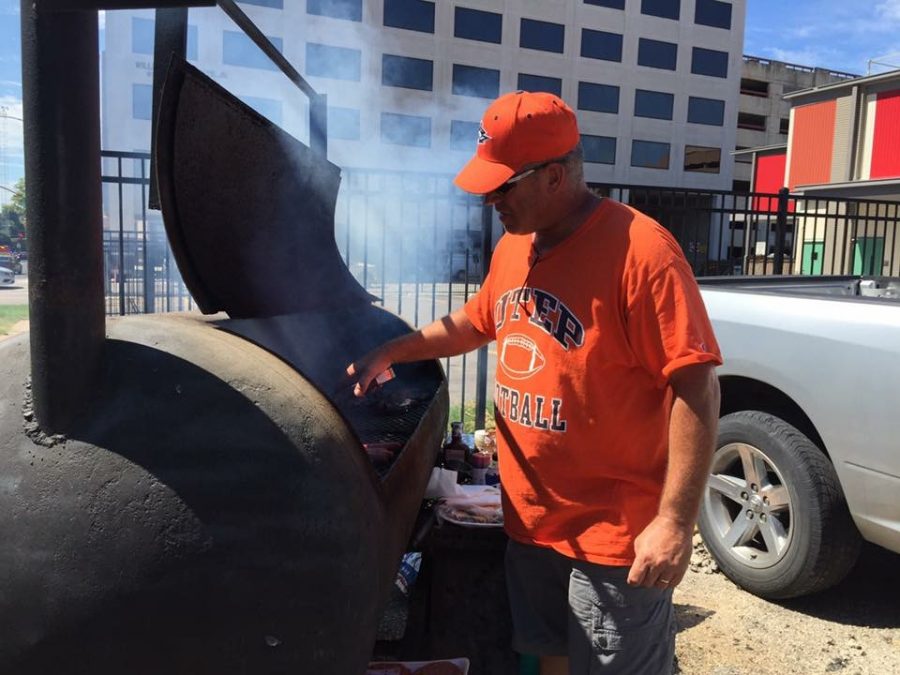 It was not just the UTEP fans' designated section of Darrell K. Royal – Texas Memorial Stadium that was awash in orange and blue prior to the Miners matchup with the no. 11-ranked Texas Longhorns on Saturday, Sept 10; not only did bright orange and blue dot every level of the stadium, but there were UTEP fans to be found all around downtown Austin, Texas, prior to the game tailgating.
On one corner, only blocks from the state capitol, were several tents which were dark blue – one with a large UTEP logo. Loud music and the smell of grilling meat emanated from the area beckoning to anyone in the area – only this party was not for the Longhorn faithful making their way to the stadium from every direction.
"We've got people coming in from El Paso, Dallas, Houston, Killeen, San Antonio, Casterville, people down around Bastrop and of course Austin," said Arthur "Tury" Vargas.
But, he was not talking about those Longhorns fans. Vargas was talking about the large tailgate party that was organized via Facebook and the UTEP fans that came from everywhere to attend. El Paso's own Abe Mac Band travelled to Austin to provide the music and the party raged from 10 a.m. up until game time.
The planning started well before UTEP defeated rival NMSU and Texas upset Notre Dame to rise into the top-25 of the college football rankings. Although the tailgating can often take precedence – especially in El Paso – the fans who travelled to Austin were highly interested in the game as well.
"I just always have this hope inside for UTEP. I mean, they fail me a lot but, I always have this hope for them," partygoer Daniel Jaramillo said.
Regardless of the game's eventual outcome, most fans, especially those living in the Austin area, were just happy to be able to see their home team in person again.
"We came because UTEP was coming. I'm just here to support my home town," Corina Nuby said, who had her sister send UTEP shirts from El Paso especially for the game.
Although the line has the Horns by 30 points, the Miners' fans are ecstatic to  see the UTEP squad.
"This is my first UT game but, I had to come see UTEP," said former UTEP student Tristan Underwood, now living in Austin.
Jason Green may be reached at [email protected]