Three keys to the Battle of I-10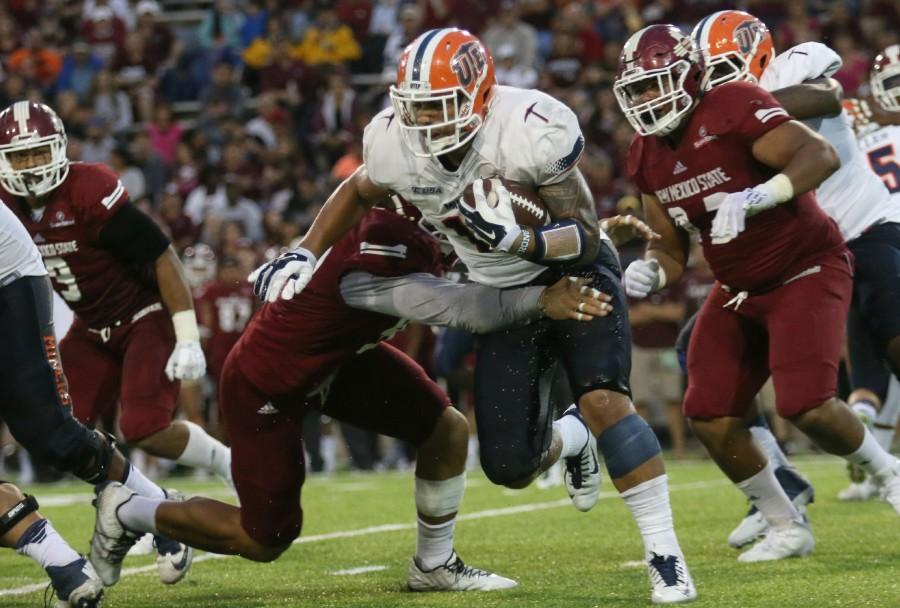 There are only three more days until the UTEP Miners kick off their 2016 football season against the New Mexico State Aggies on Saturday, Sept. 3, at 6 p.m. in the Sun Bowl. Like most Battle of I-10 Rivalry games, this year's game does not fail to disappoint in storylines.
Below are three keys to look out for in Saturday's game:
Who will be in and who will be out for the Aggies?
NMSU Head coach Doug Martin has been superb on keeping quiet on which of his playmakers will be playing and which will be out for Saturday's contest. The Aggies' starting quarterback Tyler Rogers was arrested earlier this month on a misdemeanor battery charge with his girlfriend. However, both Martin and athletic director Mario Moccia claimed that if there are no felony charges against him, Rogers will play against the Miners.
Rogers had a scheduled appearance in court on Tuesday, Aug. 30, and the Aggies will announce later this week whether or not he will play. Despite his arrest, it appears that NMSU will handle his punishment internally if no felony charges are brought to him.
Although Martin named leading tackler Derek Ibekwe and star running back Larry Rose III doubtful for the game against the Miners, UTEP head coach Sean Kugler will not count them out from his game plan.
"I know there are reports that [Rose III] may be questionable for our game," Kugler said. "I'll believe it when I see him out there playing or not playing. We'll prepare for their team like he's going to play, and I hope he does."
Both impact players for the Aggies underwent surgery during the off-season, and have been attempting to make a comeback. Against the Miners last season, Rose III posted 196 rushing yards and a touchdown in the Miners' 50-47 overtime victory.
Personnel changes appear to be more mysterious than ever.
UTEP's Kugler and NMSU's Martin have some similarities going into this season—both are embarking on their fourth season with their respective programs, and both have new personnel additions to their staff.
With the addition of offensive coordinator Brent Pease and defensive coordinator Tom Mason, both sides of the ball have changed substantially for UTEP. Pease is opening up the offense with a spread attack, while Mason is abandoning the man-coverage the Miners were used to last season, and implementing zone coverage as their base defense.
For the Aggies, Martin added defensive coordinator Frank Spaziani to the mix. Spaziani, the former Boston College head coach (2009-12), brings a 4-3 defense to the table. Under the 4-3, the Miners can expect more pressure off the edge this Saturday. Like Mason, Spaziani prefers to have his defense to play zone coverage, rather than man.
The run game — who wins the battle on the ground?
On paper, it is the Miners' standout tailback Aaron Jones taking on a strong Aggies defensive line for Saturday's matchup. Jones, enters this season with the Miners after returning to the gridiron after sitting out the majority of last season with an injury. He was not able to face the Aggies last season due to his injury.
Nevertheless, this game could be the first test for the Miners' running core; and, needless to say, Jones is hungry to be back.
But, Jones will not reach success that easy. The Aggies will be expecting the run, and more than likely will play very physical in the box. Also, the squad returns their top five leading tacklers from 2015.
Although he might not be certain on the condition and playing time of some of his offensive players, Martin told the Albuquerque Journal that his experienced line will be tried against Jones.
"That's where the game will be won or lost," Martin said. "We're deeper and, I believe, better on the defensive line. We're about to find out."
Adrian Broaddus may be reached at [email protected]
About the Writer
Adrian Broaddus, Sports Editor
Adrian Broaddus is the sports editor for The Prospector. He is a junior multimedia journalism major with a minor in political science.



Adrian...