Your Next President
Trump remains the focus of Clinton's campaign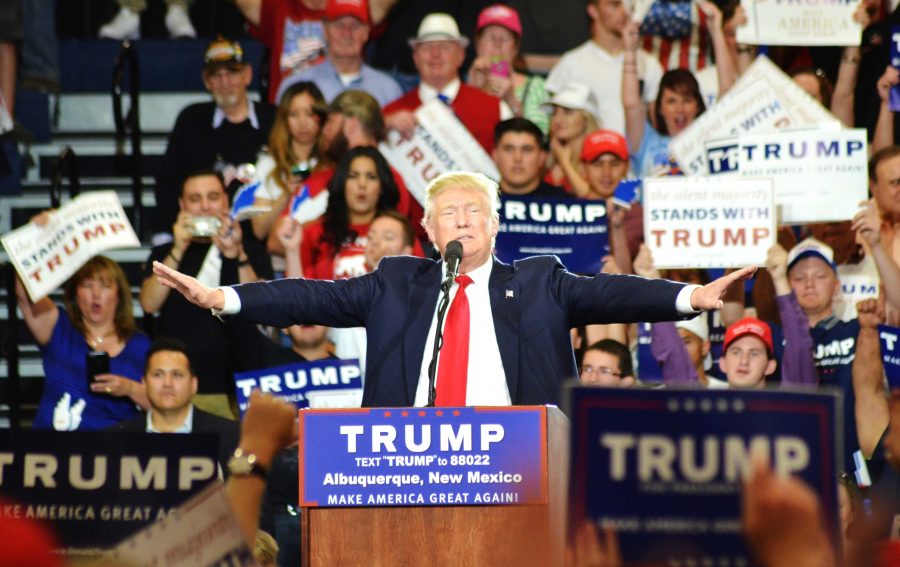 Presidential nominee Hillary Clinton has a 90 percent chance to win according to the New York Times, but her recent success can be attributed toward her focus on the dangers of Donald Trump and less so on her own platform and appeal.
The back and forth between Clinton and Trump is focused primarily on Clinton responding to Trump and his latest speech. The mainstream media glances over Clinton's own scandal with a collective "meh" when compared to Trump's tweets and promises.
Although there are 72 days until the election, that is a long time in the world of politics and many things can be revealed that may sway the election to one candidate or another. Currently, however, the candidate most likely to be our next president is receiving far less media attention.
An investigation by the AP has recently found that 84 out of 155 civilians Clinton has met with when she was Secretary of State were donors to the Clinton campaign.
The Clinton campaign and other major media outlets criticize the AP report for what they call "cherry picking" since the investigation ignored meetings with state and foreign government officials. But, the AP said that meetings with officials were likely to happen anyway. The focus of the investigation was who she chose to meet with, rather than who she was obligated to as Secretary of State.
While there is no evidence of quid pro quo, meaning there doesn't seem to be any actions taken by Clinton because of those meetings, it does reveal the process in which individuals with money have personal access to politicians and also brings into question how influenced Clinton was as Secretary of State.
Questions of influence is not a new criticism of Clinton, and recently she responded to her critics by promising if she is elected president, the Clinton Foundation will no longer accept foreign donations and will move some programs to other organizations. The Clintons have also promised to leave the foundation, but their daughter Chelsea Clinton will remain on the board.
The investigation does not reveal anything unusual for Washington; people with money get access to politicians. This issue is not new and is what Bernie Sanders brought up in his presidential run. But because Trump is consistently outrageous, the conversation that was taking place during the primaries died out and was replaced with Trump's latest offending tweet or another re-tweet of a white nationalist.
Trump has recently alluded to drastic changes in his immigration policy. In Austin, on Fox News Show "Hannity" (Sean Hannity has recently become one of Trump's advisors), Trump discussed how hard deportation is on families and suggested that he will consider changing his stance on policy.
He started by asking the audience if they prefer to "work with" undocumented immigrants who have been in the country for 20 years or to deport them all. The audience surprisingly cheered louder for "working with" the undocumented, but there also was a lot of booing and angry outbursts at the idea. Trump replied to those who wish to deport every undocumented person by saying he plans to deport undocumented who have a criminal record; "on that, we agree on," he repeated, which gave the impression that he does not agree with deporting everybody.
This is a stark difference from the stance he ran on that included a deportation force that would focus on finding and deporting undocumented individuals.
In typical Trump fashion, by Thursday that week, Trump said on CNN that his policy has not changed. Kelly-Anne Conway, his new campaign manager, told CNN that his deportation force is "to be determined."
His change in rhetoric might just be an attempt to gain more minority voters, with whom he has had a hard time in the polls.
Last Friday, Aug. 19, Trump spoke in Michigan to a mostly white audience, explaining his message to the African-American community.
"You're living in poverty, your schools are no good, you have no jobs, 58 percent of your youth is unemployed—what the hell do you have to lose?"
Meanwhile, Trump's polls are 6.3 points under Clinton's, according to realclearpolitics.com. His attempts at appealing to minority voters might harm him in the polls in his own party. In a recent polling by Fox News, Clinton has an 18-point lead in favorability in Trump's own party, with Clinton's score of 61 and Trump at 43.
According to Politico, Trump is losing in all 11 swing states, which are needed to win the election.
Christian Vasquez may be reached at [email protected]