UTEP student awarded NAACP scholarship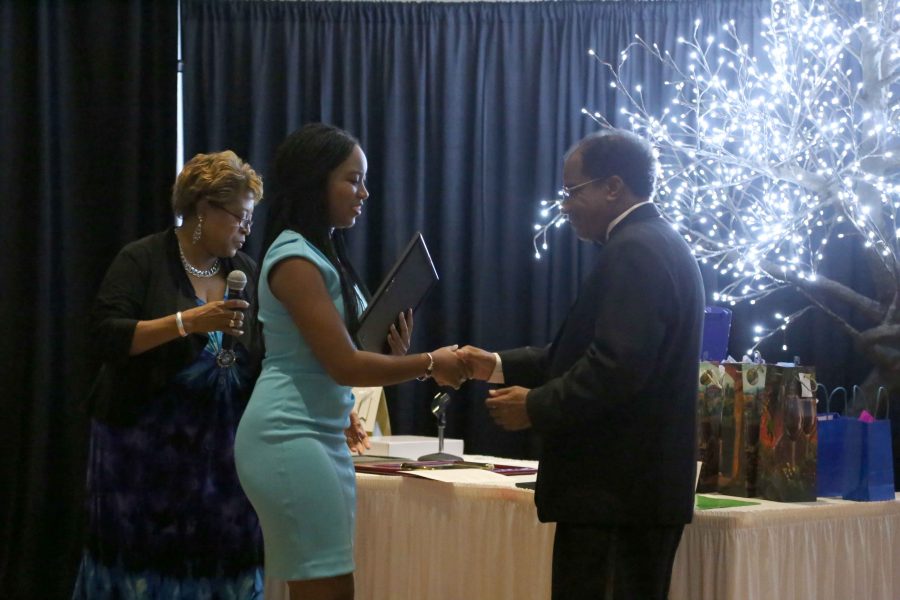 The El Paso branch of the National Association for the Advancement of Colored People held its fourth-annual Freedom Fund and Award Banquet on Saturday, Aug. 27. The NAACP gave out two scholarships to local students as well as three awards to prominent El Paso members of the community, and during the event, UTEP's Black Student Union helped people register to vote.
The scholarships were given to Julia Clarice Cartwright of Parkland High School and Amanda Elizabeth Acosta of Eastwood High School.
Cartwright is attending UTEP with a major in forensic science with future plans to become a dentist, and Acosta will be attending Grand Canyon University in Phoenix, where she is majoring in forensic science and psychology.
Cartwright was a part of the National Junior Honor Society, and received the Daughters of the American Revolution Award as well as two certificates of recognition from Congressmen Beto O'Rourke. She was also involved in various community services such as the Salvation Army, Candlelighters and volunteered at homeless shelters.
Cartwright said her mom was very involved in her life and was the bearer of the good news and talked about what drove her to community service.
"I always had a lot of free time, and I thought doing something would better than staying at home doing nothing, so I got myself involved a lot," said Cartwright. "Which actually helped me out later on in college. I'm really grateful."
She picked UTEP because it was close to home and plans to use the scholarship to pay for her books. She is not involved in any extracurricular activities yet, but plans to join the NAACP soon.
"I'm actually involved in fencing and I'm trying to find the fencing club at UTEP," said Cartwright "It's huge, I get lost a lot."
The theme for the banquet was "Our lives matter, our votes count," and was aimed at bringing notice to the police brutality that has occurred throughout the African-American community as well as discussing the power of the vote. Keynote speaker Carmen Williams, the Southwest regional director of the NAACP, spoke about the NAACP's fight for social justice.
"I just heard you acknowledge a long list of elected officials that many of you put in office. Elected officials walk into a room and we stand back as if the harp angels are singing," Williams said. "We elected people to represent us. To take our voice and move it forward. We elected them to stand up for those things that we believe in. But we forgot to hold them accountable."
Darrien Broadnex is a senior majoring in kinesiology and is a member of the Black Student Union. He spoke about the importance of voting and bringing the El Paso community together.
"We are trying to push everybody in that direction because if you don't vote then nothing is going to change," said Broadnex. "Once you have a backing and once you have a following—we're all peers so there's no we're the leader you're the followers—you have a greater ground of power of multiple voices. Because we're the students and are just that great of a voice."
Bringing the community together was a dominant theme at the banquet. Greg Davis, the president of the El Paso branch of the NAACP, talked about the need to bring together all races and religions into the community.
Makeba Buggs, treasurer of the Black Student Union, said that the BSU is not an exclusive organization and that people of all races and creeds are welcome.
"I know a lot of people are like 'Oh, I can't join because I'm not black,' but our last vice-president was Hispanic," said Buggs. "Yes we're called the Black Student Union, but we're also here to educate people on black lives–what we've been through, our history–and not only educate but work with other minority groups to build a relationship to help grow."
The Dr. Aaron Nixon Award was bestowed to  Pierre Boynton, a member of the El Paso branch of the NAACP, for being highly involved in the El Paso branch and outstanding community service.
The second award was the Fanny Lou Hamer Community Service Award and was given to Juliet McClain Hart for community service with the El Paso community.
The third award was the Dr. Martin Luther King Junior Humanitarian Award, which was given to Ousia D. Davis for being a benefit to the humanity of the community. Davis was the first African-American woman to serve in the El Paso courts and is a weekly columnist for the El Paso Times.
The Black Student Union's first meeting will be at noon, Friday, Sept. 2, at the Liberal Arts Building, room 222.
Christian Vasquez may be reached at [email protected]