Miners ready to bounce back
Aaron Jones returns to team after injury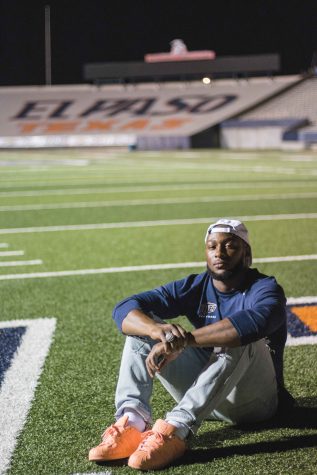 The 2015 season was unique for the UTEP Miners football team with numerous players being lost for the season due to injury. Junior running back Aaron Jones had seen injuries like this happen to people around him, but apart from a three game stretch during his senior year at Burges High School, Jones had never really faced much adversity himself.
That all changed on a Saturday afternoon last September in Lubbock against the Texas Tech Red Raiders. Not long after reeling off a school record 91-yard touchdown run, Jones was carrying the ball when he planted his foot to pivot and felt a pop in his ankle.
"Initially when it happened, I didn't think I was going to be out for the season because I had felt that pain before. I got up and tried to run off on my own and couldn't and thought it was just a high ankle sprain," said Jones.
That pop that Jones felt was ligaments tearing in his ankle and it would end his 2015 season after only two games and a total of 209 yards rushing. This after a sophomore season that saw him amass 1,321 yards on the ground and 11 touchdowns which would land him on every preseason award watch list of any importance before the disappointing 2015 year.
The team spent the rest of the season searching for a solid rushing option out of the backfield, never fully being able to replace the talent of Jones.
"It was devastating. It was devastating to the team. It was devastating because we did not have a lot of depth there because of injuries and those types of things," head coach Sean Kugler said.
If the team and coaches were down following the injury to Aaron Jones, the one person on the field feeling it more than anyone else was more than likely Jones' twin brother, linebacker Alvin Jones.
"I was hoping he was ok. He limped off the field so, I was like, 'He'll be fine.' But, after the game it set in that he tore ligaments and was out for the season – I really didn't know what to do. I was just really sad," Alvin said.
Immediately following the injury, the football team went back to practicing and preparing for the next week's game at New Mexico State. Aaron Jones had surgery on his ankle and moved into his parents living room temporarily, where his parents would make sure that he was eating right and taking his medication as prescribed.
It did not take long for two very important things in the football lives of the Jones brothers to take place. First, Aaron found out that he would be receiving a medical redshirt which would mean that he would gain back a year of eligibility. Not only would he have a year of lifting weights and working out before coming back in 2016 to punish the C-USA, he would also be back as a junior with his brother Alvin who had redshirted in 2013.
Second, Alvin decided that he would dedicate his 2015 season to his injured brother.
"I always wrote 'AJ29' on my tape on my wrist and I guess I just played for him since he couldn't be out there with me," Alvin said.
This may have been one of the most important decisions made all season, in football terms. Linebacker Alvin Jones would come out on a mission the very next week in UTEP's amazing 50-47 come from behind overtime win at NMSU. Jones tallied a career-high 11 tackles and a career best five tackles for loss. Alvin's performance lifted the UTEP fans performance in his brother's absence but, more importantly, lifted his brother's spirits.
"The way it ended, I'm over there crutching around. Just jumping around on one leg. It was a lot of fun. That was definitely a game to remember," Aaron said.
Alvin Jones ended the season with a phenomenal 93 tackles.
This Saturday, as New Mexico State enters the Sun Bowl, the UTEP fans will have their spirits lifted once again for a whole different reason. This time team captain and star running back Aaron Jones will once again be back on the field.
The bad part for the Aggies–and every other team on the Miners' schedule–is that Jones has spent almost a full year bulking up and adding even more speed. But, more importantly–according to Jones–is the learning that he has done on the sideline.
"I got in the weight room and got a lot bigger," Aaron said. "I picked up a lot of football IQ, picking up the defenses–being there and watching the games, just watching the games, I picked up a lot of that."
Alvin Jones is excited as a linebacker in UTEP's new 3-4 defensive scheme to have the team's star running back healthy once again.
"It makes my job a lot easier," Alvin said. "The defense is not going to be on the field as much. We're going to score a lot of points so, now I'm just worried about stopping people."
When pressed for an answer as a proud brother and less as a football player, a smile came to Alvin's face.
"I'm glad he's back. I'm his biggest fan," Alvin said. "I didn't like seeing him sitting on the sideline in his jersey last year. So now I'll see him out there scoring touchdowns and things like that–I don't think there's anybody more proud of him than me."
The whole team seems proud to have him back. Kugler could not be happier to have a proven leader and all around good person back to lead his team.
"It's an emotional lift because he's a team leader," Kugler said. "When you lose a great player, you lose statistics and all of those things but, when you lose a great leader, you lose a lot more than that. He's one of the leaders of our team. He's the face of the program and having him back just gives everyone a lot of confidence, myself included."
Jason Green may be reached at [email protected]