Kugler speaks on upcoming rivalary game against NMSU
Every week during the football season, head coach Sean Kugler meets with the media over lunch at the Larry K. Durham Center overlooking the Sun Bowl and goes over the next week's opponent. This week's opponent just happens to be the arch rival New Mexico State Aggies.
Kugler spoke glowingly of the Aggies – a team that he has defeated in all three meetings as head coach – even going as far as to say that last year his UTEP squad probably should have lost. Last season the Miners were led on a thrilling comeback by quarterback Ryan Metz and eventually won in overtime 50-47.
The Miners head coach mentioned several times that if his team stays healthy all week during practice, they will go into the game on Saturday with every starter on the depth chart healthy and ready to go. This includes star running back Aaron Jones who missed all but two games last season due to an ankle injury – including the New Mexico State game.
Kugler has completely revamped the style of Miners practice throughout Fall camp and the pace at which the team practices in order to minimize injuries leading up to September 3.
"I think it benefitted us this year because we're really going into this game – if we practice smart this week – with one injury (to back up running back Treyvon Hughes)," said Kugler.
New Mexico State on the other hand will be without star running back Larry Rose III, according to their own depth chart released on Monday. Following surgery for a minor sports hernia, Rose had been listed as questionable for the rivalry game and now has been replaced on the depth chart altogether in favor of freshman running back Jason Huntley out of Arlington, Texas.
"I know that there's reports that (Rose) may be questionable for our game – I'll believe it when I see him out there playing or not playing," said a skeptical Kugler. "We'll prepare for their team as if he is going to play."
Quarterback Tyler Rogers is back for the second year in a row to take on the Miners. Last season he was 14-for-28 for 285 yards and three touchdowns in Las Cruces. Kugler pointed out that he beat out a transfer from Southern Miss – who subsequently left the team – and that his corps of wide receivers has only gotten better.
To help combat the Aggies passing attack, the new UTEP defense is a 3-4 which will see the Miners cornerbacks in less man and in much more zone defense. Kugler thinks that this will help players like Nik Needham and Kalon Beverley to be the very good players that they can be.
"When you're playing more zone, even if a guy gets beat, you have more help over the top. So, you're trying to make them go the long way. Not saying that that can't get beat as well but, it certainly does give you a better chance in pass coverage," said Kugler.
The two teams will face off at the Sun Bowl on Saturday at 6 p.m. MT.
About the Contributors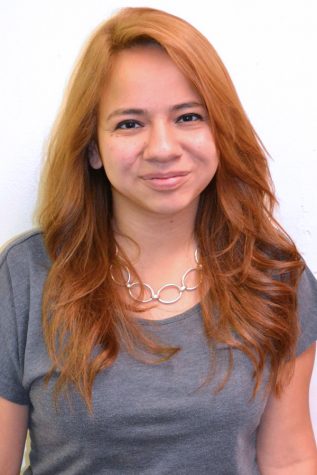 Michaela Roman, Editor-in-Chief
Michaela is a Senior Digital Media Production major at The University of Texas at El Paso. As the Editor-in-Chief, and former Photo Editor of The Prospector,...