Football releases depth chart, addresses media in spirit of 2016 season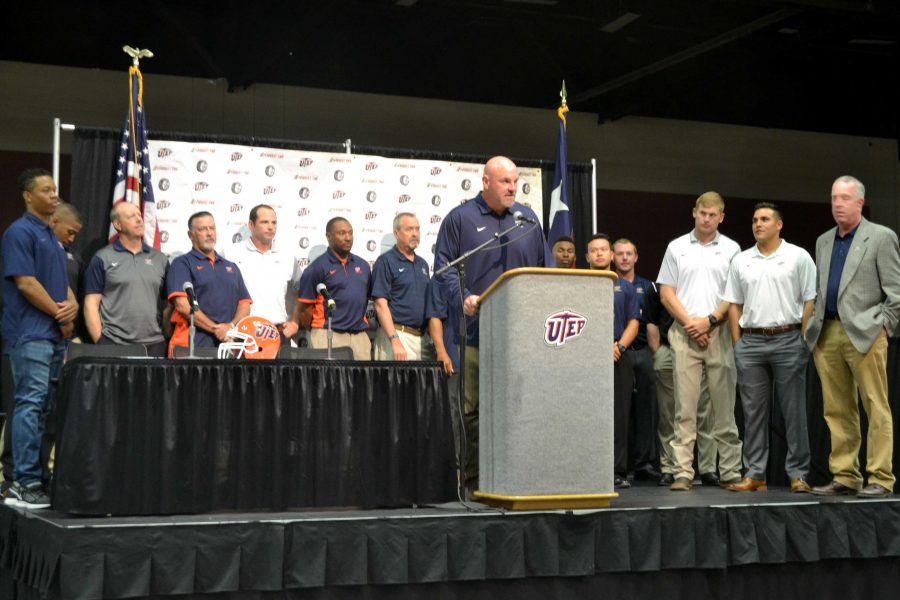 Preparing to embark on their 2016 football campaign, head coach Sean Kugler addressed the media and fans at the annual UTEP Football Kickoff luncheon on Thursday, Aug. 25.
The Miners will begin their season in the Sun Bowl on Saturday, Sept. 3, against their rivals, New Mexico State.
Going into the training camp, there were many questions surrounding the team. Who will be the starting quarterback? How well will the defense and offense adjust to the new schemes? How healthy is running back Aaron Jones?
Exiting their last week of camp, Kugler answered most questions with ease and only a season later from last year's uneasy start, the Miners look a lot more fine-tuned. After Kugler and his staff released the official depth chart for the season, it showed an established lineup for both ends.
The most relevant depth chart decision for the Miners' staff was Zack Greenlee being named at the starting quarterback position. Greenlee, the transfer from Fresno State, entered the summer camp headstrong and was named the main gunslinger after performing the best.
However, according to Kugler, the other two quarterbacks, sophomores Kavika Johnson and Ryan Metz, will definitely be in the mix of the offense's game plan.
In the run-the-ball portion of the team, tailback Aaron Jones will lead the charge for the troop. Jones, who has received various pre-season accolades, is expected to have a breakout season. The junior, who was sidelined for the majority of the 2015 season due to an ankle injury, has recovered swiftly and is ready to lead the charge.
Another key depth chart addition is Jones' backup running back, freshman Quadraiz Wadley. The 6-foot-0, high school standout surprised the coaches, and Kugler claimed that Wadley even reminded him of Aaron Jones.
On the defensive side of the ball, defensive coordinator Tom Mason adjusted the team's defense to a 3-4 setup. Now, the linebacker setup will include a will, mike, buck, and sam position, which will be filled by Nick Usher, Alvin Jones, Dante Lovilette or Cooper Foster, and Silas Firstly, respectively.
The setup will allow standouts, like Usher and Jones, to attack the run or pass, and stay on the field for longer periods of time. Having those key players on the field for the majority of time will cause trouble for the opposing team's offense.
Adrian Broaddus may be reached at [email protected]
About the Writer
Adrian Broaddus, Sports Editor
Adrian Broaddus is the sports editor for The Prospector. He is a junior multimedia journalism major with a minor in political science.



Adrian...