Hometown girl Thomas seeks strong senior year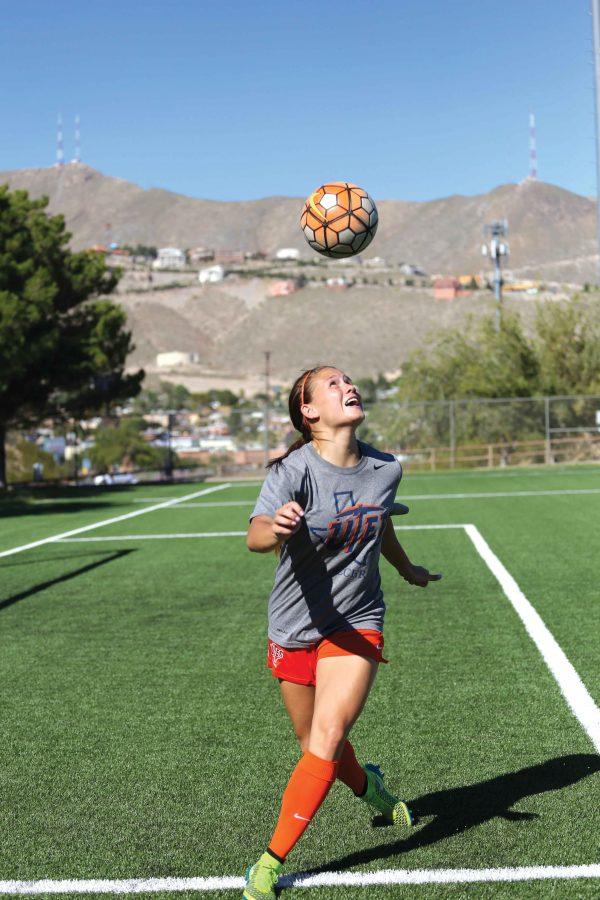 Growing up playing soccer at Hanks High School, senior forward Bri Thomas only knew NMSU soccer because her sister, Vanessa Thomas, was the Aggie's defender from 2009-12. Despite her influence, Thomas chose against continuing her sister's legacy at NMSU, and chose to stay at UTEP for her colligate career.
She has never looked back since she made her decision in 2013.
"I didn't like the environment in NMSU, there's not much to do out there," Thomas said. "UTEP has always been in the back of my head since I was a sophomore in high school. I thought it would be awesome to play at home. I'm home, my family is home and my city would be here."
Although the spirit of the rivalry was definite in the family, Thomas claims that her older sister Vanessa has come around and now supports the Miners.
"At first, my sister said she would never wear orange or support us," Thomas said. "But, since she's my sister she got over it, and now she's rooting for UTEP because we always beat NMSU. She'll be wearing orange when we play them."
Thomas did not disappoint the home crowd of a record-breaking 1,724 fans for opening night on  Friday Aug. 19. Nearly 25 minutes into their battle against the Aggies, Thomas scorched a shot of her own and extended the Miners' lead 3-0. Thomas and the Miners went on to shut out the Aggies in a glorious fashion, 5-0.
"There's no one who loves soccer more than Bri," head coach Kevin Cross said. "She plays with so much passion and it's her life. She'd do anything to be successful in it and just loves it. She probably has one of the best attitudes of all time."
But this game is only the beginning of the 20-game season. Nonetheless, Thomas is hungry to leave her mark on the program.
"It means a lot to play here all four years," Thomas said. "I want to go out with a bang. I'll use it as motivation—my last chance—and I really want it. It's not just me who wants it; it's the whole team."
Her motivation stems from the roots of her hometown—one that gave the athlete so much to begin with.
"Being at home, having family here, gives me more motivation to do my best here," she said.
Last year was the proving ground for Thomas. She dabbled in and out of games through the first stretch when the team was still finding its niche. However, through the last games she got her well-deserved chance at the forward spot and did not want to let it go.
She was third on the team for scoring, with four points. Thomas had two game-winning goals at Southern Miss and against Old Dominion. She also hit the game-tying goal in a draw against Marshall last season.
"The last four games of last season, I finally got my chance to play at forward," she said. "Now, I get the starting spot as forward so that's my motivation—to stay there and make goals."
From her freshman to senior year, Thomas believes this might be one of the strongest teams the program has had in a while because of the younger talent that is rising among the team.
"This season is awesome. Coming in with a lot of newcomers is usually overwhelming, but they came in strong," Thomas said. "Training camp—they came here, they played as a team and they're playing as if they were seniors too, so it's awesome."
Since she has the starting role, Thomas may now pass down her experience to the younger girls.
"I learned to leave a mark on the team and be a leader," Thomas said. "As a senior, you have to be a leader and lead the underclassmen or show them how to do it and leave a mark on them."
Adrian Broaddus may be reached at [email protected]
About the Contributors
Adrian Broaddus, Sports Editor
Adrian Broaddus is the sports editor for The Prospector. He is a junior multimedia journalism major with a minor in political science.



Adrian...