Lil Yachty shines on sophomore album 'Summer Songs 2'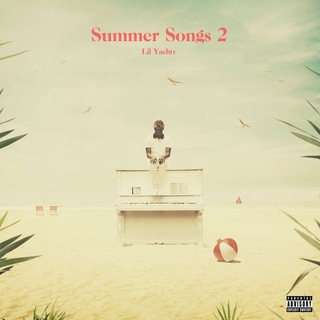 Hang on for a minute...we're trying to find some more stories you might like.
After rising to stardom with his freshman mixtape, "Lil Boat," XXL 2016 Freshman and on-the-rise rap sensation Lil Yachty has taken 2016 by storm with his auto tune and unique sound of rap. His new project, "Summer Songs 2," which was released on Apple Music on July 22, is right on par with his freshman album.
There was a lot of skepticism towards Lil Yachty on whether or not he could produce another high quality project; or, that his constant features and appearances on other artist's work might make him burnt out, thus making his newest work look forced.
However, that is not the case for "Summer Songs 2." Throughout the 14-track album, Lil Yachty explores his ranges of sound, while still producing a lyrically-acclaimed tape.
He uses uplifting tracks, such as "Intro (First Day of Summer)" and "Life Goes On," to set such an inspiring tone to the album. His first hook on the album, from "Intro (First Day of Summer)," is continuous chants of, "We are the youth." With each beat on these songs, the feeling that Lil Yachty gives is rejuvenating.
He proves he can rap well on "For Hot 97," which was inspired by a radio show Lil Yachty was on, Hot 97 FM, whose hosts poked fun at Yachty for not being able to freestyle on the spot. This song, while not necessarily a diss track towards the radio station, is indeed an indicator that he can flow well.  
One of the reasons Lil Yachty is so craftful is his ability to fuse 808s beats with gentle keyboards. He achieves this soft beautiful sound on "Such ease," "Idk" and "Yeah." These songs are so wavy, especially with catchy hooks, like "We survive through the breeze with such ease."
Also, Yachty sticks to his trap-rap roots on "Dipset" and "Shoot Out the Roof." Both tracks are interesting to see Yatchy's progression of trap from his first album. His voice mixed with Offset on "Dipset" makes for one of the best trap songs on the album.
His honesty glows off slower tracks, such as "Pretty," and "So Many People," which is one of the best parts about Lil Yachty. He does not conform to the standards set by the stereotypical rapper, and delivers honest vocals. In fact, his style of music would be one that traditional hip-hop aficionados would have trouble understanding.
Self-labeling himself the "king of the teens" and voicing for the youth, Lil Yatchy delivers a solid predecessor from his first project, "Lil Boat." While some may think this mixtape sounds childish and has no regards for traditional hip-hop, Lil Yatchy had no intentions of appealing to other people. The 19-year-old rapper is best when he is rapping about goofy, awkward activities and stories. He has the does-not-care-about-anything attitude of Tyler, the Creator, with the swagger of Young Thug.

About the Writer
Adrian Broaddus, Sports Editor
Adrian Broaddus is the sports editor for The Prospector. He is a junior multimedia journalism major with a minor in political science.



Adrian...