Nickelodeon presents interracial gay couple on "The Loud House"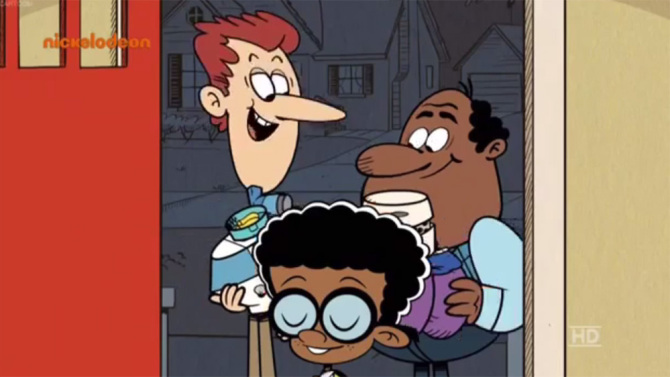 Nickelodeon aired an episode of "The Loud House" on July 20 featuring an interracial gay couple. This children's cartoon is about Lincoln, a kid who is growing up with 10 sisters.
The episode, entitled "Overnight Success," depicts Lincoln inviting his friend Clyde McBride over for a sleepover. When Clyde arrives at his friend's house, Lincoln opens the door and sees Clyde's two interracial fathers.
The couple was portrayed as loving and overprotective parents, who are worried about letting their son sleep over at a friend's house. The couple was shown with no signs of discrimination for their sexuality.
Many social media videos and posts have been sharing their support to Nickelodeon for representing the LGBTQ community.
"Families have a right to be represented in the media and for children to see themselves represented. It's important for them to be able to say 'hey that family is like my two daddys,'" said Guillermina (Gina) Nuñez-Mchiri, interim director of the Women and Gender Studies Program at UTEP.
Nuñez also said that the gay couple in the cartoon shows the reality of this world, and that people should be able to live without fear for the kind of lives they have decided to live.
"I am really excited because I think that in popular culture, social media really plays a critical role in influencing how people perceive themselves and perceive others," Nuñez said. "When you begin to create these other narratives, you begin to say other ways of being are okay. Having different family set ups is okay. My child has asked me why so and so have two mothers, I said it was because two mothers love each other and love your friend, and then he just says 'oh okay' and he keeps on playing."
Nuñez said that depicting the gay couple in the cartoon is a way of including one of the different kinds of families of this country.
"This is how different families in this country and other countries live, you don't have to accept it or you don't have to like it and you don't have to agree with it, but it is what it is," Nuñez said. "People say 'you are trying to brainwash my children.' No, your children can't be held in the dark forever. Whether they go to a public park or a school, you are going to find different type of families and those families have a right to exist and not be hurt."
This episode by Nickelodeon is not the first one by a children's show that portrays members of the LGBTQ community. In 2015, an episode of the animated series "Bubble Guppies" included an animated version of RuPaul, an American actor and drag queen. In 2014, the Disney Channel also aired an episode of the show "Good Luck Charlie," where they featured a lesbian couple, and in 2014 "The Legend of Korra," another animated series, portrays two female characters kissing each other.
Some of these shows have received negative comments by conservative parents and groups, and the "The Loud House" episode is already being campaigned against by the non-profit, pro-family, conservative online group OneMillionMoms.com.
The conservative group has expressed its concern about children being exposed to the LGBTQ community and that it is unfortunate for children to be exposed to this kind of media.
"Just because something may be legal or because some are choosing a lifestyle doesn't make it morally correct. Nickelodeon should stick to entertaining instead of pushing an agenda. Nickelodeon has decided to be politically correct instead of providing family-friendly programming," was stated on the OneMillionMoms.com website.
One Million Moms has encouraged their supporters to take actions to force Nickelodeon to omit the scene featuring the gay couple.
"If producers keep this episode as originally planned, then conservative families will have no choice but to no longer watch Nickelodeon in their homes so they can avoid the previews, commercials and reruns for this irresponsible episode," was stated on OneMillionMoms.com.
Some UTEP students hope to see more representation towards the LGTBQ community in the media and in society.
"It's just a show with different cultures involved. I see it as a good thing," said Kristen Carrasco, senior phycology major. "They (LGBTQ community) are already discriminated against enough as it is. We should just accept them anyways."
Nickelodeon has retweeted the status of some their followers who have showed their support and happiness toward the company for including a same-sex couple in a cartoon.
"We can't hide the truth," Nuñez said. "Historically, gay people have existed all over the world at all times. We have many cases in Native American cultures and societies with third and fourth-gender identities. As new cultures came to the Americas and brought in their faiths, they imposed their gender ideas."
Nuñez also said LGBTQ people are not new to this country and invites all people to look at the history of the world.
"LGBTQ families are not new to this county; they are part of the history of this country. They were here before you and me, and whether you like it or not, they existed.," Nuñez said. "If you have difficulty with that, then you have to go back and check out your history."
Rene Delgadillo may be reached at [email protected]