Questions going into football's summer training camp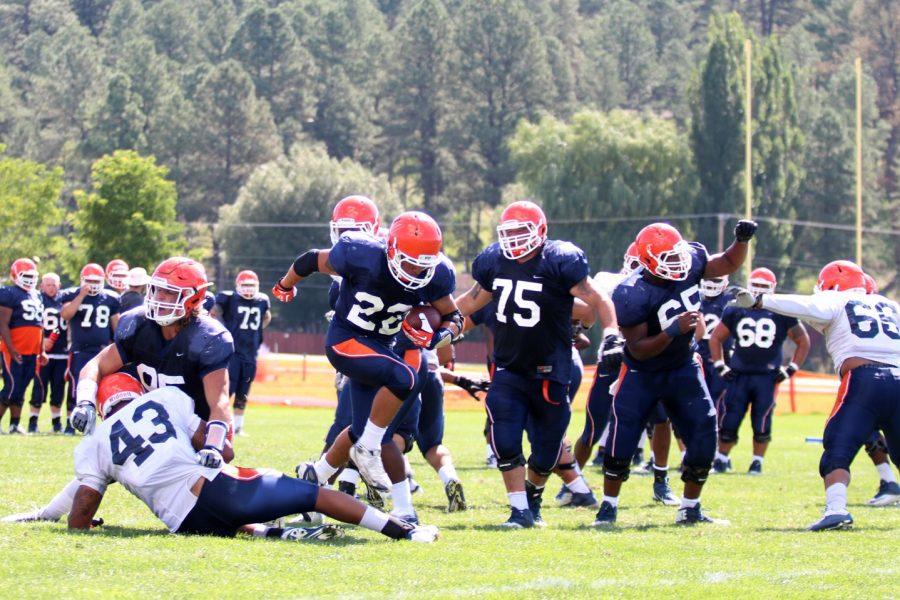 As August rolls around the corner, the UTEP football team will retreat to the mountains of Ruidoso and begin their annual training camp on Aug. 3. This camp will allow the squad to zero in on their plans for the season. The Miners will open up season play on Sept. 3 against New Mexico State at home.
Below are some questions to focus on during the upcoming training camp.
1. How healthy is Aaron Jones?
After being sidelined for the majority of the season due to a foot injury in the second half against Texas Tech in September 2015, all eyes are on junior standout running back Aaron Jones. All the what-ifs and what-could-have-beens from last season will transfer over into this season, as Miners anxiously await what the running back will produce in his most anticipated year yet.
Jones has been resting ever since he was injured, and now he is back, amid claims he is up to 100 percent. The El Paso native and Burges High School graduate is eighth in UTEP's history for all-time rushing yards with 2,341 yards and has scored 20 touchdowns in 23 games. He has already received preseason recognition by being featured on the Doak Walker award watch list and the Maxwell award watch list. Jones was also named by Dave Campbell's All-Texas team as the seventh player in the 50 Most Important College Football Players in Texas.
2. Who will be the starting quarterback?
This might be a question that will be asked well after the summer training camp. In fact, it might be a question that is asked leading up to their first game on Sept. 3. Head coach Sean Kugler and offensive coordinator Brent Pease have three different options in Ryan Metz, Kavika Johnson and Fresno State transfer Zack Greenlee. Last year's starting quarterback, Mack Leftwich, will be sidelined for the entire season due to a shoulder injury.
Throughout spring ball, Metz emerged as a definite force among the quarterback core. He completed big passes and has moved the ball at a rapid pace during the offense's two-minute drills. However, Metz underperformed during the actual Spring Game, only completing 4-of-11 for a mere 19 yards. Last season, Metz started in five games of the eight he played. After Leftwich was knocked out of the NMSU game with a concussion last year, Metz led a come-from-behind overtime victory over the Aggies, which included completing 15-of-19 passes for 218 total passing yards and the game-winning touchdown.
After Metz had back-to-back poor performances against UTSA and Florida International, Johnson stepped in as the gunslinger to eliminate some trouble the team was having in the quarterback spot.
Prior to his play at quarterback, Johnson came into the game in the wildcat package and caused confusion on the team by keeping it on the ground. Throughout the season, Johnson threw for 218 yards on 27-of-53 passes, four total touchdowns and 209 rushing yards.  However, Johnson did not have the best spring game either. He completed 10-of-22 for 66 yards in a game dominated by the defense.
Almost immediately after the sub-par performance by Metz and Johnson, the program added Greenlee to the mix. The junior, who has played in California all his life, started five games last season for the Bulldogs and appeared in seven. He led the team with 866 passing yards and completed 74-156 attempts. He totaled 13 touchdowns and six interceptions. The remarkable part about Greenlee is his ability to be dynamic in the pocket, yet escape the pocket and still make a play.
3. Which freshman newcomers will spark the most noise?
There will be 15 players stepping into their first-ever collegiate training camp this summer. Out of the pack, the one poised to make an immediate impact for the Miners' squad is Quardraiz Wadley. The 6-foot running back from Kennedale High School was named the Texas Class 4A Player of the Year during the 2015 season. He totaled 2,511 yards and 45 touchdowns in his dominant senior season. Wadley might not see immediate action at the tailback spot, but will probably see light as a utility player, fitting in wherever they may need him.
On the defensive end, Sione Tupou, from Allen High School, will probably be a force and might be utilized in different packages. He was a member of the Allen Eagles that made it to the semifinals of the UIL 6A State Championships. He racked up 42 tackles (35 solo and seven assisted), eight tackles for loss, five sacks and five forced fumbles during his senior campaign.
4. How much of a difference will Plinke be to the offense?
Answer: a whole lot.
Senior tight end Hayden Plinke is a giant force when it comes to the Miners' offense and he is set to have a major season. The 6-foot-4 tight end has already received many preseason notices, such as being named to the first team All-Texas team by Dave Campbell, and was recognized on the John Mackey award watch list. Through 11 games in 2015, Plinke ranked second on the team in receptions (37) and receiving yards (405).  After his dominant season, he was named as a 2015 Conference USA Honorable Mention.
5. Does Alvin Jones have what it takes to be C-USA Defensive Player of the Year?
Yes.  While the spotlight is on Aaron Jones for his dynamic impact on offense, his twin brother Alvin is a silent killer on the defensive side. The junior linebacker started in all 12 games of the 2015 season and led the team with 93 tackles (48 solo and 45 assisted), 14.5 tackles for loss, 6.5 sacks and two safeties. He tied for second place in C-USA last year in tackles for loss. He was named last year to the 2015 All-Conference USA Honorable Mention list.
This year, he leads the pack of wolves on defense. Jones already has garnished honors from Dave Campbell's All-Texas players watch list as the number 38 player to watch in Texas. Alvin brings a whole new unique edge to the linebacker spot—he has speed mixed with strength.
Adrian Broaddus may be reached at [email protected]
About the Writer
Adrian Broaddus, Sports Editor
Adrian Broaddus is the sports editor for The Prospector. He is a junior multimedia journalism major with a minor in political science.



Adrian...