Logic is effortlessly slick on 'Bobby Tarantino'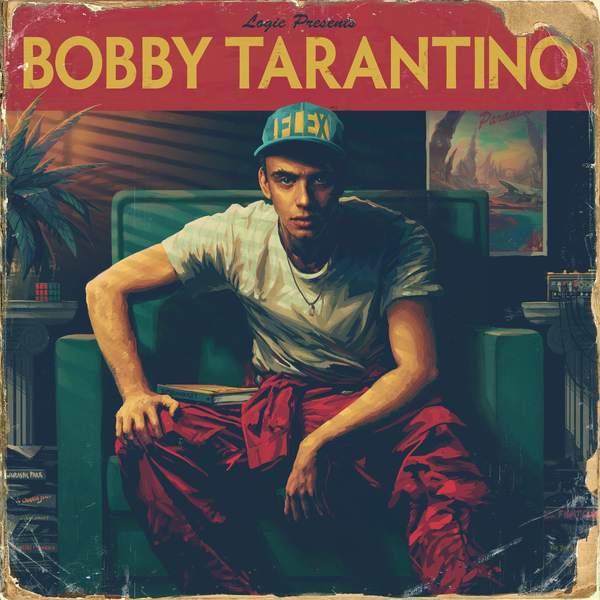 In between his 2015 sophomore album, "The Incredible True Story," and his third album, which is TBA, Logic surprised the hip-hop world with his new mixtape, "Bobby Tarantino," on June 30, 2016. The tape meshes an old Logic attitude, like he used to incorporate on his "Young Sinatra" tapes, with his electrifying new persona. From selling albums and shows, to the struggles with becoming famous, Logic explores new areas on this mixtape, while delivering some of the best lyrics and bars heard from him yet.
The mixtape's title references one of Logic's favorite filmmakers, Quentin Tarantino, and wants to parallel how well-respected Tarantino is in the film world, to how well he is doing in the hip-hop industry. With this mixtape, Logic attempts to show his credibility and prove why he is one of the top rappers out there. 6ix, Logic's long-time producer, entirely devised the project. Originally, Logic intended the entire work to be comprised of him rapping over beats made by other rappers. However, according to Logic, halfway through the mixtape, his management team decided to only release solo work for the project.
They made the right decision.
Through the intro, which is a reversed track that one can only clearly hear when played backwards, Logic reveals, "Currently on my world tour… I'm working on two albums. The first of which that you will hear. After this turn up shit, after this fun shit… you're in for something special." Then, there is a quick and swift transition to "Flexecution," the first actual track on the album. The track has a hard-hitting beat with a catchy chorus. It references Logic's hit from "The Incredible True Story," "Like Whoa," and throughout the song he claims he runs the hip-hop game.
On "The Jam" and "Slave II," Logic demonstrates his ability to venture through slow vocals and then viciously rhyme fast-paced with smooth transitions. On "The Jam," Logic effectively uses bold statements, like "My third album, my Graduation like Kanye/Music on another level/Yeah, I'm tryna take this shit further beyond Ye." Here, he compares his next project to the level that Kanye West achieved on one of his best albums, "Graduation." The song also suggests that he might release his album like Beyonce–unexpectedly and without notice. "Slave II," one of the most hard-hitting songs on the album, transitions from a catchy chorus to two back-to-back verses about Logic dealing with stardom.
If someone told me that Logic could pull off a trap song, I would have probably been skeptical. However, on "Wrist," Logic pulls off a tough-based trap track. Lyrically, the song narrates two different fictional drug lords who sell crack cocaine. On the second verse, rapper Pusha T aids Logic by completing the track with a powerful verse. This was the only track on the mixtape that had a featured rapper.
"Super Mario World" was a song for his fans that featured an eight-bit beat. Logic speaks to his normal side on this track by catering to his personal liking, such as video games and the Rubik's cube references. Logic admitted that making the song was the most fun to make in the studio off the tape. He uses the hook, "Oh my goodness, oh my goodness, oh my goodness/Oh my goodness, oh my God," which will soon catch major recognition for having such a catchy hook. Listeners can easily sing along.
While the everyday listener would simply skip over, "Studio Ambience At Night: Malibu," the song has a foreshadowing meaning. The 56-second track sounds distantly recorded because it alludes to a track on his next album; nonetheless, the song is possibly ramping up his fans for something more in the future. In the less-than-a-minute song, the listener gets references to race, self-loathing and personal reflection, which Logic could likely tackle on his next project.
Through "44 Bars" and "Slave," Logic delivers extreme bars on back-to-back tracks. "44 Bars," which had been recorded in three sessions across the country, puts the spotlight on Logic's stylistic ability to craft a proper rap, and explains the struggles he still endures as an artist.
Revisiting the hook he used on "Slave II," "Slave" plays on the idea that Logic is a slave to the rap game and continues to be a threat among the hip-hop world. In the most humble way possible. Logic lists the path he has been on in the rap game, and explains his uniqueness with great poise. He references "40 days, 40 nights" on both tracks, which can be understood as a double meaning. His tough childhood in the projects can relate to the term "40 days, 40 nights;" also, the lyrics can be related to the Bible because through 40y days and 40 nights, Jesus had to fast–exactly the feeling of hunger Logic felt when he had no food in rough times growing up.
To close out the mixtape, Logic raps off the top of his head on "Deeper Than Money." In his freestyle, Logic exploits the rights and wrongs of fame, money and power. His creativity to master a freestyle on a mixtape is highly regarded.
The question now is where does this piece of work put Logic at among other rappers? He has the ferocity of Eminem with the swagger of Kanye; but, now it seems like Logic is on a whole new level. This mixtape to Logic's career is what "Untitled Unmastered" is to Kendrick Lamar's illustrious career. Both show the respective rappers' ability to step back from reaching chart-worthiness and use these smaller projects to showcase their effortless talents. At the end of the day, the listener obtains solely admiration from these mixtapes because it gives a glimpse of the artist's true self. So, as far as lyricism goes, Logic has to be one step below Kendrick, whom I believe is the best rapper alive.
Below are some of the top lyrics from "Bobby Tarantino":
Check my last album all y'all know I run it/
Flip the script just cause I couldn't fucking stunt it. (Flexecution)
Check my last album all y'all know I run it/
Flip the script just cause I couldn't fucking stunt it. (Flexecution)
I ain't do it for the money though/
I don't do it for the money though/
Shout out to Kid Cudi though/
That's the homie, you already know. (The Jam)
Walk inside of Def Jam/
Step on the president table and dap 'em up with the left hand/
Cause I'm countin' money with the right.
In a different city every night/
And I'm sellin' records like it's white. (Slave II)
Because of the internet I made a million and another million/
That's word to Gambino/
He one of the realest, I swear he the realest. (Super Mario World)
I feel the Arian in my blood, it's scarier than a Blood/
Been looking for holy water now I'm prayin' for a flood.
Feel like time passing me by, slower than a slug/
While this feelin' inside of my body's feelin' like a rug.
You can hug me, rub me on the back like a child/
Tell me you love me, need me, promise me you'll never leave me. (Studio Ambiance at Night: Malibu)
It's kinda bittersweet, besides the shows and meet and greets y'all only see me on the street/
And even then, that shit is rare—I just don't go outside.
Cause honestly I don't fuck with this world, I'd rather hide/
That misconception, Cause I rap, I must be filled with pride.
Shit I ain't perfect, if you heard different then someone lied. (44 Bars)
Tell me what you know about forty days, forty nights/
No lights, all for this/
Tell me what you know about sleeping outside, no ride in the wintertime all for this. (Slave)
Adrian Broaddus may be reached at [email protected]