Kelvin Jones added to Miners upcoming roster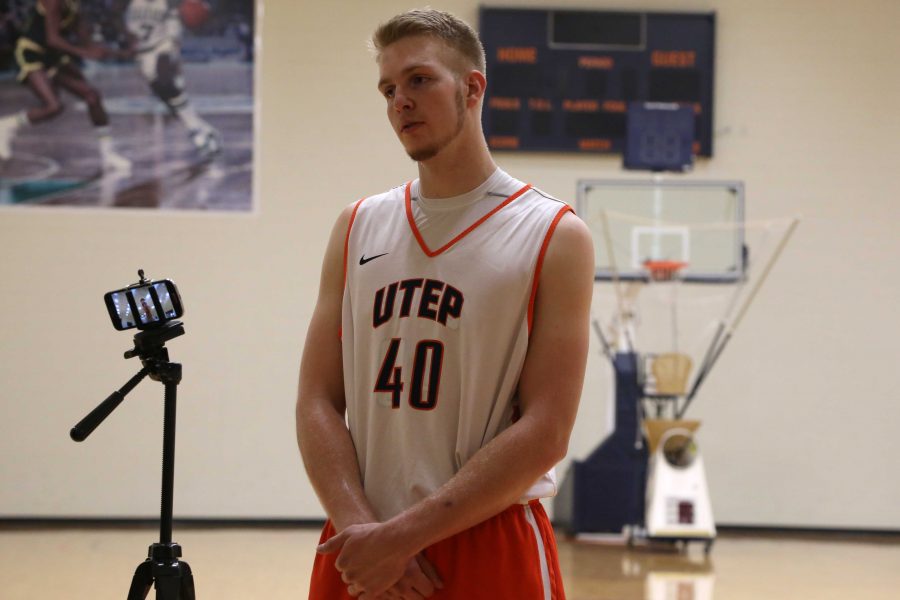 Shericka Lawrence, Contributor
July 4, 2016
During his humble upbringing in Chihuahua, Mexico, basketball was not the ideal sport for freshman newcomer Kelvin Jones to practice. Naturally, he played soccer and volleyball. It wasn't until just five years ago when the 6-foot-11 center began to play basketball. He has only been playing basketball for five years.
"Basketball was never taken seriously," Jones said. "It's just something you played on the playground."
On May 18, 2015, the 235-pound grey-shirt verbally committed to UTEP.
"After my visit and talking with coach Floyd, I felt like this was the place for me," Jones said.
When Jones was 15 years old, his family lived in the small Mormon town of Galeana, Mexico, where his father was mayor. In 2011 cartel violence killed many people in the community, and his father organized a protest against the cartels. The protest resulted in the killing of his father's cousin, and Jones' family left and never returned.
Because of his father's profession, Jones has lived in many places, including Colorado, North Dakota and Arizona. While in North Dakota, coaches told him that he should think about trying to play basketball since there was not a men's volleyball team there.
"So I tried it, and I'm loving it," Jones said.
He played on the C-team, a developmental league in high school, for two years while he was in North Dakota.
Jones moved to Hobbs, New Mexico, during his senior year of high school. Being 6-foot-9 at the time, he averaged 14.7 points, 9.9 rebounds, and 3.2 blocks for Hobbs High School. He had a total of 471 points, 318 rebounds (138 offensive and 180 defensive), with 101 total blocks during his high school career. Jones recorded a double-double in 14 of 32 games played.
Jones opted to postpone enrollment for classes until the second term of his freshmen year, which is the reason he is a declared grey shirt and not a red-shirt freshmen. However, he will still be able to practice with the team. The NCAA allows college athletes five years to complete academic courses, with four years of eligibility after initial enrollment.
"I feel that my game definitely needs four years to improve to where I want to be," Jones said. "I think coach Floyd can help me with that."
Jones will provide some much needed depth to the center position. Prior to Jones' arrival, Matt Wilms, who sat out the entire 2015-16 season due to a foot injury, is the only center on the roster. Willms averaged 18 minutes and 55 percent from the field during the 2014-15 season and is still recovering from the injury.
"I haven't had a chance to play against him, but hopefully he gets back, so I can have that experience," Jones said.
Like fellow incoming freshman Chris Barnes, Jones led his team to a state championship at Hobbs High School, with a record of 30-2 and 7-1 in district.
"I feel like we have a lot of underrated players," Jones said. "I feel like we have a lot of guys who work hard and who really want to get better, which is what we need: guys who want to learn how to improve their skills and make a difference in the game."
Jones was ranked 83rd in the nation and first in New Mexico based on skillset and stats. The big man also has dynamic ball handling skills, dishing out 34 assists and shooting 60 percent from the field throughout his senior year.
Jones is hoping to improve on his paint touches, hoping to score better and show off his strengths with his rebounding skills.
"I most definitely feel like I can bring rebounding to the team," Jones said.
Mimicking his game around former Lakers and Bulls player Pau Gasol, Jones can add a great inside presence to the team, as well be a monstrous rebounder, making him a potential all-around contributor.
With goals that go beyond the four years he plans to spend at UTEP, Jones is ambitious about his future, but patient about the road he believes will ultimately land him a spot in the NBA.
"I would be lying to you to say I wasn't trying to (go pro), but I feel like right now I need to focus on where I'm at, and see where that takes me," Jones said. "(Coach Floyd) is giving me steps and if I keep on doing those steps, I know I will get there one day."
Shericka Lawrence may be reached at [email protected]