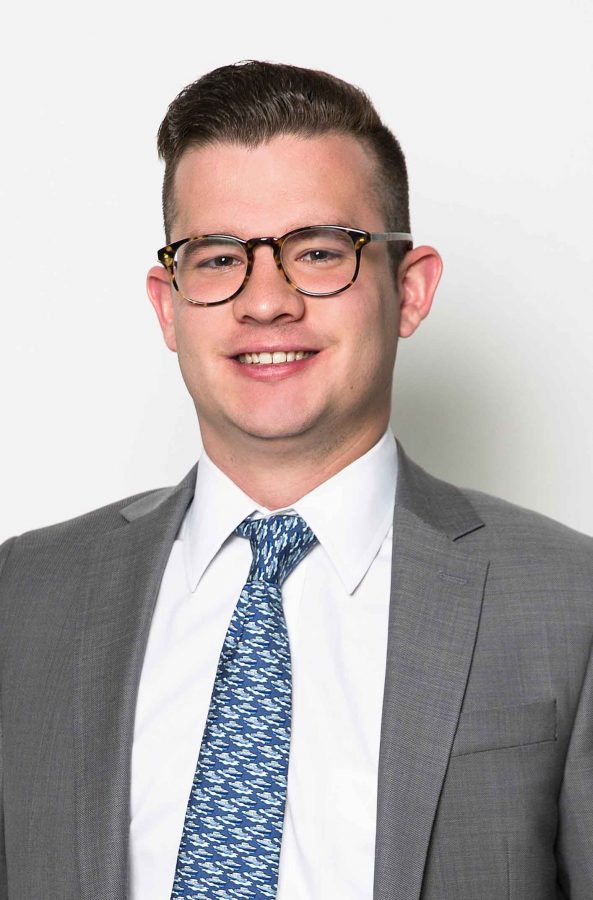 Special to The Prospector
Outstanding seniors get awarded
May 3, 2016
The Top Ten Senior Awards have been announced by the UTEP Alumni Association, bringing with them the feeling of accomplishment and happiness.
"I was anxiously awaiting the letter, I would check the mail every day with hopes of getting it," said Iliana Rubio, senior industrial engineering major. "I was super happy and I wanted to cry when I read 'congratulations you are one of the top 10 seniors.'" The UTEP Alumni Association has been recognizing the hard work of its top 10 seniors for each graduating class since 1950.
To receive a Top Ten Senior Award, the candidate has to have to a minimal cumulative GPA of 3.25 or higher, have letters of recommendations by staff and/or advisors and demonstrate their community service and social and academic involvement in school. "We want younger students to see what these top seniors have accomplished. We want them to be inspired by them, to make them say 'hey I want to do what they have done,'" said Richard Daniel, executive director of Alumni Relations.
A banquet was held on April 29 at the Tomás Rivera Conference Center located on the third floor of the Union Building East. UTEP President Diana Natalicio was present at the event, where she read the bios of each student and congratulated them with their senior award.
Being a top 10 senior is not about getting the highest grade on an exam or presenting the best project in class. For Oscar Casanova, a senior finance major who will be working for Goldman Sachs in Dallas, an American multinational investment banking firm, there is much more behind this accomplishment.
For Casanova, being a top 10 senior was about being involved on campus and doing what you love. Casanova was the president of the Business College Council, a Miner Ambassador, a career peer advisor and an accounting assistant. "It takes a lot of commitment and initiative, not only excelling academically, but also taking initiative of being part of student organizations and doing internships, seeking out mentors in the university, and maybe working at the same time," Casanova said. "It's about mixing all these things while being a student." Rubio was able to participate in community service work as well as intern for Lockheed Martin Aeronautics Company, a global security and aerospace company.
She advises freshman students to get involved early in their college career.
"Start looking for opportunities now. The sooner the better for you, and don't slack your grades. Your GPA is the first step be a good student," Rubio said. "Students don't realize how many opportunities UTEP offers, you just have to go and take them." Daniel said he believes that all the applicants are great students, top 10 senior or not. "They are just as exemplary as the other students," Daniel said.
"It is a difficult choice; we have a tremendous amount of great students on this campus. I want them to continue moving forward in their goals and continue making a difference and to give back to this institution because there will always a place for them here at UTEP."
Casanova said he is grateful to UTEP and its staff for allowing him to grow as a person and as a scholar. "I will never forget where I come from because it is thanks to UTEP that I am where I am," he said. "I see myself back at UTEP one day. Maybe starting an endowment, a scholarship for future UTEP students, to encourage them to be a part of this amazing community. Maybe even teach here." Rodrigo Lugo, a senior biological sciences major and one of the top 10 seniors, was the co-founder, vice-president and president of To Write Love on Her Arms, which is part of the national organization dedicated to help people dealing with depression, addiction, self-injury and thoughts of suicide.
With graduation right around the corner, Lugo wanted to congratulate the class of 2016. "Congratulations to all," he said. "I know it was hard journey for me to get here and I'm pretty sure it was hard for everybody else. It's like the end of our journey in college, but it's still only the beginning of our journey through life, and there is so much we are capable of and so much things we are going to do in our lives."
Rene Delgadillo may be reached at [email protected]