A spring of ups and downs for Natalicio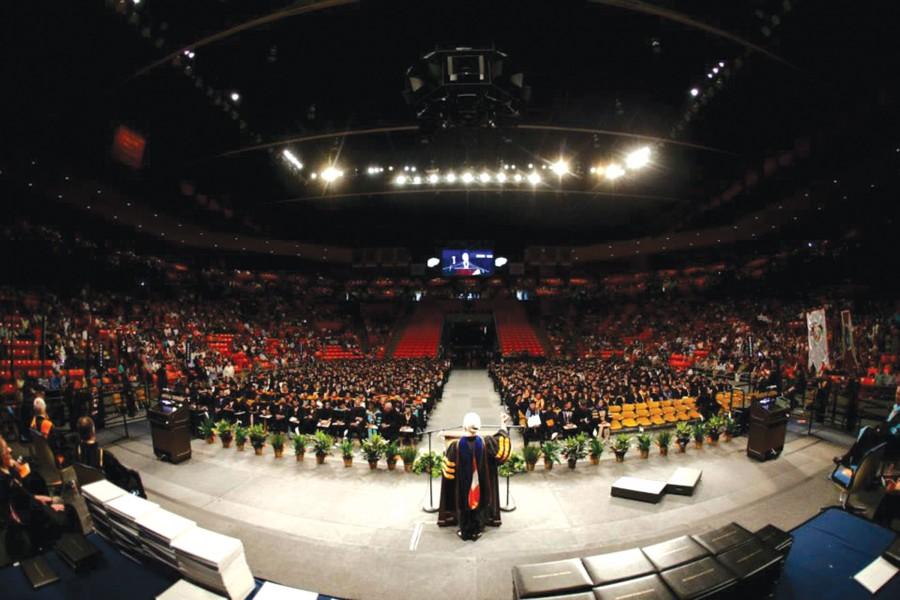 As the semester dwindles down, UTEP President Diana Natalicio reflects on the past semester and what is to come. From suffering cardiac arrhythmia while she was walking to the Student Union in February, to being named as one of TIME Magazine's 100 Most Influential People in the World, Natalicio has had a roller coaster of a semester.
However, Natalicio is not stopping there. She is using the setbacks to push herself and the university forward.
"I've always been blessed with enormous energy reserves and, perhaps most importantly, I am extremely passionate and enthusiastic about the work we are doing at UTEP with the extraordinary students we serve," Natalicio said in an email interview. "When you love what you do, it's always easy to do a little more, and then a little more after that."
She is currently the longest serving president of a public university and has served UTEP for 28 years. Since her start at the university, Natalicio has seen the school evolve and mold into something remarkable.
"This recognition (TIME Magazine) is very much a reflection on UTEP's progress over the past several decades," Natalicio said. "We are today a totally different institution in size, in academic programs, in research and, perhaps most importantly in attitude and institutional self-confidence. We are clear about and proud of our mission and united in working hard to achieve it."
Even though the recognition was aimed at Natalicio, she believes that it will add more credibility to the standards that the school is setting.
"It (the recognition) brings increased visibility to UTEP and our mission to provide highly competitive educational programs to a historically underserved student demographic," Natalicio said.
Despite the few downhill slumps, the spring semester brought mostly highs to the school, according to Natalicio, including the celebration of the 50th anniversary of the 1966 men's basketball championship team.
UTEP held a celebration at Memorial Gym in February as part of a filming of a CBS documentary about the championship that aired nationally several times during March. The NCAA recognized the 1966 team again in a tribute during Final Four weekend in Houston in early April.
"Below a bold UTEP logo on the giant video board above the arena floor, our 1966 team members assembled to receive the huge crowd's respect and cheers," Natalicio said. "What a wonderful sight and such a well-deserved tribute to our talented and courageous Miners."
She also has numerous ideas and goals for the future. Her, along with her team, are planning for a new interdisciplinary research building in place of the Burges and Barry Halls. She mentioned plans to start a new School of Pharmacy and offering a Doctor of Pharmacy degree. These are just some of the plans she wants to implement in the coming years.
"We have been working on a very exciting comprehensive student success plan, developed in conjunction with our accreditation re-affirmation review, which seeks to integrate a number of specific initiatives across the campus designed to ensure UTEP graduates' competitiveness with their peers anywhere in the world," Natalicio said. With the semester dwindling down, Natalicio will prepare for commencement where she will attend all three ceremonies.
"It's a wonderful feeling to see the growing number of UTEP graduates who cross the stage at commencement," Natalicio said. "I'm especially excited to consider the huge impact that this graduation milestone represents not only in the lives of the graduates themselves, but of their families and the prosperity and quality of life of this entire region."
With the sending forth words, Natalicio has a piece of advice she wants to share with the graduates:
"Be proud of what you've already accomplished and confident that you are well prepared through your UTEP education to pursue whatever post-graduate path you may want to follow," Natalicio said. "The quality of your UTEP degree is now widely recognized and highly valued. Seek a future pathway that you truly enjoy."
Adrian Broaddus may be reached at [email protected]